Basement Camper Step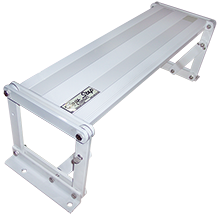 The Basement Camper Step ensures safety when entering and exiting basement model truck campers. It reduces the 14" gap commonly found between the bumper and entry door. This 8-inch tall step folds up and down, glows in the dark and is high impact powder-coated white.
The Basement Camper Step is composed of aircraft grade aluminum, has a Legendary Lifetime Warranty and is proudly made in the USA.
Basement Camper Step In Action
Basement Camper Step Features
Ensures safe basement model truck camper access
Works with all truck camper bumpers
Dimensions: 20"W x 6"D
Eliminates 14" vertical gap between bumper and entry door on basement model truck campers
Quickly folds up and down in seconds for quick basement door access
Accommodates any rear door position (left, right, center)
Easy, bolt-on installation
Powder-coated finish 
Glows for up to 10 hours
Aircraft grade aluminum
Legendary Lifetime Warranty
Proudly made in the USA

 
Reviews
"The best feature is the substantial safety improvement entering and exiting the RV, especially for children and older RV enthusiasts. My favorite part is that is can be transported in place by folding and locking down." - Marc Grimm, Elk Grove, CA  » Read More
Find Your Part Number
Description
Dimensions
With Step Rise
When retracted
Part Numbers
Powder coat white
20"W x 6"D
7.8"
2.25" 

Aircraft grade aluminum

Discontinued - Available while supplies last.

20"W x 6"D
7.8"
2.25"
GlowStep Application Guide
6" Deep GlowSteps with 6" x 20" Step Dimensions

Glow Step
Mount. Bracket Height
Collapsed Height
Max Weight
Part Number
Add A Step

-
-
-

Discontinued - Available while supplies last

19.5"
6"-7"
350lbs†
3 Step


27"
8"-9"
350lbs†
4 Step


34.5"
10"-11"
350lbs†
5 Step


42"
12"-13"
300lbs†
6 Step


49.5"
14"-15"
300lbs†

8" Deep GlowSteps with 8" x 20" Step Dimensions

Glow Step
Mount. Bracket Height
Collapsed Height
Max Weight
Part Number
Add A Step

-
-
-
2 Step


19.5"
6" - 7"
375lbs††
3 Step


27"
8" - 9"
375lbs††
4 Step


34.5"
10" - 11"
375lbs††
5 Step


42"
12" - 13"
325lbs††
6 Step


49.5"
14" - 15"
325lbs††
Footnotes:
†With use of Torklift GlowGuide. Otherwise 2-4step MAX CAP 325lbs / 5-6 MAX CAP 275lbs
††With use of Torklift GlowGuide. Otherwise 2-4step MAX CAP 350lbs / 5-6 MAX CAP 300lbs
Each 2 - 6 GlowStep Kit includes 1 Universal Surface Mounting Bracket
GlowStep Series Accessories Guide
6" Deep GlowSteps with 6" x 20" Step Dimensions

GlowStep Part Number
All Terrain Landing Gear
GlowGuide
SafeStep
DirtDestroyer
Basement Camper Step
GlowStep Locks
Add A Step -
A8000

2 Step -

Discontinued - Available while supplies last.

A8000

3 Step -

A8000

4 Step -

A8000

5 Step -

A8000

6 Step -

A8000

8" Deep GlowSteps with 8" x 20" Step Dimensions

GlowStep Part Number
All Terrain Landing Gear
GlowGuide
SafeStep
DirtDestroyer
Basement Camper Step
GlowStep Locks
Add A Step -

A8000

2 Step -

A8000

3 Step -

A8000

4 Step -

A8000

5 Step -

A8000

6 Step -

A8000

Footnotes:

Each 2 - 6 GlowStep Kit includes 1 Universal Surface Mounting Bracket


Customers Who Bought The Basement Camper Step Also Bought