SuperHitch SuperTruss Receiver Extension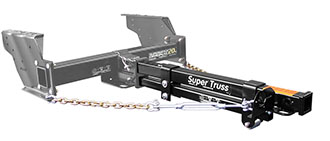 The SuperTruss Extension is available in eight lengths from 21" to 60" and works exclusively with our SuperHitch or SuperHitch Magnum.
It's rated to safely tow up to 14,000 lbs and 1,400 lbs tongue weight on a 21" extension and 12,000 lbs and 1,200 lbs tongue weight on a 48" extension.
The SuperTruss is backed by our Legendary Lifetime Warranty and is proudly made in the USA.

If you don't know the length of SuperTruss you need, and use our measurement guide.

Don't forget, if you are extending the reach of your hitch, you will need to extend your wiring to reach what you are towing as well.  Check out our no splice wiring harnesses.


SuperTruss In Action
SuperTruss Videos
SuperTruss Features
Designed for campers up to 12 feet
Available in eight lengths from 21" to 60"
Hardened reinforced hitch pin locations
Highest capacity in the industry (12k lbs @ 48")†
Uses patented, lateral-support safety chains
Optional SkidWheel available
Legendary Lifetime Warranty
Proudly made in the USA
Footnotes:
The Torklift Advantage
 
Reese†

SuperTruss Extension Advantages

Hitch Capacity With 48" Extension And Weight Distribution
1,200 Lbs Tongue Weight
12,000 Lbs Pull Weight
6,000 Lbs Pull Weight
Hitch Capacity With 48" Extension Without Weight Distribution
600 Lbs Tongue Weight
6,000 Lbs Pull Weight  
4,000 Lbs Pull Weight 
Lateral Support Safety Chain System And Plug Bracket Included In Cost
 

Lateral Support Safety Chains Not Available, Plug Brackets Extra 

SuperHitch Advantages

No-Drill Applications Since 1999
Hitch Utilizes Industry Standard 2" X 2" Ballmounts Without Adapter

Uses 2.5" X 2.5" receiver 
Hitch Utilizes Hardened / Reinforced Hitch Pin Holes
†Reese Titan/ Tow Beast are registered trademarks of Cequent Towing
SuperTruss Extensions
 

CAPACITIES

CAPACITIES


WEIGHT DISTRIBUTING (REQUIRED)

 
LENGTH
GTW

(F1)

/ GVW

(F2)

GTW

(F1)

/  GVW

(F2)

Part #
Wire Harness#
Extended
Power#
 21"
750 / 7,500
1,400 / 14,000
-
 24"
750 / 7,500
1,400 / 14,000
-
 28"
750 / 7,500
1,200 / 12,000
-
 32"
650 / 6,500
1,200 / 12,000
-
 36"
650 / 6,500
1,200 / 12,000
 42"
600 / 6,000
1,200 / 12,000
 48"
600 / 6,000
1,200 / 12,000
 60"
500 / 5,000
1,000 / 10,000



F1

- Trailers Gross Tongue Weight (GTW) when fully loaded


F2

- Trailers Gross Vehicle Weight (GVW) when fully loaded
SuperTruss SkidWheel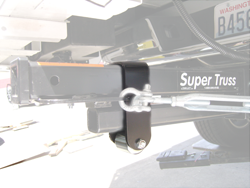 Torklift also offers the universal SuperTruss SkidWheel


Customers Who Bought The SuperTruss Also Bought