Basic SpringLoad (For Frame Mounted Tie Downs)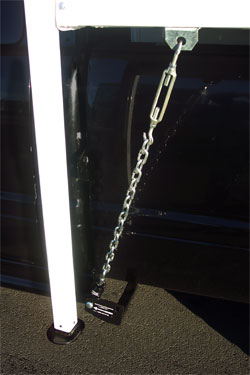 The Basic SpringLoad turnbuckle bolts easily to the end of each tie down providing the required suspension to help protect camper anchor points. Contains two quick links, two heavy-duty forged steel turnbuckles and 24" of marine grade chain.
The Basic SpringLoad kit is covered by our Legendary Lifetime Warranty and proudly made in the USA.
Basic SpringLoad In Action
Basic SpringLoad Video
Basic SpringLoad Features
Forged steel
Simple and affordable
Spring-loaded
Special oil tempered chrome silicon springs
Spring tension indicators
Can be used with Derringer Handles
Legendary Lifetime Warranty
Proudly made in the USA
Kit Includes:
Two Quicklinks
Two SpringLoad units
Two heavy duty forged steel turnbuckles and chain
Footnote:
* Depending on the vehicle/camper combination, some users may experience the Basic SpringLoad kit running across the fuel access door. For ease of fuel door access, our Original FastGun lever action turnbuckles or the Derringer handles (set of 4) can be used to provide the ability to quickly engage and disengage the truck camper anchor point and the tie down allowing for quicker fuel door access.
"In February I took a 2 week trip with my camper down to Casa Grande, AZ and back. I covered a little over 3,000 miles during that trip. I managed to pick the worst weather they'd had all winter, to drive through. Wind gusts..."  » Read More 
| Product Description | Part Numbers |
| --- | --- |
| Basic SpringLoad | |
Check out our other Springloaded options:
If you're considering Basic SpringLoad as an option, also consider using Derringer Handles and turn your "old fashion" Truck Camper Turnbuckles into Quick Lever Action Turnbuckles.  
For Bed Mounted Turnbuckles see our new AnchorGuard Turnbuckles
For Frame Mounted Turnbuckles take a look at the SpringLoaded XL Turnbuckles
Resources
Dealers, click here to view Torklift's Products Displays
Customers Who Bought The Basic Springload Also Bought