Blog
Over 40 Years of Innovation, Quality, Safety
The ladies of All Girls Garage recommend the StableLoad suspension stabilizer
For those that missed the Torklift International StableLoads suspension stabilizer on Velocity Network's All Girls Garage, don't worry!
Catch the short clip by watching here:
When it comes to suspension, the ladies of All Girls Garage only recommend products they know will do the job. Recently the StableLoad suspension stabilizer made a significant impact by premiering as their go-to upgrade for any vehicle with overload leaf springs expecting to tow or haul significant loads.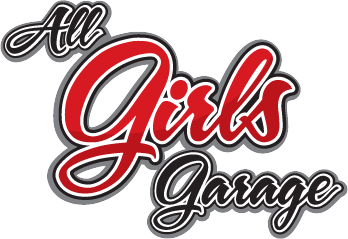 All Girls Garage is a popular TV program known for documenting three talented females while they tackle complicated automotive projects with ease. Due to their years of technical experience in mechanics, these women are extremely selective about the parts they endorse.
For those that tow or haul often and are looking for a simple but extremely effective suspension fix for improving handling, the video clip shown above illustrates how the StableLoads should be the first and easiest suspension modification you consider.
As a universal application for any vehicle with factory upper or lower overload leaf springs, the StableLoads activate the stabilizing power within your vehicle's 4-point suspension to significantly reduce sway, body roll and porpoising when under load.
As explained by Cristy Lee of All Girls Garage, the lower StableLoads application achieves this by rotating the precision crafted wedge plates into the gap between the leaf spring pack and overload leaf spring on the vehicle's rear suspension.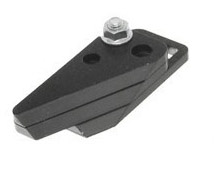 Wedge plates to fill gap in leaf springs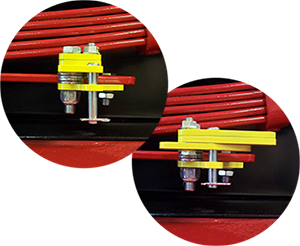 Lower StableLoads engaged and disengaged
Since the StableLoads not only dramatically improve poor vehicle handling but also have the versatility of switching on and off, they are an excellent option for folks looking to maximize the use of the their vehicle. Simply engage the StableLoads when needing to tow or haul and disengage to go back to a smooth factory ride.
Torklift International StableLoads are simple to install and are backed by a lifetime warranty. The effectiveness and performance of this suspension stabilizer are of such magnitude that its lifetime warranty even extends to cover your vehicle leaf springs. Give us a call at (800) 246-8132 for warranty details. 

To learn more about StableLoads for your vehicle, click here.
Related Posts
Comments
No comments made yet. Be the first to submit a comment