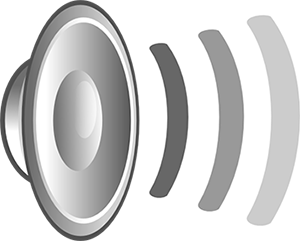 What's that sound? Is your Yamaha or Honda generator humming? If you listen closely, you'll hear that it's asking for a SideKick. Not the buddy-buddy kind, but the Lock and Load SideKick from Torklift International. The locking generator tray is the perfect solution for storing your Honda or Yamaha generator while camping.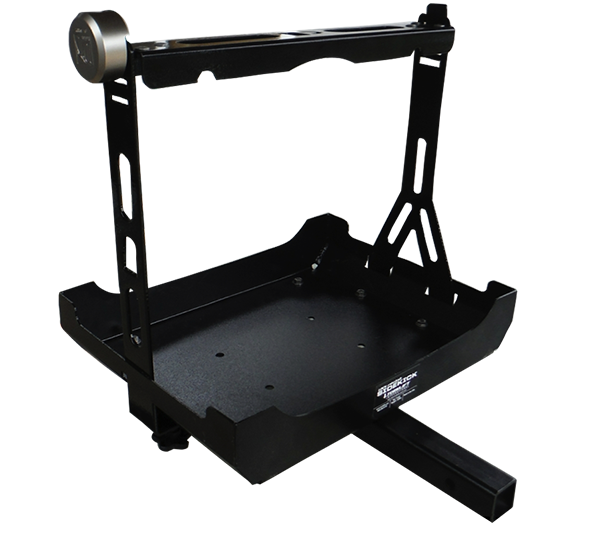 Lock and Load SideKick
What is the SideKick?
The Lock and Load SideKick provides a secure way to store and lock expensive accessories on your RV. Benefit by having access to more power if used to house a generator. By using a tamper-proof high security puck lock, prevent generator theft and enjoy the benefit of extra space within your camper.
The important question: Where to mount your locking generator tray? Here are two convenient ways to mount your generator that provide both security and convenience:
#1) Front or rear hitch
The receiver hitch application of the Lock and Load SideKick is more universal for folks with either a truck camper or any type of trailer. The locking cargo tray fits into any industry standard 2-inch by 2-inch receiver and connects to either front or rear receiver hitches.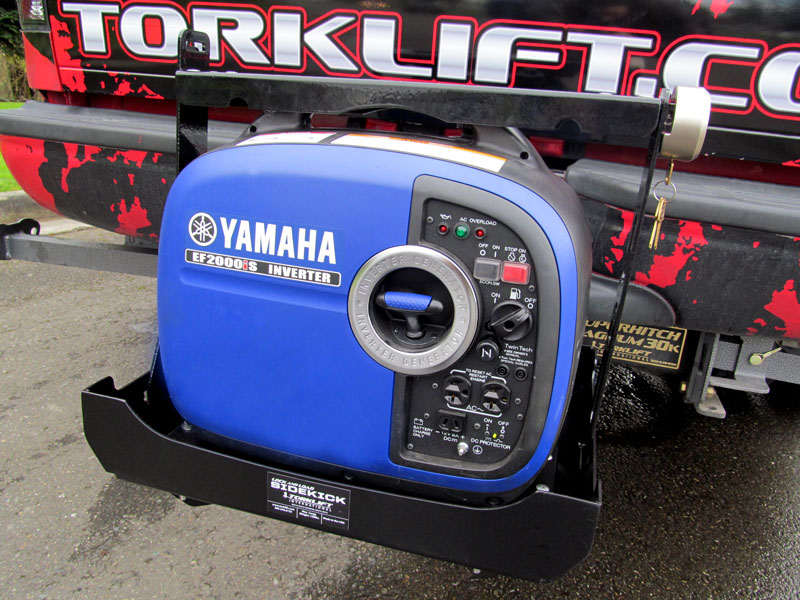 Yamaha generator on Lock and Load SideKickThe sturdy security strap secures the generator and easily adjusts to fit different sizes of generators. The notches in each of the side straps are designed for Yamaha EF2000iS, Yamaha EF2400iSHC and Honda Eu2000ia generators. However, the height of the security straps range from 16.5 inches to 18.5 inches tall, allowing other generators to fit as long as the dimensions are appropriate.
For larger sized generators, check out the original Lock and Load. Torklift's generator carrier dimensions are:
Lock and Load SideKick: 19.75" x 11.75"
Lock and Load Original: 28" x 23"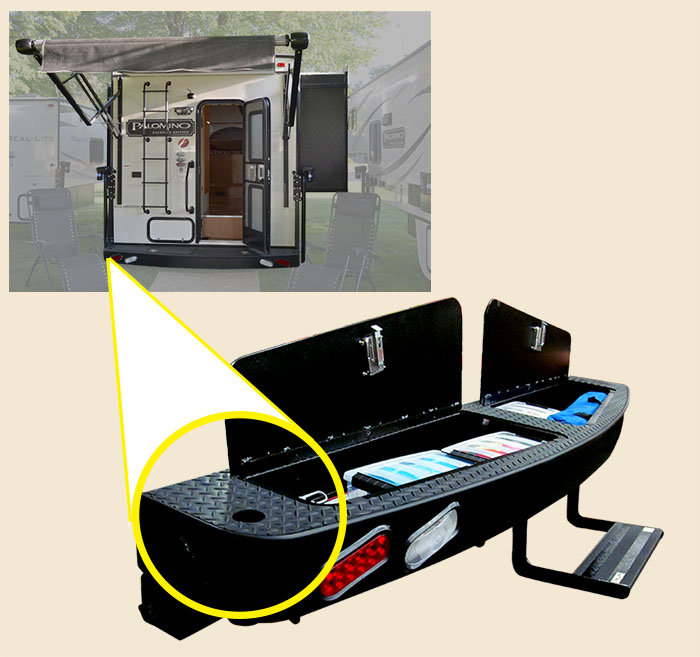 Palomino Truck Camper with Landing Pad bumper#2) Space Dock
If you have a Palomino truck camper equipped with the Landing Pad bumper, this application will blow your mind. The Landing Pad truck camper bumper boasts extra lockable storage, fancy DOT certified LED lights and convenient glow-in-the-dark swing step. The left side of the bumper has a specific spot for the Space Dock so a SideKick generator tray can be secured.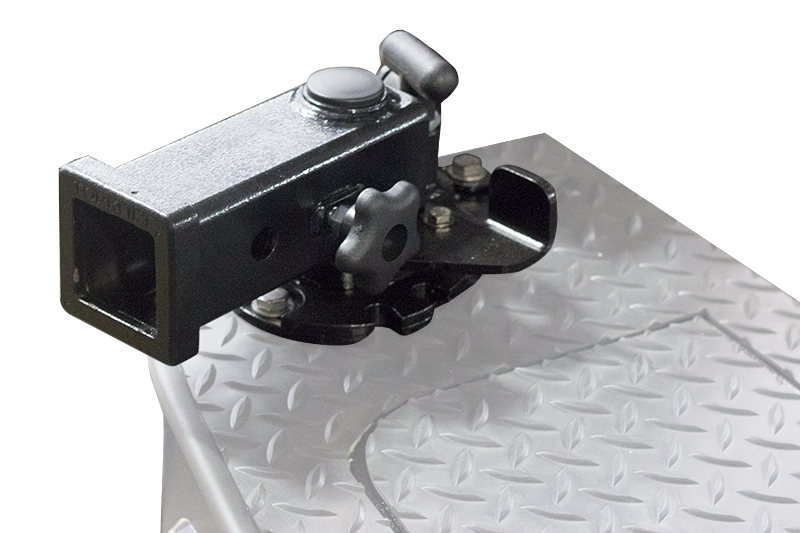 Space Dock receiver accessory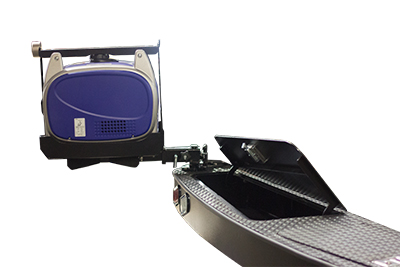 Lock and Load SideKick attached to Palomino Landing Pad Bumper with Space DockBy using the Space Dock receiver attachment on the Palomino Landing Pad bumper, the Lock and Load SideKick generator carrier easily swings out to allow clearance for accessing storage. The SpaceDock receiver accessory is also compatible with other attachments like cargo racks, BBQ, etc.
Choose the Lock and Load SideKick generator tray to keep your humming generator outside the camper allowing for more space inside the RV for your leisure. The generator makes noise when used to power lights and other things that require energy in the camper. Since the generator uses a hefty lock, leave it attached to the bumper without worry of someone stealing it.
A best friend for you and your generator
Your RV generator is safe in the hands of Torklift's SideKick. Security access to the generator is tool-free, quick and easy. Engineered and designed for durability, the generator tray is made from lightweight aircraft grade aluminum and finished with high impact powder coat. The Lock and Load SideKick allows you to lock, store and run your generator simultaneously.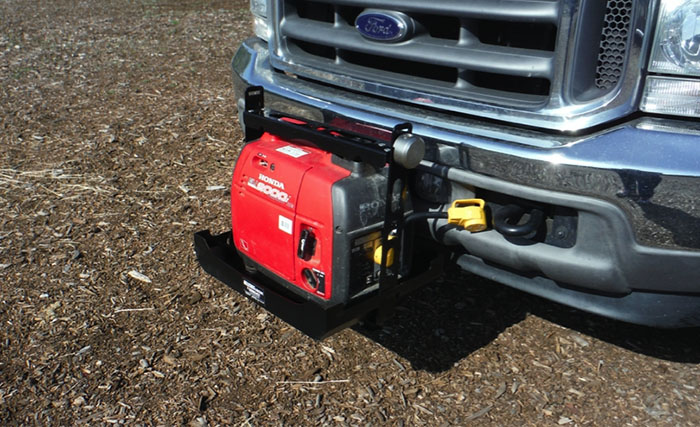 Torklift customer installed SideKick generator tray on the front receiver
to secure a Honda generator
Whether you choose to mount a generator to your front or rear receiver hitch or the Palomino Landing Pad bumper, camping with your RV is made easier. With expensive equipment like your Yamaha or Honda generator safely stored and easily accessible, enjoy more access to power with the Lock and Load SideKick.
Read a recent review of this locking generator tray or click here to learn more about the Torklift International Lock and Load SideKick.