Blog
Over 40 Years of Innovation, Quality, Safety
Deception is a matter of perception

Perception of the StableLoad Suspension Stabilizer
What do you see? #BlackandBlue or #WhiteAndGold?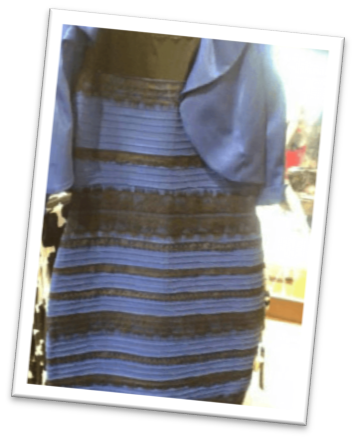 The Dress
Is this an instance of deception or a matter of perception? If you haven't heard of #TheDress that sparked an internet-wide debate in late February 2015, it is an ideal example of countless accounts of the varying perceptions of its viewers.
Asked to identify the color of a dress, which appeared to be white and gold or black and blue, the simple question prompted discussions and arguments across the web. Even though the dress was confirmed to be blue and black, scientific commentary was centered on the photo as an optical illusion. If you missed this phenomenon that absolutely rocked the internet, click here for details.
Instead of #TheDress, let's take a look at the StableLoad suspension upgrade. Regardless of comparison to other suspension products, the stabilizing effects of Torklift International StableLoads remain true and constant.
Watch this video that compares StableLoads to all aftermarket suspension modifications including airbags, add-on leaf springs, sway bars and shocks:
What are the benefits and potential negative side effects of each suspension modification?
Sway Bars and Add-on Leaf Springs
The purpose of sway bars is to make a connection between the truck frame and its axles with a spring steel bar, reducing sway and body roll. Add-on leaf springs help to increase the spring rate of your factory springs to eliminate sag and sway. Although both of these alternatives maybe effective in eliminating sway, the side effects result in a much harsher ride due to the stiffened suspension.
Airbags and Shocks

Additional aftermarket suspension upgrade options include shocks and airbags.
Shocks act as a dampener by resisting movement between the body and axle to help eliminate body roll. Airbags inflate with air pressure to lift the truck frame away from the axle and help level the truck. A side effect of shocks and airbags lies within the potential for leaks. Not only do both significantly stiffen your ride, airbags will often increase side-to-side sway of the vehicle because it takes the weight off of the factory suspension.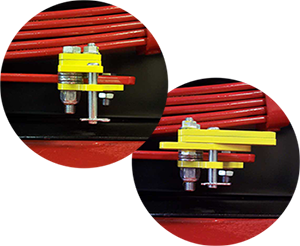 StableLoads engaged and disengaged
StableLoad Suspension Stabilizer

The StableLoads combine all of the benefits of all these products but without any negative side effects. StableLoads are proven to be a successful solution to aid your vehicle in handling its payload in a more safe and effective manner. Click here to see how StableLoads affect your leaf springs.
Increasing Payload Capacity 

It's often misunderstood that adding suspension upgrades to your vehicle increases your vehicle's factory towing or hauling capacity. No suspension upgrade can increase your truck's maximum vehicle manufacturer assigned capacity ratings.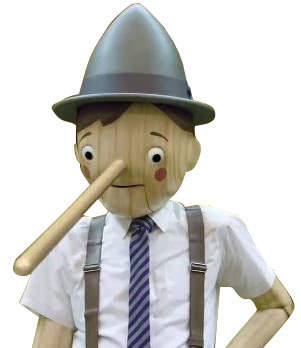 Pinocchio "I will not tell a lie"
A deceptive claim is an implication that a suspension modification could successfully add weight or load carrying capacity to your vehicle. The weight ratings for your vehicle are absolute. Manufacturers set these limits in order to keep you safe from failure of vehicle parts.
Perception not Deception 

It's expected for people to have varying opinions based on their personal experiences. We encourage discussion on topics such as payload capacity and suspension modifications for towing or hauling as sharing ideas is the best way to learn about something new to you. Online forums like RV.net are useful tools to learn from others with similar interests.
Click here to learn more about the StableLoad suspension stabilizer.
Resource: RV.net
Related Posts
Comments
No comments made yet. Be the first to submit a comment