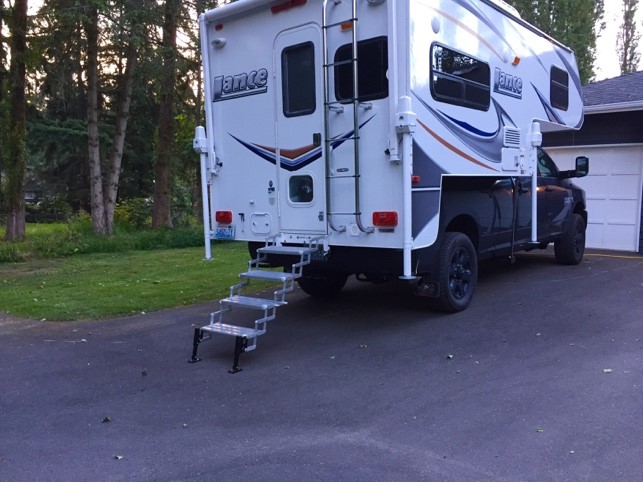 We can say something like, "this is a step up to your current truck camper steps," and although that's true, why take our word for it? Although we've designed a set of steps to make your life so much more convenient when you're truck camping, sometimes it's better to hear from your fellow campers!
What's so cool about the Stow N' Go?
The Stow N' Go was designed specifically to lock while in transit, eliminating the hassle of having to detach and store the steps inside your camper. The steps remain mounted to the back of the truck camper bumper to prevent the interior from getting dirty. This step system comes standard with the storage bracket, GlowStep entry system and All Terrain Landing Gear adjustable feet.
"This is very sweet. We have been using a strap in the past to store hold ours in place. They function flawlessly here for our application. We subjected it to the normal beating we go through and the bands didn't let it rattle or come loose at all during travel
– Columbus and Chris Partin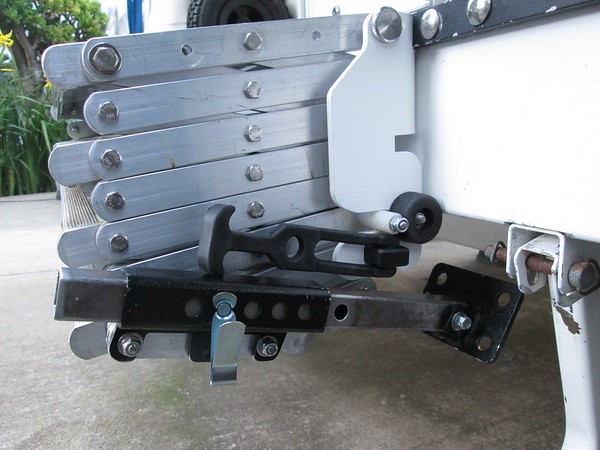 With the step bracket, you no longer have to worry about unnecessary detaching and reattaching, and with a special nylon retainer system that eliminates movement, the steps snap securely in place. GlowStep locks are available for extra protection and the step system comes standard with All Terrain Landing Gear adjustable feet. The steps mount onto the back of the truck camper bumper or underneath the camper door, and come in a range of three to six steps. This step system also has multiple accessories available so you can customize to fit your needs.
Accessories Available: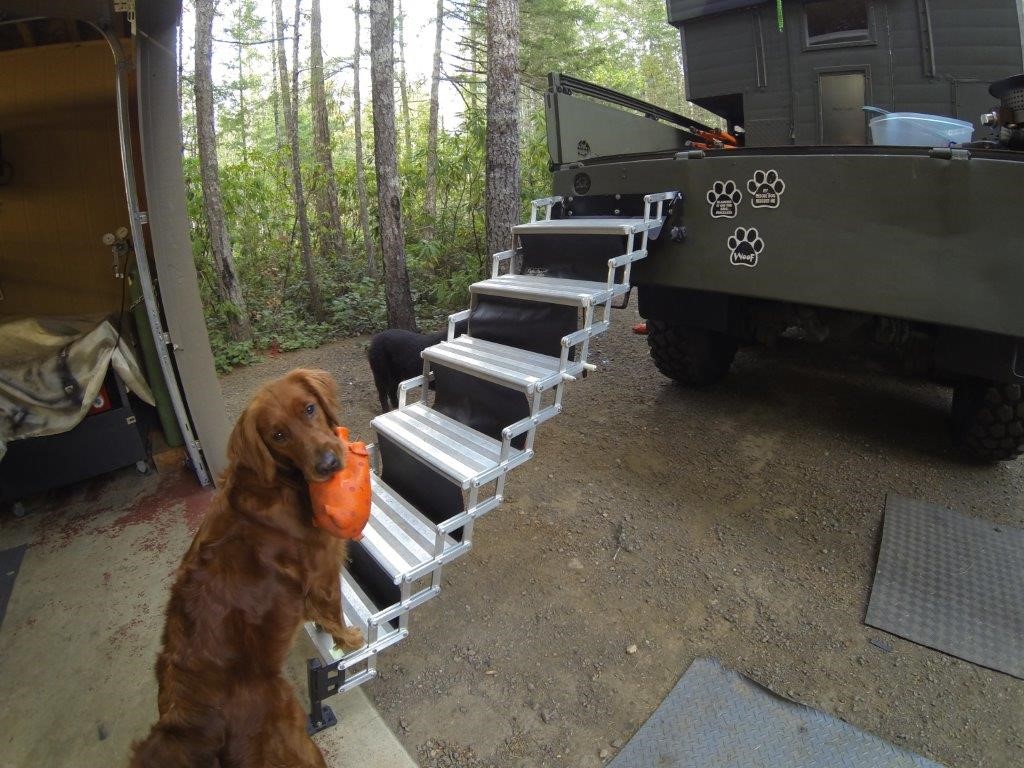 GlowGuide Handrail
A truck camper handrail composed of three telescopic arms: the upper door arm mount, the lower step arm mount and the strut arm. From the door entry to the ground you are guided all the way down with added stability.
Dirt Destroyer – Shoe Cleaning Attachment
A shoe cleaning attachment designed to work with any scissor step. Simply scrape your shoe on this bristle attachment and leave the dirt outside of the RV, saving you from one less mess.
SafeStep – Pet Safety Barrier
A protective step riser guard that creates a vertical barrier between the steps to help protect your pets and children from potentially falling. With a velcro backed panel for an easy install, the panels can stay attached while steps are in the stowed position.
"I really like the adjustable 'feetsies' [All Terrain Landing Gear] on the bottom too. Makes setting the steps super easy to get level where I camp, in the woods, where the ground is typically uneven."
– Daryl Davis
The GlowStep Stow N' Go is made in the USA and comes with our Legendary Lifetime Warranty. For questions or for more information on any of these products contacts us at 800-246-8132 or shop now at one of our Torklift Certified Dealers.
Written by Shyann Guerra:
Being in an environment in which I can problem solve is where I flourish. Every answer to a problem leads me to a new concept to understand or a lesson to learn. When I'm not solving problems I enjoy camping and going to festivals with my family - from the local city center festivals to the mountains of Wenatchee at the Winter Grass, blue grass music festival. Experiencing culture is where my heart is content.