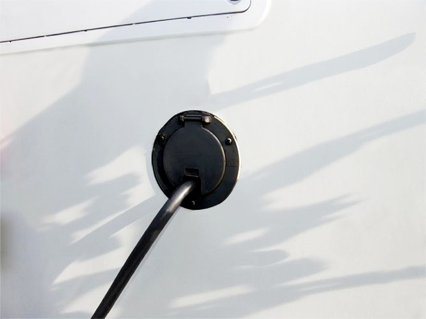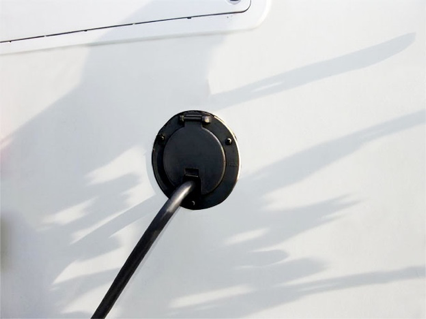 Being able to power your RV while traveling is essential. If your shore power cord is damaged or you are a victim of power cord theft, you have options as far as what kind of replacement cord you can purchase. There are two different styles of shore cords and depending on your RV, it may require a small or larger number of amps to power it.
How do I determine what style or how many amps I will need?
Amp ratings
There are two different amp rating shore cords available. What do the amps mean? Here's an example: If you have a 30-amp rig, you can run one air conditioner and a few other appliances at the same time but not much else. If you have a 50-amp RV plug, then you can plug in and run almost every appliance in your rig at the same time. More amps means more power.
• Option one: 30-amp cord that can provide power for a smaller to average sized RV (three prongs)
• Option two: 50-amp cord that can provide power for an average to larger sized RV (four prongs)


Different Styles Available
There are two different styles that are available for replacement cords:
• Option one- A detachable cord that is plugged into both the RV and outlet which allows you to easily detach and secure the cord. This type of shore cord can easily be replaced and stored in the RV when not in use. If stolen or damaged, it can possibly be expensive to replace, but it's the only thing that would need to be replaced.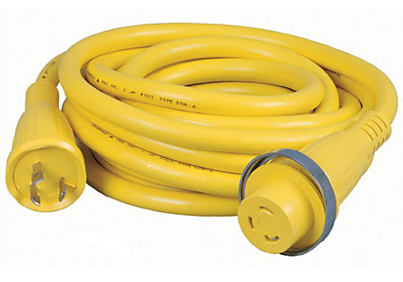 Example of a 30-amp external cord
• Option two- this cord is wired directly to the junction box (and probably already came standard on your RV), which is your RV's power wiring box. In older RVs the cord is bunched into a small compartment while newer RVs now offer a retractable cord roller for easy storage. If this cord is stolen or damaged, you will have to rewire this shore cord back into the junction box. It could cost you a few hundred dollars to repair the damage and replace the cord.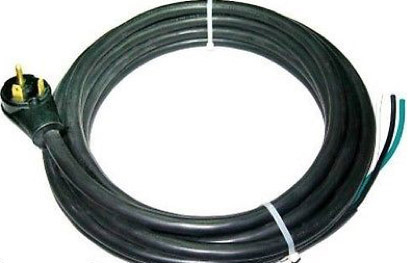 Example of a 30-amp cord that is wired to your RV
Each amp rating can be found in both of the cord styles, so it comes down to what is going to meet your needs the best. Now you've determined the best shore cord to fit your needs and installed it on your trailer, how are you going to protect it from theft?


The Fortress PowerLock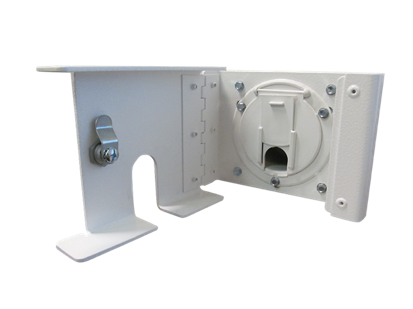 Torklift has designed a shore power cord cover called the Fortress PowerLock, to protect the RV power cord from being cut or stolen. This is the only lock available for shore power cords in the industry. Crafted out of aircraft grade aluminum, the locking shore power hatch is available in a white or black high impact powder coating. This product, like many other Torklift products, comes with a Legendary Lifetime Warranty. The Fortress PowerLock is easy to install and has a lock with a set of keys included.


How do I install the Fortress PowerLock?
Designed for easy installation, the Fortress PowerLock only takes minutes to give you peace of mind when it comes to your shore power. For installation instructions, visit our recent blog on how to install this RV electrical hatch.
If you have any questions on how the Fortress PowerLock protects your shore power cord, are interested in purchasing or need more information, contact our tech support at 800.246.8132.
Written by Shyann Guerra:
Being in an environment in which I can problem solve is where I flourish. Every answer to a problem leads me to a new concept to understand or a lesson to learn. When I'm not solving problems I enjoy camping and going to festivals with my family - from the local city center festivals to the mountains of Wenatchee at the Winter Grass, blue grass music festival. Experiencing culture is where my heart is content.