SUMNER, Wash. (June 9, 2014) — Torklift International announced the release of the highest rated receiver hitch in the industry rated at 30,000 pounds.
The SuperHitch Magnum, previously rated at 20,000 pounds, is now re-engineered and independently certified to industry standard SAE J684 testing standards to take on the growing towing capacities of the newest trucks on the market. Currently the 2014 Dodge Ram is rated to handle up to 30,000 pounds towing.
The SuperHitch Magnum 30k also has a tongue weight rated at 3,000 pounds.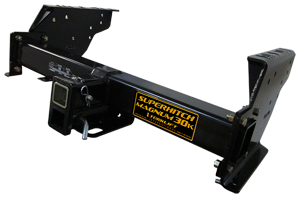 "As the new trucks are coming out with increased towing capacities, it's important for those trucks to have a strong hitch," explained Torklift International General Manager Jay Taylor. "With these increased capacities, safety is top of mind. With this 30k hitch you know you never have to be concerned about hitch failure."
The increased tongue weight is among the main features of the SuperHitch Magnum 30k.
"The trailer tongue often has the most tension and stress placed on it while towing," Taylor said. "It's critical that point of stress on the hitch be rated high to ensure safety and eliminate the chances of hitch failure."
The SuperHitch Magnum 30k also features a dual stacked receiver for added strength and allows for towing in the lower receiver and carrying in the top receiver for various accessories.
"It's ideal for someone towing a large toy hauler, horse trailer, car trailer and heavy duty construction equipment," Taylor added.
The SuperHitch Magnum 30k is backed by Torklift International's lifetime warranty and is made in the United States.
»Learn more about the SuperHitch Magnum 30k