Step for towables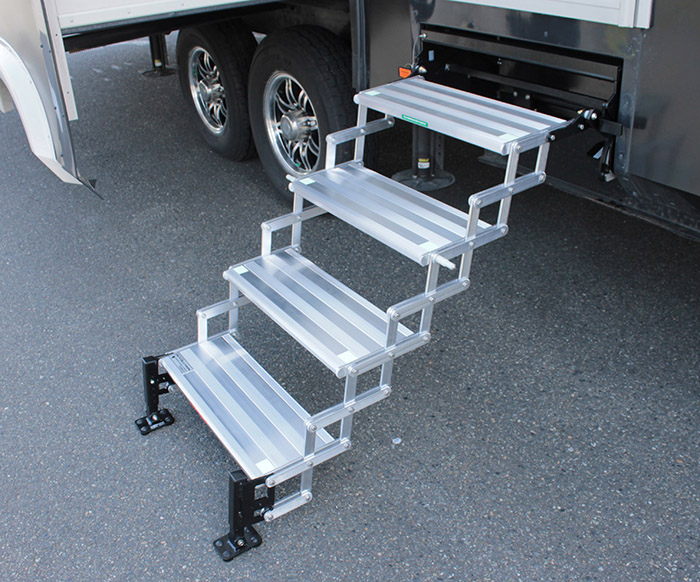 SUMNER, Wash. (May 19,2015) — Torklift International revealed a top-secret new product today: GLOWSTEP REVOLUTION®.
"The GLOWSTEP REVOLUTION® is a scissor step made specially for towables and fifth wheels," explained Torklift International General Manager Jay Taylor. "Previously our industry leading GlowStep was only available for truck camper applications, now it works with towables and side-entry truck campers."
The GLOWSTEP REVOLUTION® comes in applications ranging from two steps to six steps.
"GLOWSTEP REVOLUTION® is the only scissor step available for towables that eliminates that 'diving board' feeling felt when walking down a factory step because the factory step does not reach the ground. There is usually a large gap at the bottom of the factory step between the step and the ground," Taylor said. "The GLOWSTEP REVOLUTION® is the only 'Earth to RV' step giving the customer the best stability."
This new step product also prevents customers from having to haul around inconvenient and often dangerous quick fixes for their factory step.
"Recently we visited a campground to observe homemade solutions people create to help their step reach the ground," he said. "We saw that people used pallets, cinder blocks, plastic step stools and wooden blocks to stabilize their step and help them reach the ground easier. Those solutions are bulky and not simple to set up, plus they take up a great deal of storage space inside the RV during transit."
In a matter of minutes, the GLOWSTEP REVOLUTION® bolts to where the factory step would be housed. It folds up for storage and locks into place, typically giving a greater deal of ground clearance than the factory step. Additionally, it is roughly 50 percent lighter than the factory step.
It also features the All Terrain Landing Gear. The landing gear is a set of leveling feet on the step that can be adjusted through a push button mechanism on uneven terrain.
"The landing gear allows the customer to park on any kind of terrain without having to be concerned about pin-pointing their step deployment area on a level space," Taylor explained. "They keep the step level and sturdy."
The All Terrain Landing Gear can also be purchased separately and retrofitted onto any pre-existing GlowStep application.
The original GlowStep made for rear entry truck camper applications will not be discontinued. The GLOWSTEP REVOLUTION® features a new mounting bracket that allows it to be mounted to towables, fifth wheels and side-entry truck campers.
"When we visited the campground we also learned something interesting about campers who travel with their dogs," Taylor added. "Dogs typically have a hard time getting up and down factory steps because they are often grated like a cheese grater leading to their toe nails getting caught in the step. The GLOWSTEP REVOLUTION® does not feature this grate design, allowing pets to walk up and down it comfortably."
The GLOWSTEP REVOLUTION® is rated up to 375 pounds when used with the GlowGuide Handrail and features an 8-inch step depth making it compliant with RVIA OEM step design requirements. It also features bushing bearings at each hinge point for maximum stability and longevity. It is made in the US and comes with a lifetime warranty.
The GLOWSTEP REVOLUTION® is available for pre-order today. The step is available for sale July 8, 2015. The first 50 customers to pre-order the step will receive their choice of free SafeStep pet barrier panels or a Dirt Destroyer shoe cleaning attachment. Customers who purchase a GlowStep or GLOWSTEP REVOLUTION® with a GlowGuide Handrail between now and Aug. 14, 2015 will also be eligible for a $20 rebate toward a GlowGuide Handrail.
Visit here for more information.