Universal design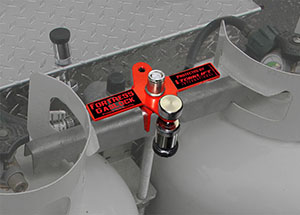 SUMNER, Wash., (July 22, 2015) — Torklift International has added additional applications to the Fortress GasLock propane tank lock line and changed the design to further meet customer needs.
The Fortress GasLock now works on any RV outfitted with dual exterior propane tanks with fitments that now work with Airstream trailers.
"The design of the Fortress GasLock was slightly changed by flanging the locking wing nut mechanism upward to accommodate an easier grip and to allow for a more universal fit," said Torklift International General Manager Jay Taylor.
The Fortress GasLock was developed due to customer demand.
"We regularly read reports in the news and industry publications about propane tanks being stolen at epidemic levels to be used in the manufacturing process for methamphetamine."
The Fortress GasLock propane tank lock works by threading onto any ½" or 3/8" threaded rod with dual propane tanks. The locking mechanism secures the tanks into place and locks them. The propane tanks can be accessed while locked. Installation takes a few minutes and does not require tools. It is made from high impact powder coated military grade aluminum and is proudly made in the USA.