New product announced
MOUNT RAINIER, Wash., — Torklift International summited Mount Rainier and announced a new product last week.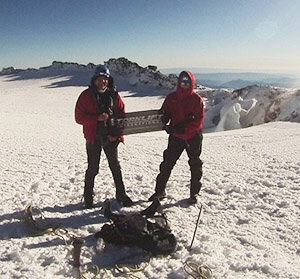 summitThe climbing team consisted of Torklift International President Jack Kay and Assistant Marketing Director Sheryl Bushaw.
The climb spanned roughly three days and they represented the final climbing team of the season with International Mountain Guides. Kay and Bushaw overcame many feats including climbing over crevasses hundreds of feet in depth, rocky terrain newly exposed from the snowmelt and windy weather conditions. It was their first climb and was done in the spirit of innovation to announce a new product and to kick off the company's 40th anniversary slated for 2016.
The new product is called Summit and is a truck camper bumper currently in the preliminary design phases set to be released as a special edition anniversary product next year.
"The bumper will be designed to work as universal as possible and is expected to encompass a landing, storage and security features," explained Kay. "The bumper is made for truck campers to celebrate where we came from. While we have expanded quite a bit into the towable, motorhome and fifth wheel segments, our roots began with truck campers and we are extremely grateful to those truck camper customers who have gotten us to where we are 40 years later."
Once they reached the top, they signed a Torklift flag to commemorate the event and Kay quoted Theodore Roosevelt saying, "Far better it is to dare mighty things, to win glorious triumphs even though checkered by failure, than to rank with those poor spirits who neither enjoy nor suffer much because they live in the gray twilight that knows neither victory nor defeat."
He intended to say that quote if he reached the top. It's a common quote heard at Torklift headquarters and is even posted on the wall in the company's meeting room. The reason the quote is on the wall is to remind staff to dare to take chances, even if it means failure.
"This climb has permanently altered my perspective both personally and professionally," Kay explained. "To face such challenges and overcome such obstacles and reach for the highest heights, that's what's made Torklift International what it is: an organization ready for the biggest challenges."
Bushaw called the adventure the experience of a lifetime.
"Setting out on this climb, I wasn't sure what to expect," she explained. "Knowing it would be an experience of a lifetime, the level of endurance, perseverance and determination was unlike anything I've encountered before. It was by far the biggest challenge I've faced. Reaching our goal has shown me that anything is possible with the right mindset and team of supporters. I'm forever thankful to have had this opportunity."
When Kay reached the top, he said he was overcome with emotion.
"As I crested the edge of the crater and looked for the first time at the very summit of Mount Rainier, I thought about my family and my friends and my co-workers," he explained. "I thought of all their hard work and their commitment and all the challenges they face, my father's cancer, people that are going through things both in their family and in the company and I thought about all the different people in the organization it takes to make it work and move it forward. I thought about all their jobs and all their dreams and I thought about all their families and their kids. It's funny to say, but for Torklift I felt like Neil Armstrong: one small step for Torklift and one giant leap for Torklift-kind. I was carrying my team to the top of the mountain and that is why it was so emotional for me to do that."
The Torklift International Summit bumper will be released in 2016 with additional details coming soon.