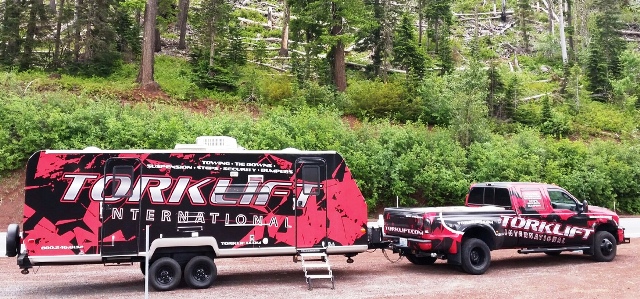 SUMNER, Wash., — This year Torklift International celebrates 40 years of business rooted in innovative, niche products."Torklift is born out of dreams, hope and love," said Torklift President Jack Kay. "In 1976 there was a man with a dream and he moved that dream through his fingertips to make it a reality. That was Jon Kay."
Torklift founder Jon Kay first opened up Torklift Central in 1976 in Kent, Washington. At that time it was a one-man, one-bay retail shop specializing in trailer repair, custom hitches and other automotive work.
"The guiding principal of the company has been innovation," Jack Kay explained. "It's that very innovation that has expanded us into a worldwide manufacturer. We got our start in the truck camper market and have since expanded 80 percent of our product offering for towable products ranging from security to step entry systems."
One of the first products ever invented by Jon Kay was the FastGun turnbuckle. The FastGun is a specially designed patented turnbuckle made to attach truck campers to trucks. The intent behind inventing it, was to make people's lives easier.
"Several years ago, after the FastGun was first created, a woman told my dad [Jon Kay] that she suffered from crippling arthritis in her hands," said Jack Kay. "She explained that she was considering no longer truck camping because she was unable to operate the old-fashion manual turnbuckles, until she learned about the FastGun turnbuckle. Because of that product my dad invented, this customer was able to truck camp for many more years."
"Knowing that we were able to help that customer is amazing to me," said Jack Kay. "She was able to have the freedom to continue to do what she loved. It's also amazing because that product is the most popular and most sought after truck camper turnbuckle in the world and because of that we have created so many jobs. Those employed people are able to take care of their families because of the jobs they have. That product was a catalyst for so many other great things to happen and that is what our organization thrives from."
"All of our products that we manufacture are born at our Research and Product Development Center located at our retail shop; Torklift Central," said Jack Kay. "It's not just a retail shop. It's where all the products we manufacture worldwide come from because we have a direct point of contact with our retail customers. It is vital to our product development that we listen and interview our customers to learn about what they need and how we can help. We have got to take care of the customer. There is nothing more important than the customer."
The fundamentals of the organization have been the same from the beginning.
"I always look at things like I'm the customer. That's my motto," said Jon Kay. "I want to give them a good product at a fair price. What else do you want?"