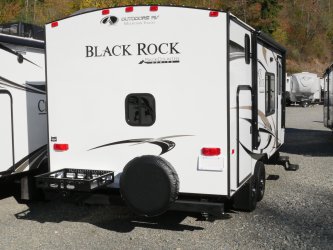 SUMNER, Wash., — Torklift International and Outdoors Manufacturing have partnered in the ultimate off-the-grid travel trailer.
"Our partnership with Torklift International is essential to Outdoors RV Manufacturing as we offer "Mountain Tough" travel trailers and fifth wheels to the western United States, Canada and Alaska," said Outdoor RV Manufacturing. United States Regional Sales Manager Ryan Preuit. "Since we are known for producing our own Custom-Built Off-Road Chassis, 2" thick aluminum frame walls and other four-season off-road features, only the rugged quality of Torklift components will do."
Each 2017 Black Rock trailer will come with a Torklift manufactured Off-Grid Battery Tray that holds up to two batteries and is built directly in-between the trailer A-frame. With this off-grid tray, owners can "bug-out" while preventing expensive storage and battery theft by locking batteries down by using the tab design on the tray.
Trailers will also come with the Torklift Off-Grid Receiver Hitch that is rated at 300 pounds tongue and 3,500 pounds towing weight. The hitch is equipped with an industry standard 2-inch width and 2-inch height receiver.
"This Black Rock travel trailer has everything you need to truly bug-out and go off-grid camping," said Torklift General Manager Jay Taylor. "These Black Rock accessories are perfect for enthusiasts who plan on camping for weeks at a time without having to go back into town."
Only on certain exclusive trailers there will be the Lock and Load SideKick and Space Dock accessories which are specially designed to work with the 2017 Black Rock travel trailers.
The Lock and Load is a high impact powder coated tray designed to protect expensive generators from theft.
"This Black Rock SideKick generator tray is a variation of our original accessory that is designed specifically to work with this travel trailer," said Taylor. "The Black Rock travel trailer combined with the generator tray and ability to house extra batteries equates to the epitome of boondocking."
The Space Dock mounts to the Outdoors Manufacturing Black Rock travel trailer as an additional receiver with a max capacity rating of 250 pounds tongue weight. The Space Dock is designed to easily swing out for accessory use, including generator trays, and swings back in while in transit or off-roading.
"With the specially designed Lock and Load SideKick and Space Dock as well as the battery tray and hitch, this trailer is all you will need to go off-grid for weeks." said Taylor. "We are very happy with how these accessories turned out for Outdoors Manufacturing and look forward to our continued partnership."
"Our customers require, and we aim to produce, a product that will perform time after time in the toughest of off-grid camping situations," said Preuit. "Outdoors RV Manufacturing travel trailer and fifth wheel owners can rely upon the durability of the Torklift products while enjoying Outdoors. That's why we choose Torklift."
All Outdoors Manufacturing Black Rock travel trailer accessories by Torklift International are made in the United States and come with Torklift's Legendary Lifetime Warranty.