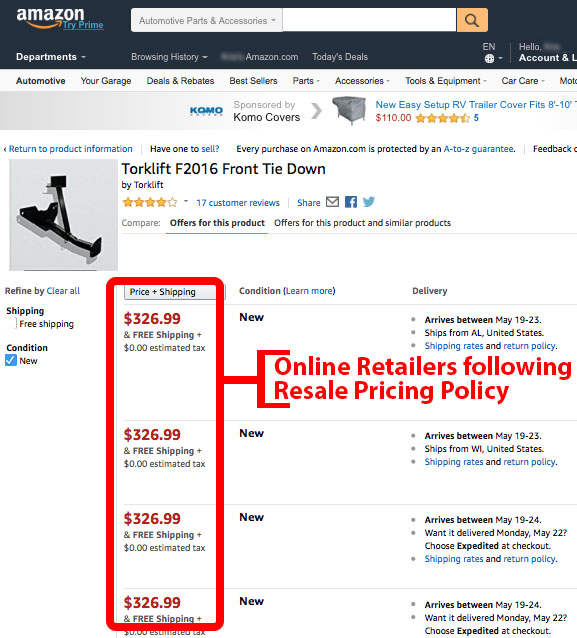 SUMNER, Wash., — Dealers continue to report increased profit margins due to implementation of the Torklift International Resale Pricing Policy (RPP).
"Due to some retailers selling at low prices, it leads to erosion of prices and brand value that heavily affects brick-and-mortar dealers as well as our company overall," said General Manager Jay Taylor. "We are very happy to see that the RPP we established in 2015 is improving daily to help these dealers have a level playing field. We are seeing inventory levels dropping consistently from online retailers who violate this policy and have seen distributors halt violating dealers from purchasing all together."
Since the policy's launch on Feb. 14, 2015, the Resale Pricing Policy protects brand value and maintains margins by establishing a minimum resale price that applies to both advertised price and actual selling price.
On April 15, 2015, Torklift's RPP went live. All authorized dealers in the United States and Canada are subject to a pricing policy to protect product integrity. Margins for some dealers have increased by a minimum of three-fold for FastGun turnbuckles, tie downs and the StableLoad suspension stabilizer.
Torklift's policy sustained Torklfit Tie Down F2016 at
its minimum resale price of $326.99 on Amazon.com
Dealers who do not support the policy, but are still selling products are put onto the Do-Not-Sell List to protect authorized dealers that do follow the policy, so they are unable to obtain more products. Currently, 98 percent of Torklift International dealers are in compliance with the RPP. Torklift International distributors receive the list of dealers who are on the Do-Not-Sell List and are directed to honor the policy by not providing violators with more inventory.
Several dealers that have not adopted Torklift's RPP policy have received cease and desist letters and as a result, no longer offer the Torklift line. This initiative will be pursued with additional violating dealers.
"Generally, violating dealers are not in the RV industry. For the most part they are online dealers who sell a little bit of everything from accessories to baby clothes to tools. Since establishing the RPP, RV dealers are experiencing an increase in profit margins," said Taylor. "As a result of this, we continue to support our partners by administering the policy. We also rely on our dealers to report offenders. We contact offenders the same day they are reported."
As an effect of the policy taking place, Torklift has seen a decrease in the inventory that non-supporting dealers possess.
"We've managed to get dealers who fail to support the policy to remove the line altogether from their websites. It's been a two year journey and we are making headway each day. This is a daily project for us but we are committed to partnership with our dealers," said Torklift International President Jack Kay. "Providing support to our dealers and distributors remains our high priority. We do this by protecting their margins. One retailer that continues to be on the Do-Not-Sell list since the inception of the program is Amazon. We watch their inventory levels deplete as more and more distributors refuse to sell our products to them."
For more information on the Resale Pricing Policy, or to sign up to be a Torklift International Authorized Dealer visit www.torklift.com/rpp.