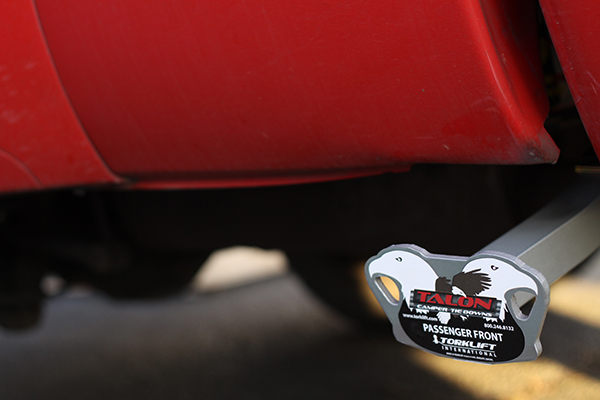 SUMNER, Wash., — Customers looking forward to stress-free summer camping have an opportunity to upgrade to the latest high-performance truck camper tie downs from Torklift.
Torklift is hosting the Camp With Torklift contest giving customers the chance to outfit their truck with rust-free Talon tie downs. Anyone can enter the contest by sharing a photo of their truck camper onto Torklift's facebook page with hashtag #CampWithTorklift.
"As the only thing that connects the camper to the truck, tie downs are truly a foundation to enjoy the freedom of camping," said Torklift President Jack Kay. "By attaching directly to the truck frame, folks can be safer and more confident on the road by a better overall road handling experience. No worry, no stress, you are free to enjoy your trip. And that's how a camping trip should be."
The person that enters the best photo is chosen by Torklift and wins the grand prize of outfitting their vehicle with both front and rear Talon Tie Downs. This is a value of $1,000. Cost of installation is also covered.
Made from stainless steel and aluminum, Talon tie downs come with rust-free corrosion protection for life.
Torklift truck camper tie downs are available in two types: traditional steel or Talon which is a combination of aluminum and stainless steel.
Both styles are designed to secure a truck camper at independent tie down points, bolting directly to the truck frame and avoiding any possibility for truck bed damage from tie downs that attach to the truck bed only.
"Nowadays attaching direct-to-frame has never been more critical," said Kay. "Campers are heavier and vehicle manufacturers are using lighter materials for trucks, especially for the truck bed."
While nearly all steel tie down applications are no-drill, all Talon aluminum and stainless steel tie down applications do not require drilling to install.
All tie downs are designed custom to each vehicle make and model, ensuring a snug and secure fitment for safety and stability.
"We hope our Camp With Torklift contest not only inspires people to share their favorite spots across America, but that their high-performance Talon tie downs provide a better camping experience," said Kay.
For contest details visit www.torklift.com/campwithtorklift. A winner will be selected June 15, 2018.
Customers looking for the latest camper tie down fitments for 2018 trucks can use the automated application guide at www.torklift.com. Most 2018 Ford and Dodge applications are now available and new fitments for Chevy, Toyota and Nissan are added regularly.
Truck camper tie downs from Torklift are available to purchase online or in store through any Torklift Certified Dealer. Tie downs are made in USA and come with a Legendary Lifetime Warranty.