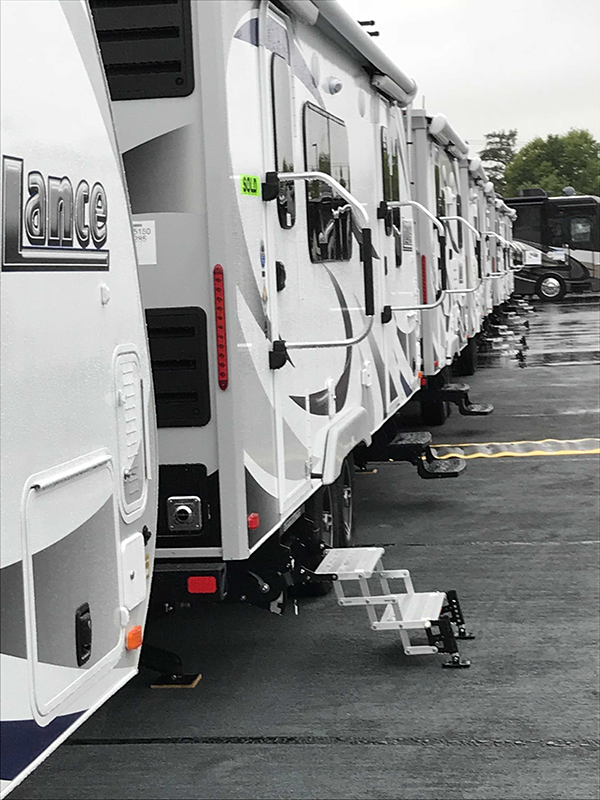 SUMNER, Wash., — Lance Manufacturing now offers GLOWSTEP REVOLUTION® entry steps for their customers.
The step is branded as the ultraSTEPglow as part of the Lance ultraSTEP series of entry steps.
"Torklift is the type of partner we love to work whose products complement our brand's quality position in the marketplace," said Randy Hunter, Research and Development Manager at Lance Camper Mfg. Corp. "On the retail side of the business our customers appreciate the quality, innovation and functionality their products offer."
The adjustable two-step model of the GLOWSTEP REVOLUTION® is available as an option on all Lance trailer models.
"Lance customers looking for extra stability for their trailer entryway are already installing the GLOWSTEP REVOLUTION® on their trailers," said Torklift President Jack Kay. "Since Lance is known for delivering the highest quality finished product, having a step upgrade available for customers when selecting their ideal trailer gives them the luxury of perfection right from the factory."
The GLOWSTEP REVOLUTION® entry step system differs from the existing factory steps. With seven inches of adjustability at the top and bottom of the step, the GLOWSTEP REVOLUTION® steps connect to ground level for stability on all types of terrain. The design allows for the steps to easily extend in tight spaces and also features the shortest riser height in the industry: 7.5 inches.
"Lance trailers are built with extremely high quality and the customer in mind," said Kay. "That's what makes the GLOWSTEP REVOLUTION® an excellent upgrade for Lance to offer – our missions of dedication to quality and safety align."
The bolt-on step installation allows customers that already have a Lance trailer to upgrade to GLOWSTEP REVOLUTION® steps at any time. The GLOWSTEP REVOLUTION® manufactured for Lance trailers has a special bracket size and is Lance part number reference number XM144. Torklift also offers step accessories that include a boot brush, step barrier panels and an adjustable handrail.
"Our partnership goes back several years with the development of the Lance Ultra Deck Plus truck camper bumper," said Kay. "Joining forces on a trailer step upgrade is another opportunity to continue our partnership and provide people with the very best in safety and quality."
To order a Lance trailer with GLOWSTEP REVOLUTION® steps, customers can request the steps when ordering from their dealership. To upgrade the steps aftermarket, contact Lance dealerships or the Lance Parts Department at 661-941-9251 to place an order and schedule installation.
"From the design and development phase to launching and supporting our production and marketing efforts, Torklift is a top tier supplier," said Hunter.
The GLOWSTEP REVOLUTION® steps are made in the USA and come with a lifetime warranty. To learn more about trailer steps by Torklift, visit www.torklift.com/glowstep-revolution or call us direct at 800-246-8132.