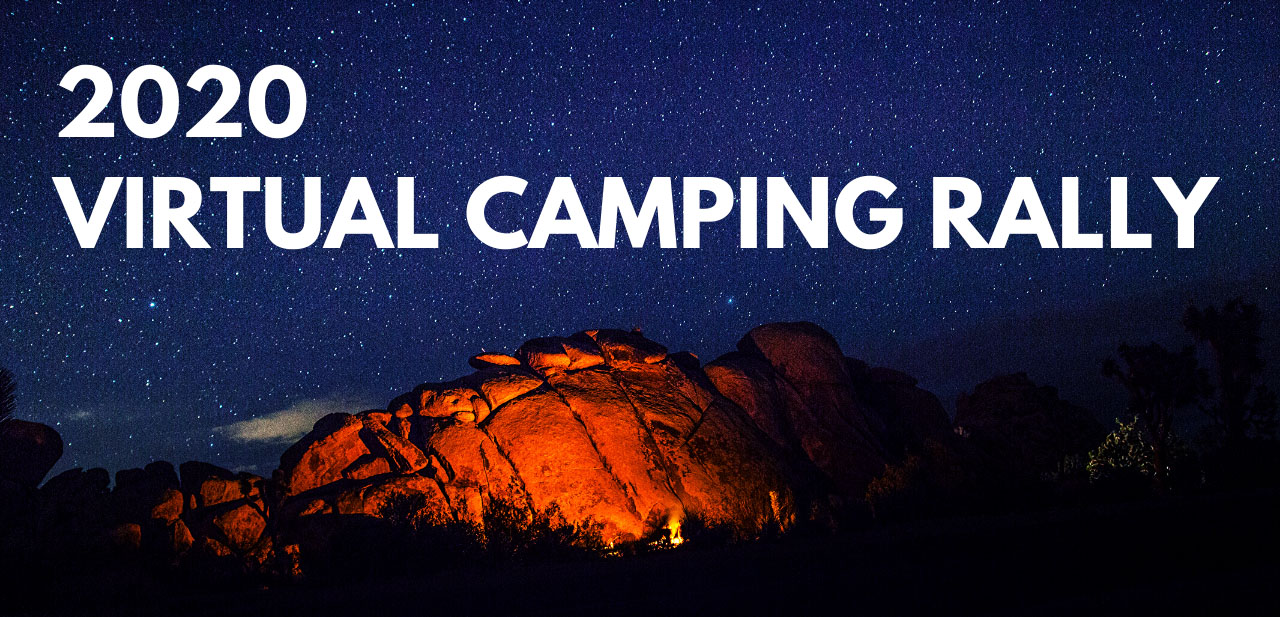 Due to the severity of COVID-19 taking place across the world and so many of us canceling events including rallies and practicing social distancing – it doesn't change the fact that as human beings – we need to be around others. While we can't be together in person, it doesn't mean we can't be together. It's important to have something to look forward to and it is important to share stories and share laughs where we can. We'd like to invite you to the first-ever (what we think is the first-ever) 2020 Virtual Camping Rally!
Each rally is unique and specific to each particular owner's group. See the list on the registration page.
Best of all - each rally is guaranteed to be fun!
Here is just a snapshot of what you can expect and be sure to check back regularly as this list expands because as more people get involved, more ideas will come to life!
Cook Book Challenge: Submit your unique recipe to be shared in the 2020 Virtual Camping Rally Cook Book! Recipes will include a head shot and biography of each chef and the best recipe will be featured in a how-to video debuted at the virtual rally. Cook books are guaranteed to the first 100 rally registrants and all winners will get a copy of the cook book.
Owner's Group T-Shirt Design Contest: Do you have an exciting idea for a t-shirt design that is special just for your owner's group? If so, enter your design! You don't have to be a design pro - you can just send in a photo of a hand drawn design too. Best design wins a shirt plus they choose the charity of their choice that the proceeds will be directed to from shirt sales.
The Clean Comedy Challenge: Submit your best campfire jokes in advance of the rally. All submitted jokes will be read in a video released at the rally. The best three jokes will be read by the comedian who submitted it and rally-goers will vote to pick who told the best joke. Winner gets a prize!
The Crazy Things I have seen on the Road Challenge: If you RV -you have seen a lot of places and have experienced a lot of interesting things from the first time you accidentally spilled your gray water tank to the time you backed into that tree. Share your stories, the best stories will be shared during the virtual rally and story tellers will receive prizes!
What do you love about your RV and why did you pick that brand: Tell us why! We want to share your story. Greatest stories get the best gifts for participating!
RV Calender Photo Contest: Send in your best photos of your RV to win a spot on a 2021 calender that will be made just for your unique rally. A bio and description of the photo will also be featured. Photos will be displayed for voting during the virtual rally.
Get your RV Questions Answered: Manufacturer representatives will be invited to the virtual rally so submit your questions in advance.
Drawings Galore: Just by registering for the rally, you will be entered to win several amazing prizes. Prizes will be drawn throughout the virtual rally so there will be many winners!
Unheard of discounts: You'll never see offers like these - but the only way to access them is to register and attend the virtual rally!
Participating Dealers: Dealers accross the country are participating in this rally with incredibile offers you will want to know about. Even better? These are dealers who specialize in your RV brand.