Talon = Performance.
We challenged our engineers to develop ultra high-performance camper tie downs to meet and exceed the toughest demands from avid sportsmen and adventurers. What they created was Talon. Talons are cutting-edge truck camper tie downs specifically designed and developed for maximum strength, are corrosion resistant and rust free for life. An industry first, Talons are precision crafted from high impact powder coated, lightweight military grade aluminum alloy and stainless steel.*
Our engineers developed these ultra high performance pickup camper tie downs to handle the toughest climates and terrain. Whether you head out onto the coastal beaches or up to the mountain heights into the snow and ice where harsh chemical treatments are prevalent, nothing outperforms Talon.
Find Your Fit
» Already have your Torklift part number? Login to the
Dealer Portal
to access the
Distributor Part Number Finder
and see what your Torklift part number fits.
» Login to the
Dealer Portal
to convert your Torklift tie down part number to a distributor part number with the
Distributor Part Number Finder
.
Details
We design each individual slide-in camper tie down to fit with specific truck makes and models and install them by bolting them directly to the frame using existing factory mounting points – the strongest part of the truck! With these no-drill frame-mounted tie downs, holding down your truck camper is a breeze and won't damage your truck bed or bumper. These aluminum and stainless steel tie downs for truck campers come with rust free corrosion protection for life and a completely no-drill installation.
True to their name, Talon Camper Tie Downs are always ready to push the envelope with you while keeping your family, truck and camper safe.
From your driveway to the highway, to the razors edge of adventure and back, Talon equals performance.
*Depending on the application, Talons can include a combination of stainless steel or aluminum. Talons come in sets of two.
Talon Camper Tie Downs Features
Rust free corrosion protection for life†
Dramatic improvement with vehicle handling and stability and is the safest way to haul a truck camper (Prevents vehicle sway and camper movement in all directions)
Strength and safety for stress-free truck camper hauling and camping, and the best ride quality in the industry
Mounts using independent tie down points that bolt directly to the truck frame
Custom fit to specific truck makes and models to allow for the ultimate safety and confidence
Applications for Talon tie downs including applications of best-selling Ford, Chevy and Dodge truck models
Tie down receiver tube and tie down insert are each 100% military grade aluminum and stainless steel
Fast, 100% no-drill installations
No loss of ground clearance perfect for off-road truck camping
Hidden when not in use to return your truck to its original look
Finishing Kit included to protect tie downs from effects of road debris
Lockable with Tie Down Locks
Legendary Lifetime Warranty
Proudly made in the USA
†For more details, call us at 1-800-246-8132
Videos
Talon Camper Videos

Torklift Talon Aluminum Camper Tie Downs

What Does Lance Manufacturing Think Of Torklift?

How-To Tie Down Your Northern Lite Truck Camper
Accessories
Accessories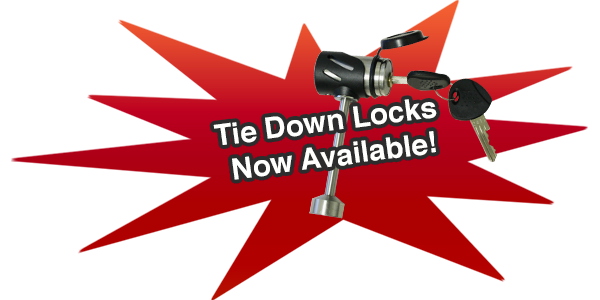 Tie Down lock - set of 4 S9700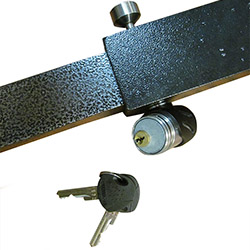 MFG Part Number:
S9700

Reviews
"I have the Torklift tie down system called the Talons for my camper and I really love them," said Weber. "They are very lightweight, very strong but also very easy to install." - Jim Weber - Spanaway, WA » Read More