For a while now, we've been sharing with you some of our favorite fan mail that we get, which we've published here and here. Recently, we had a friend of ours send in the ultimate fan mail letter, and we just had to share with you. Read below to learn all about Steve Thune and his new steps.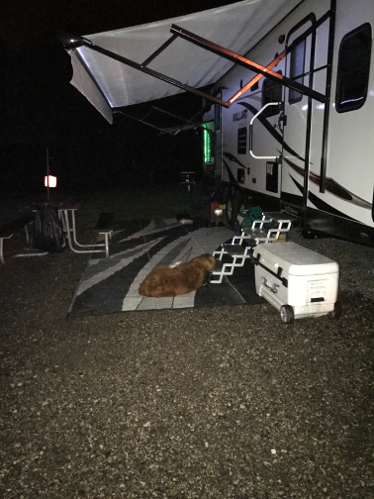 "I should begin by first stating that I was not asked to write a review of Torklift's GlowStep Revolution, but the product is a significant enough change to my RV that it must be done!
My family and I currently own a 2016 Mallard M32 travel trailer. This is our fifth camper and it was a downsizing from our last travel trailer. We didn't go on any long trips with it last year, but in our history of camping we have managed to pull a travel trailer pretty much from one coast to the other. The Mallard has met all of our expectations, if not exceeding them. The only complaint we consistently had was how high off the ground (even on level ground) the first step into the trailer was at both doors. This consistently presented issues for each family member, including our dog and extended family. We dealt with it by purchasing two of those exercise steps that can be slightly adjusted for height. That worked – sort of.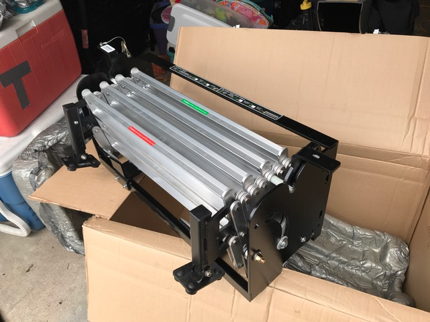 To find out what we could do about it, or what others were doing, I joined in on forum discussions – starting with a forum where other Mallard owners were active. I asked a simple question and was introduced to the GlowStep Revolution. Not convinced, but still impressed with the design, I engaged in continued conversations and went to YouTube to further research.
Our GlowStep Revolution arrived in early Iowa spring. It sat in my garage for almost ten days before I could get my camper home and install them (again, Iowa spring). The installation went very well and while I did attempt to do it myself, my wife was called in to help. I decided to not remove the steps from their framed box and to simply install it all at once. In reflection, if I were to do it again, I would have an assistant from the start, or I would follow the optional directions for a single person install.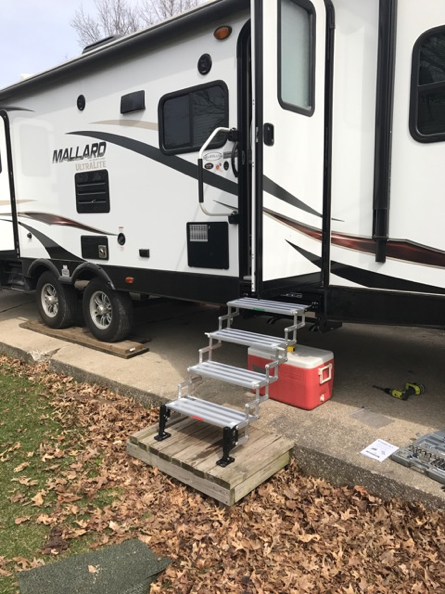 The steps have been on our camper for the past two or three weeks and we were finally able to get the camper out and use them at a local park. GlowStep Revolution trailer steps are, in a word, amazing.
Since acquiring the Mallard we have found ourselves almost exclusively using the 'back' door, the door into the restroom. That door is very convenient, and helps to keep the overall warmth or coolness of the camper from going straight out the door. After using the GlowStep Revolution, we have discovered that we are not using that back door much, if at all. In fact, we want another set of the steps for this door now!
The performance of the steps is spot on. Initially the art of deploying, adjusting, and storing takes some practice. Not to imply it is difficult, it isn't – there are just steps you need to take and you need to do them in order. Once you have that down, the process becomes second nature. On initial set up we have found them to be slight bit 'creaky' with respect to noise. Once you have walked up them once everything settles into place and have never heard any further noise. If you need to adjust them for height, you have options. So far I have started with lowering the top step first and then repositioning the bottom legs second. Each is easy to do, especially with a bit of initial practice.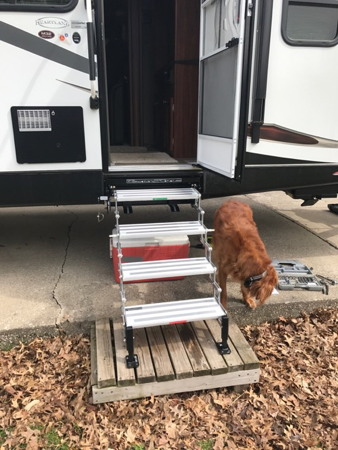 The solid platform of each step seems to give each family member a more confident footing. The step platform did greatly impact the confidence and ease at which our golden retriever enters and exits the camper! We are even experimenting with the RV carpet for steps on the first two of our four-step system. It doesn't cover the glow feature and has so far worked well, giving us two steps to kind of wipe our feet before entering. The consistent spacing of the step's rise and run also makes entering and exiting much less labor intensive for those of us with bad knees and especially for my mother who also has an artificial hip.
Camper rock when entering and exiting has almost been eliminated. This is a huge bonus and directly impacts comfort, especially if you have at least one camping family member that is a night owl – coming in after others are settled into bed.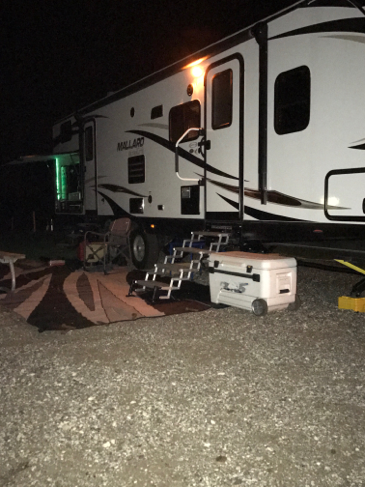 Communication with Torklift has been outstanding. In truth, I have only corresponded with one person. Kerstin has been supportive, helpful, and has responded to all inquiries in a timely manner. If she represents their typical employee, this company understands that out of all the resources it may need – the human one is the most important.
In summary, the GlowStep Revolution in my opinion, should be the industry standard on any camper. They improve step safety, all but eliminate camper rock (also that diving board effect), and can be adjusted quickly to meet each new camping situation. On a scale from 1 to 10, with 10 being the highest, I would put them at a 9.5. The deduction of .5 for the slight learning curve (not really avoidable)!"
Thanks for the wonderful review Steve! We are so happy to hear you love your steps. Remember – we're always here to answer your questions about these upgraded trailer steps by either calling us at 800-246-8132 or by emailing us at support@torklift.com, we'd love to get you set up with a set of your own GlowStep Revolution steps for your trailer! Until the next piece of fan mail friends…
Take a look at the GlowStep Revolution Challenge:
Written by Steve Thune:
Steve Thune is located in Waterloo, Iowa and is a veteran of the Waterloo Iowa Community School District. He has worked 20 years as a teacher in elementary and middle school, as well as a 8 years as a school principal. He has a wonderful family and is an avid camper who absolutely hates paying for a hotel when camping could be, and should be an option.