StableLoad Challenge kicks off
LANCASTER, Calif. (Oct. 6, 2014) — Torklift International and Lance Campers donated $3,000 to the Lance Owners of America (LOA) club during their annual rally in Lancaster, California and kicked off the StableLoad Challenge national event.
During the LOA rally that concluded at Lance Manufacturing Headquarters, LOA President Eric Dye accepted the donation from Lance President Jack Cole, Lance National Sales Manager Gary Conley and Torklift General Manager Jay Taylor.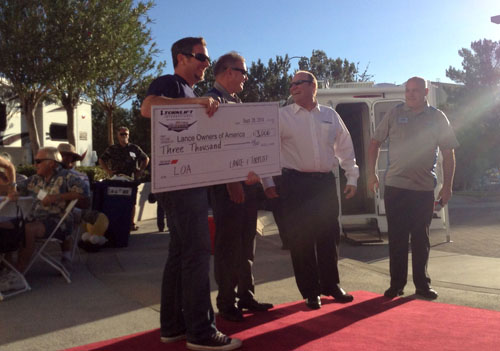 "As an appreciation from Lance and from Torklift for all the things that you do, were hopeful this donation can help the organization do even more fun things," said Conley.
More than 140 Lance owners were in attendance for the Lance factory tour.
"Torklift stepped up big time to support this years Lance Owners of America Plant Tour and barbecue," added Lance Director of Marketing Bob Rogers. "Not only did they provide great raffle prizes which is really the easy part, but they went above and beyond by personally attending and making a very generous $3,000 donation to LOA. We are truly grateful for their partnership."
This was the second year Torklift International attended the event.
 "It was great to have the opportunity to visit Lance Manufacturing and spend time with one of our best business partners, our dealers and our customers that are using our products each and everyday," said Taylor. "We were able to listen to all the nice things people had to say about Lance Campers and the Torklift family."
See the video showing the donation presentation here: 


During the rally held at the KOA Campgrounds, Torklift International kicked off the StableLoad Challenge.
Rally-goers were given an opportunity to drive an F-150 with a 2,800pound load in the back both with and without the Torklift International StableLoad suspension upgrade. Each person who drove the trucks to test the StableLoads explained they felt a significant improvement. The test drivers all drive trucks hauling campers and towing trailers.
"I can feel the difference … wow," test driver Lisa Gord said. "Yeah my husband; I feel so bad for him because we have airbags on our truck right now, and when we hit a bump, he loses his stomach."
Some drivers commented about how using the StableLoads feels like there is no load being towed or hauled.
"Wow, are you serious?," asked Rochelle Jackson. "You feel like it's an empty truck. It makes it feel like a different truck. You get a better experience with the StableLoads."
The StableLoads also help with braking distance.
"I can tell a difference, just from the braking aspect of it," test driver Bruce Pound said. "There is a huge difference in the suspension. You don't feel as if you're swaying. This was a much smoother ride."
Click here to see the StableLoad Challenge in action.
Don't forget to watch the bloopers at the end.