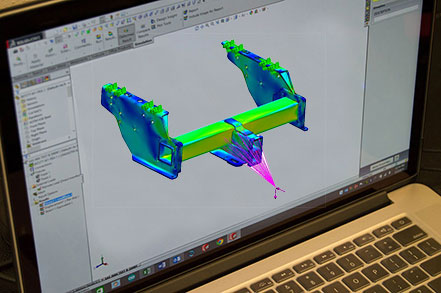 Torklift International manufactures the toughest and most versatile receiver hitches in the industry with tongue weight ratings up to 3,000 pounds and towing capacities up to 30,000 pounds. To ensure the best quality, American-made SuperHitch Outlaw Series hitches, our engineering team strength tests all our hitches with SolidWorks engineering software and Finite Element Analysis (FEA) to meet and exceed SAE J684 standards. Our hitches are also physically tested at our factory and also tested and certified at independent third party professional laboratories. On several occurrences, our hitch designs were so tough they actually broke the testing equipment, reaching limits far beyond our recommended towing and tongue weight capacities.* Modifications had to be made to the testing equipment to handle the increased capacities afforded by the SuperHitch Outlaw Series.
Because our SuperHitch Outlaw Series is made in the US, it has become America's most wanted hitch with its Legendary Lifetime Warranty. As a hitch manufacturer since 1976, we know of no better way to instill customer confidence.
All SuperHitch Outlaw Series hitches, extensions, weight distribution and accessories are built at our facility in Royal City, WA.
*Do not exceed the towing and tongue weight capacities on your Torklift International hitch.
Finite Element Analysis of the SuperHitch OutLaw Series
Torklift International Engineering
Custom designed and USA manufactured trailer hitches since 1976
Our engineering team includes mechanical and design engineers utilizing strength testing with SolidWorks engineering software Finite Element Analysis (FEA), to meet and exceed SAE J684 standard
50,000 square foot manufacturing factory highlighting state of the art, CNC and automated systems including full R&D development center and tow system installation retail facility
7,200 sq. ft. state of the art automated chain driven powder coat facility
3D printer and 3D scanner capability to quickly produce accurate, quality and affordable research and development models
Legendary Lifetime Warranty