1. Can I add and remove steps?
Yes! You can easily add or remove a step with the GlowStep Revolution RV steps. Adding or removing steps is easy – simply unbolt the lower steps to remove or add the step, then re-bolt the two parts together.
2. What is the warranty?
Torklift offers our Legendary Lifetime Warranty on all of our RV steps. You can find more information about the Torklift warranty here.
3. What width of cage do I need?
The width of your GlowStep Revolution trailer steps will depend on the width of the step bracket installed on your trailer. The GlowStep Revolution is available in two widths: 27.5-inches and 25-25.5-inches.
4. What if my measurements aren't exactly 27.5" or 25-25.5"?
There is also the Spacer Bracket kit available for the GlowStep Revolution if your measurements are different than the current widths of the steps we offer. You can contact our tech support at 800-246-8132 for a fitment confirmation, or visit our RV step page to use our application guide of fitments available (new fitments added weekly).
Torklift offers the GlowStep Revolution Spacer Kit (A8020) which comes with four ¼" spacer plates and bolt kit to add up to 1" to your width measurements.
So, if your measurements are 28", you can add a GlowStep Revolution Spacer Kit to make up the difference. If you have any questions at all about your fitment or which step width or kits you'll need, contact our tech support at 800-246-8132 or you can reach us on our contact page.
5. What is the riser height between each stair?
Much like the stairs found in your home, the GlowStep Revolution has a riser height of 7.5" unlike other RV steps which can have upwards of 8-9" as a riser height. With a tall riser height, it can make it incredibly difficult for people with ailments, small children or even four-legged family members unable to enter and exit the RV.
6. How much space do I need to deploy?
With the GlowStep Revolution, you need as little as 6" to deploy your steps. At full deployment, the GlowStep Revolution can go up to 48" away from the trailer.
Drawbridge style RV steps need a clearance of up to 60" to deploy, which means you have to be in a very open spot to deploy those types of steps.
7. Where does the steps go on my RV?
The GlowStep Revolution steps install to your current trailer brackets underneath your RV entryway in the step cutout. If you don't currently have vertical brackets underneath your doorway, Torklift has an accessory you can purchase called the Vertical Stud Adapter Bracket (A8022) to give you that ability to install the GlowStep Revolution.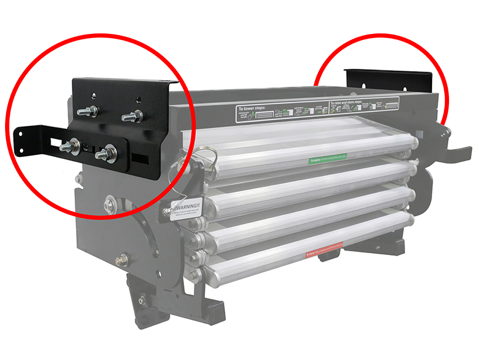 8. Does it have a handrail?
Yes, the GlowGuide RV handrail is available as an accessory for easy entry and exit from your RV with un-parallel stability due to the 3 point contact mounting system.
9. Is it safe for my dog?
Yes, the GlowStep Revolution has a riser height of 7.5", just like the steps found in your home. So, it should be easy for your four-legged family members to use the steps. We also have our SafeStep pet safety barrier accessory to prevent them from potentially falling through your steps as well as a no hole in tread design so their nails don't get caught.
10. Does it come with a cleaning attachment? Is there a shoe cleaning attachment available for the Torklift Step assemblies?
Yes, the GlowStep Revolution has a shoe cleaning attachment available called the DirtDestroyer that can be purchased to ensure that your RV interior stays clean and you don't track any mud or unwanted debris inside.
11. What is the time to install?
For the GlowStep Revolution, the installation time can vary dependent upon experience and tools available. For most GlowStep Revolution installations, it doesn't take more than an hour to install the RV steps as each Torklift part is designed with DIY in mind.
12. Do I need power tools?
No, you shouldn't need power tools for the install – hand tools will work to tighten the bolts and install the steps.
13. Do I need to modify my trailer?
For most applications, modification of your trailer is not necessary. The GlowStep Revolution is designed to be used with the existing trailer step mounting brackets. With the way that RVs are manufactured (usually by hand), each RV can be unique even when built as a group.
To know whether or not your trailer will need modification for installation, contact our tech support at 800.246.8132 or you can reach us on our contact page.
14. How many steps is it available in?
The GlowStep Revolution is available in 2-6 steps depending on the height of your trailer entry way. To see the height measurements required for each number of steps, visit our RV step page to determine the correct number of steps you'll need.
15. How is the step tread designed to prevent slipping?
The GlowStep Revolution is designed with our SureGrip™ tread that is built into the step. This no-slip surface eliminates the jagged holes commonly found on factory steps that toes or pet nails can get caught in.
16. How do I determine fitment for my trailer?
Determining fitment for your trailer is simple: on a flat surface, take the dimension of the width between your factory mounting step brackets, and the height of the top of the step opening to the ground.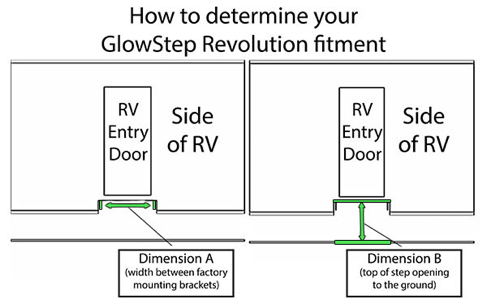 17. How do I adjust the top step?
The top step is simple to adjust to achieve the three different heights our patented design allows for:
Remove safety lanyard from lever
Place one hand underneath the top step
Then lift either of levers to the left or right side of the step assembly and pull the step out rolling it slightly downward as it extends, release the lever, let the steps lock into place
This will put you at the first level of deployment - if you want to lower the steps even more, lift the lever again and lower the steps until they click into place
Repeat step 4 for 3rd level of deployment if you want the steps lowered further