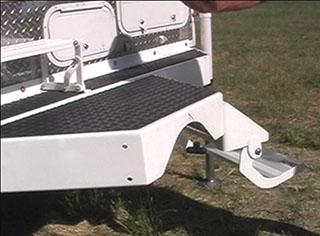 The Fox Landing serves as an extension of your camping experience. The Fox Landing Bumper allows you to have left side or right side step entry.It eliminates the need to disconnect your trailer tongue for safe camper entry and exit. Unlike conventional rear entry truck camper bumpers that require you to disconnect your trailer for safe entry, the Fox Landing addresses this safety issue. Designed and engineered by Torklift International and Northwood Manufacturing, the Fox Landing is backed by our Legendary Lifetime Warranty and is proudly made in the USA.
Fox Landing Bumper In Action
Fox Landing Bumper Features
Safely enter and exit your camper while the trailer remains connected
Large entry platform
Aircraft grade aluminum and stainless steel
Allows the ability to tow when using a SuperTruss Extension
Convenient fold-away steps
Platform folds away and secures in stowed position
GlowStep treads for added safety
Folds up in seconds
Proudly made in the USA
Accessories include:*
Basement Camper Step
Porch Landing
Hinge Step
Left and/or right side step entry
*Sold separately
To order a Fox Landing please contact the Northwood Manufacturing parts department at 1-800-766-6274 or click here.