The ExtendedPower is a universal battery mount for housing extra truck camper batteries while mounted on any hitch receiver extension. It provides RV battery security and becomes an extension of your truck camper batteries and depending on desired application, can easily recharge via solar panels, generators, converters or your truck's alternator. By wiring the spare batteries housed on the ExtendedPower, enjoy accessing extra power for your RV and your accessories including lights, stereo, computers, winches and more.
The ExtendedPower battery mount is backed by our Legendary Lifetime Warranty and proudly made in the USA.
ExtendedPower Kit for Aftermarket Single Extension (includes single Group 24 battery box and bracket) - A7735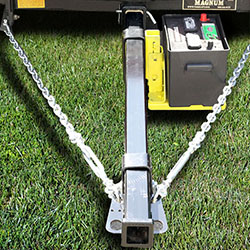 MFG Part Number:
A7735
ExtendedPower Kit for SuperTruss Dual Extension (includes single Group 24 battery box and bracket) - A7736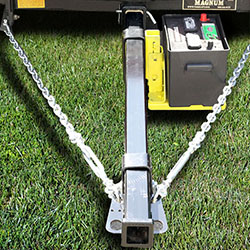 MFG Part Number:
A7736
Details
The ExtendedPower battery system can be plugged into your factory RV plug†† on the back of your truck to facilitate an automatic charge by your trucks alternator. It includes a secure RV battery box and incorporates an extra battery mount which allows you to power your accessories without having to turn the truck engine on and wasting valuable fuel.
The ExtendedPower battery tray installs quickly with no drilling† required, simply bolting directly onto your hitch receiver extension. The unique design features a quick release pin allowing the battery mount to easily disconnect for teardown and storage. Each ExtendedPower comes with a group 24 battery box. To adapt directly to your specific truck and trailer application, the battery tray mount is height adjustable. With varying levels of trucks and trailers, simply adjust the battery tray to the appropriate height eliminating any clearance concerns.
†The ExtendedPower steel tray does not require drilling and there is no drilling required on the extension. The plastic battery box requires drilling.
†† ExtendedPower wire harness not included
Note: The ExtendedPower is able to work with 36"-60" SuperTruss lengths. The SuperTruss uses lateral support safety chains for the ultimate in strength and safety, however the safety chains interfere with the ExtendedPower on SuperTruss Extension lengths of 21", 24", 28" and 32".
ExtendedPower Features
Universal applications for all receiver extensions
Mount extra batteries to power your truck camper accessories while boondocking
Becomes an extension of your RV batteries and recharges via your RV solar panels, generator, converter, alternator, etc.
Without turning on your truck engine and wasting fuel, access battery power and stay charged up while using electrical accessories such as lights, stereos, computer and more (Wiring harness sold separately)
Designed for all types of batteries
Battery mount tray is height adjustable to eliminate clearance issues
Lockable to prevent your spare batteries from theft
No-drill for an easy install
Attaches and detaches quickly for battery service using a quick release pin
Legendary Lifetime Warranty
Proudly made in the USA
Kit Includes:
ExtendedPower mount compatible with SuperTruss Extension:
Group 24 battery box (11" L x 6 7/8" W x 9 1/2" H)
Two quick disconnect pins
Security lanyard
Lock and keys
ExtendedPower compatible with other extensions:
Group 24 battery box (11" L x 6 7/8" W x 9 1/2" H)
Two quick disconnect pins
Security lanyard
Lock and keys