Torklift International Wobble Stopper dramatically reduces camper jack and frame stress. By acting as a supportive connection between the front camper jack legs and camper body, prevent camper sway while the camper is unloaded and sitting on its jacks. Inhibiting excessive camper movement with added support reduces the need for costly repairs later on. The brace design of the Wobble Stopper also eliminates irritating camper sway that can cause dizziness or even nausea from motion sickness while inside the camper.
Backed by our Legendary Lifetime Warranty, the camper stabilizer is proudly made in the USA.
FastGun WobbleStopper (round jacks) - A7006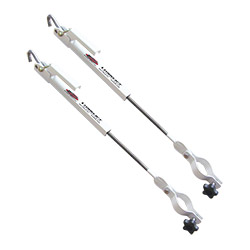 MFG Part Number:
A7006
FastGun WobbleStopper (square jacks) - A7016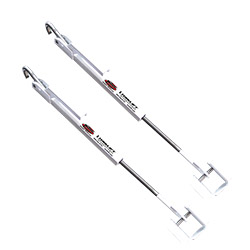 MFG Part Number:
A7016
*To determine which you need, look at the leg of your jack for the shape of the bracket you will need.
**Due to their construction, Northern Lite campers are not compatible with the FastGun Wobble Stoppers.
Details
The newly introduced FastGun Wobble Stopper features a quick-disconnect lever action handle that requires only seconds to install or remove. When it comes to camper theft, the FastGun Wobble Stopper comes with keyed alike locks to prevent a camper from being stolen. The locking feature and position of the FastGun Wobble Stopper prevents another vehicle from backing up and loading the camper.
Composed from high impact powder coated stainless steel and aircraft grade aluminum, the Wobble Stopper and FastGun Wobble Stopper have square or round jack applications.
FastGun Wobble Stopper Features
Dramatically reduces camper jack and frame stress avoiding costly jack failure and camper frame damage
Prevents camper movement and theft when offloaded from your vehicle
Simple quick disconnect handle uses FastGun technology for easy disconnect and adjustment in seconds (FastGun Wobble Stopper Only)
Easy DIY bolt on installation for all round and square jack applications
Stores to camper jacks
Lockable, keyed-alike locks included (FastGun Wobble Stopper Only)
100% aircraft grade aluminum and stainless steel
High impact powder coat white
Legendary Lifetime Warranty
Proudly made in the US
The Torklift Advantage
Brand X

Manufacturer's Warranty (More info)

Lifetime

None

Reduces sway

Reinforces strength and integrity of jack mount locations

Reduces jack mount and camper frame stress

Fully adjustable

Powder-coated

Easy storage

Quick installation

Sold in pairs
Resources
Reviews
"Starting out I could push on the nose of the camper and it would wobble about five inches from side to side. My expectation was that the product would dampen the camper's tendency to wiggle only a little.
Instead, the camper hardly budged after I installed the Wobble Stopper. I've had the system now for several weeks and the camper is still rock steady. Normally, I'm a skeptic of the claims of most mass-produced RV accessories, but I can honestly say I'm impressed that it's a product that does exactly what it claims to do."
"In short, the Wobble Stoppers are great! Well made product, instructions were clear and they were easy to install. Functionally, they take all of the side-to-side wobble out of my truck camper when we are in it moving around. Thank you!"
-Frank, NJ