The Lock and Load prevents costly generators, camping gear, welders, tool boxes, plasma cutters and more from theft. It allows you to lock, store and run your generator and other motorized equipment simultaneously. The Lock and Load protects you from unwanted exhaust fumes and stains from storing the generator inside your RV or vehicle when it's not in use. You can permanently store your generator while on the road or off the grid.
Your generator stays on the tray even while running, preventing you from having to lift your heavy generator multiple times. The Lock and Load features a safety visual sight indicator to prevent risk of damage while driving (part #A7752 only). It fits most common generators and mounts easily in rear and front receiver hitches. The tray comes equipped with a high security puck lock preventing theft of accessories. Available in high impact powder coat steel, it is backed by our Legendary Lifetime Warranty and proudly made in the USA.
Lock and Load Additional Maximum Security Straps - A7751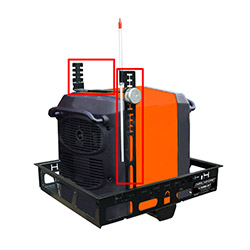 MFG Part Number:
A7751
Lock and Load - A7752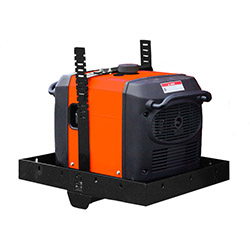 MFG Part Number:
A7752
Security Strap Adjustments:
(6-5/8"L X 13-5/8"W X 13-1/8"H ) To (27-13/16 L" X 23-1/2"W X 23"H)
Length:
27-13/16"
Width:
23-1/2"
Height:
23"
Related Products
Lock and Load SideKick A7901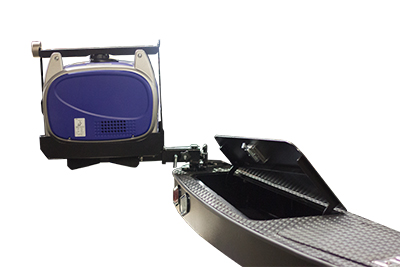 MFG Part Number:
A7901
Details
Lock and Load Features
Allows you to lock, store and run your generator and other motorized equipment simultaneously
Avoid exhaust fumes and stains by permanently storing your generator on the Lock and Load while on the road or off the grid
No more heavy lifting – your generator stays on the tray even while running
Protect costly generators, camping gear, welders, tool boxes, plasma cutters and more from theft
Features a safety visual sight indicator to prevent risk of damage while driving (Part #A7752)
License plate relocation holes to attach license plate (Part #A7752)
Mounts easily into front and rear receiver hitches
Fits most common generators including: Yamaha EF2000iS, Yamaha EF2400iSHC and Honda Eu2000ia
Utilizes 2" x 2" receiver to mount
High security tamper proof puck lock included
Cargo tray dimensions: 27 13/16 L" x 23 1/2"W x 23" H
Lock and Load weight rating: 400lbs
SideKick weight rating: 120lbs
Maximum security strap adjusts to secure multiple objects (extra security straps sold separately) 6 5/8"L x 13 5/8"W x 13 1/8"H to 27 13/16 L" x 23 1/2"W x 23"H
Available in high impact powder coat steel
Legendary Lifetime Warranty
Proudly made in the USA
Kit includes:
Cargo tray
Heavy duty puck lock
Adjustable maximum security strap