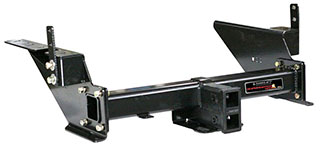 The SuperHitch® Hero 15k is rated at 1,500 pounds tongue weight and 15,000 towing capacity when coupled with weight distribution. The Hero is the first Torklift International SuperHitch created for half-ton trucks including Ford, Dodge, Chevrolet, Toyota and Nissan. The capacity is set at a high level due to the increasing tow capacities on half-ton trucks. We strive to ensure the only towing limitation you have is your truck.
The SuperHitch Hero comes with a vertically stacked double receiver to accommodate the use of various trailer hitch towing accessory applications (Apps) for towing and hauling. This includes products such as the Lock and Load maximum security cargo tray that keeps expensive cargo such as generators under lock and key while towing or in-use.
Trailer hitch towing system failure from inadequate towing system tongue weight ratings is the most common cause of accidents related to trailer hitch failure. The SuperHitch Series is the only hitch line in the industry with hardened reinforced hitch pin locations. The reinforcement prevents what is elongation wear commonly known as "egging" at the site. Once the hitch pin locations egg out, the hitch is damaged and may need to be replaced.
The SuperHitch® Hero is backed by our Legendary Lifetime Warranty and proudly made in the USA.
Find Your Fit
Weight Distributing
Max Trailer Weight:
15,000 LBS
Max Tongue Weight:
1,500 LBS
Weight Carrying
Max Trailer Weight:
8,000 LBS
Max Tongue Weight:
800 LBS
Consult owners manual for specific vehicle capacity
Do not exceed your trucks GVWR or GVCWR
SuperHitch Hero 15K in Action
SuperHitch Hero 15K Features
Strongest hitch built for half-ton trucks
Double, vertical stacked receiver for strength, dual extension use and for accessory use in top receiver while towing
Universal plug bracket to secure wiring harnesses
Hardened reinforced hitch pin locations
Specific Torklift tie down fits are available for the SuperHitch Outlaw Series
Legendary Lifetime Warranty
Proudly made in the USA
!WARNING! When using a SuperTruss Extension your capacities are limited as follows:
CAPACITIES DEAD WEIGHT RATING
CAPACITIES WEIGHT DISTRIBUTING (REQUIRED)
LENGTH
GTW/GVW
GTW/GVW
21"
350/3500
500/5000
24"
300/3000
400/4000
28"
300/3000
400/4000
32"
300/3000
400/4000
36"
200/2000
350/3500
42"
200/2000
350/3500
48"
200/2000
350/3500
60"
100/1000
200/2000