Blog
Over 40 Years of Innovation, Quality, Safety
Rising above: GlowStep Goodies of a Torklift Fan
"I'm sure there is a clinic for my addiction, but their products are irresistible." - Bedlam, Rv.net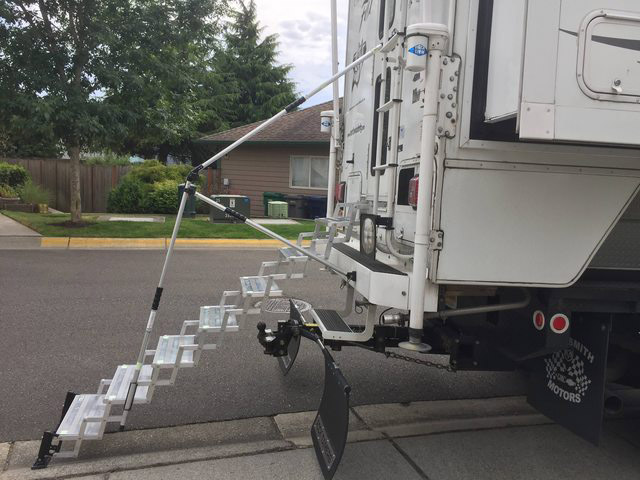 GlowSteps and All Terrain Landing Gear
on Bedlam's rig While there's no clinic for loving Torklift products, we're certainly happy that they're irresistible! Forum user known as 'Bedlam' on Rv.net and other online communities is an amazing ambassador and wonderful friend of Torklift. When Bedlam bought a new flatbed truck to haul his truck camper, he wanted to keep his Torklift GlowStep application. Since the truck camper now sat much higher, even the maximum size available for a GlowStep camper step application fell shy of reaching these heights.
Customer satisfaction is held at a high standard here at Torklift International and we want our loyal customers to always rely on us for their RV accessories. With this in mind, we approached our engineers to come up with a GlowStep system that tackled the challenge of Bedlam's unique application. Bedlam's new camper step system has 7 steps that are 8" deep to provide safety and stability over a larger clearance, which works perfectly with his GlowGuide Handrail. Bedlam lovingly refers to these custom RV steps as the "GlowStep Magnum."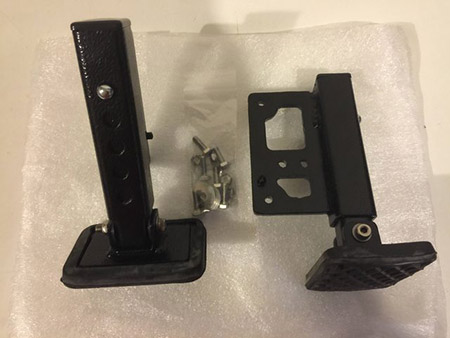 All Terrain Landing Gear
That's not all that Bedlam has! Recently Bedlam attached the All Terrain Landing Gear for leveling on the feet of the "GlowStepMagnum." The adjustable RV step leveling feet can be added to most scissor step applications or any GlowStep system.
The All Terrain Landing Gear is included in the new GlowStep Revolution system for trailer and towables.
As you can see below, Bedlam has documented the step-by-step process of adding the All Terrain Landing Gear to his current GlowStep scissor steps. Now with the adjustable feet, Bedlam can use it on any type of uneven terrain to achieve a level and stable step system.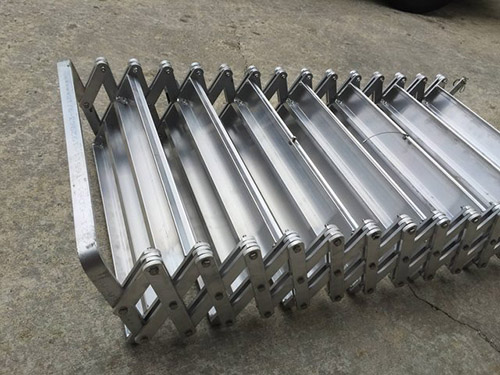 Traditional aluminum GlowSteps
have a sturdy bar across the bottom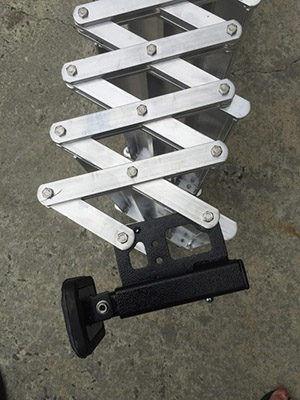 The added All Terrain
Landing Gear allow for
adjustment and leveling
"I added the All Terrain Landing Gear to my GlowSteps. Not only will it even out uneven ground, it allows for fine height adjustment if your setup measures between steps."
-Bedlam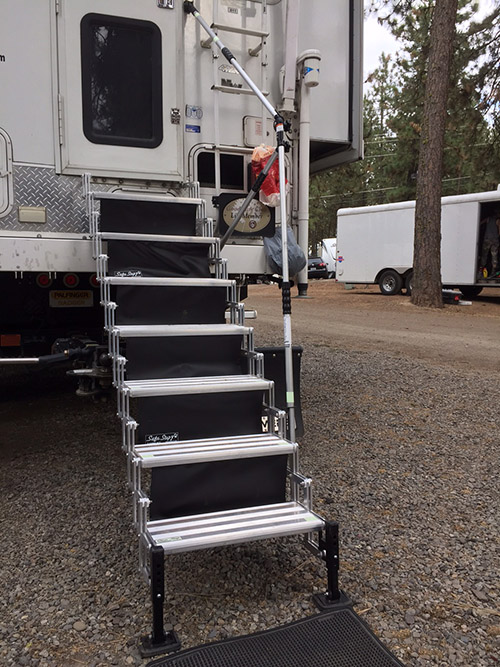 SafeSteps on the
GlowStep Magnum Not only is the All Terrain Landing Gear a significant feature anyone can apply to their GlowSteps, but there are also several additional accessories that create a customized RV step system that provides optimum stability for you.
All Terrain Landing Gear
Safe Step
GlowGuide Handrail
Dirt Destoyer
As pictured on the left, Bedlam decided to add the SafeStep pet barrier to his step system while attending a recent rally in the Colorado Springs. Even only halfway completed, his steps are looking great! Upon seeing that he was short a set of SafeStep pet barrier panels, we decided to send him a set to close up the remaining gaps on his step system.
The SafeStep is a vertical barrier that closes the gap between steps to helps ease any level of intimidation for pets or small children and also help prevent any potential of falling or sliding through the gaps. The SafeStep is easy to remove and made with durable velcro attachments, but removal is not necessary to collapse and store the camper steps.
Here at Torklift International, we enjoy and value the stories and experiences of our customers that frequently use our products. Click here to read Bedlam's full report.

Learn more about the GlowStep Series here or find where you can buy Torklift products by locating a dealer near you.
---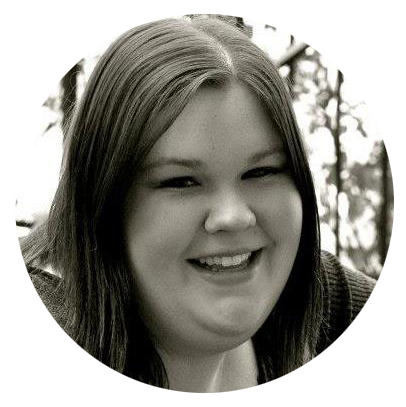 Written by Kerstin Stokes:
As a graduate from the College of Idaho with a B.A. in both History and Art, Kerstin has found her passion for writing and marketing. She enjoys looking up tasty recipes for baking and daydreaming about future travels.
Related Posts
Comments
No comments made yet. Be the first to submit a comment