Blog
Over 40 Years of Innovation, Quality, Safety
Good Things Come to Those Who Wait
"Last spring (2015) Bruce and I saw a trailer at an RV show that had scissor-type stairs like the ones we've seen for truck campers. The first thing we noticed when we climbed aboard is that the trailer didn't shake when either of us walked up and down the stairs due to the two supports on the bottom step. The stairs were called the GlowStep Revolution and were made by Torklift. We asked about buying some. Turns out they were pretty new and not available for every trailer manufacturer yet. So we left our contact info and asked them to let us know if a version was available for Lance trailers. We found out that there was no version that would fit Lance trailers.... yet."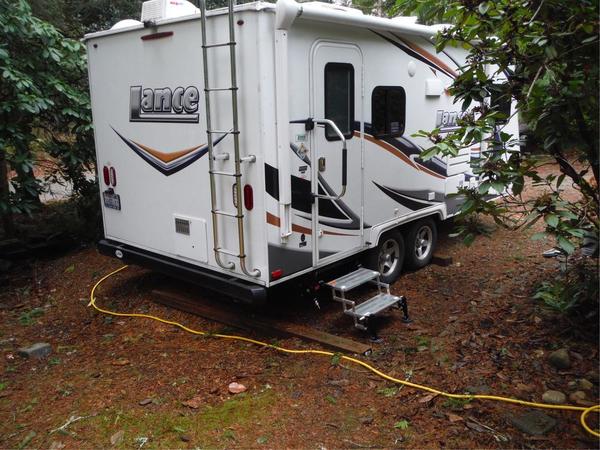 The GlowStep Revolution installed on Bruce and Shannon's Lance trailerSo begins the story of Bruce and Shannon Pound and their journey to getting the GlowStep Revolution which is written out on the Lance Owners of America forum. When they first inquired about the GlowStep Revolution RV step system, at that time we debuted the 27.5" width for the steps.
After further development and research, we created the 25.5" GlowStep Revolution width steps that fit Bruce and Shannon's RV like a glove. We reached out to them in November to have them be one of the first to try out the new width of the RV steps and they jumped at the chance! The 27.5" width and the 25.5" width of the GlowStep Revolution will fit the majority of trailers on the market.
Features of the GlowStep Revolution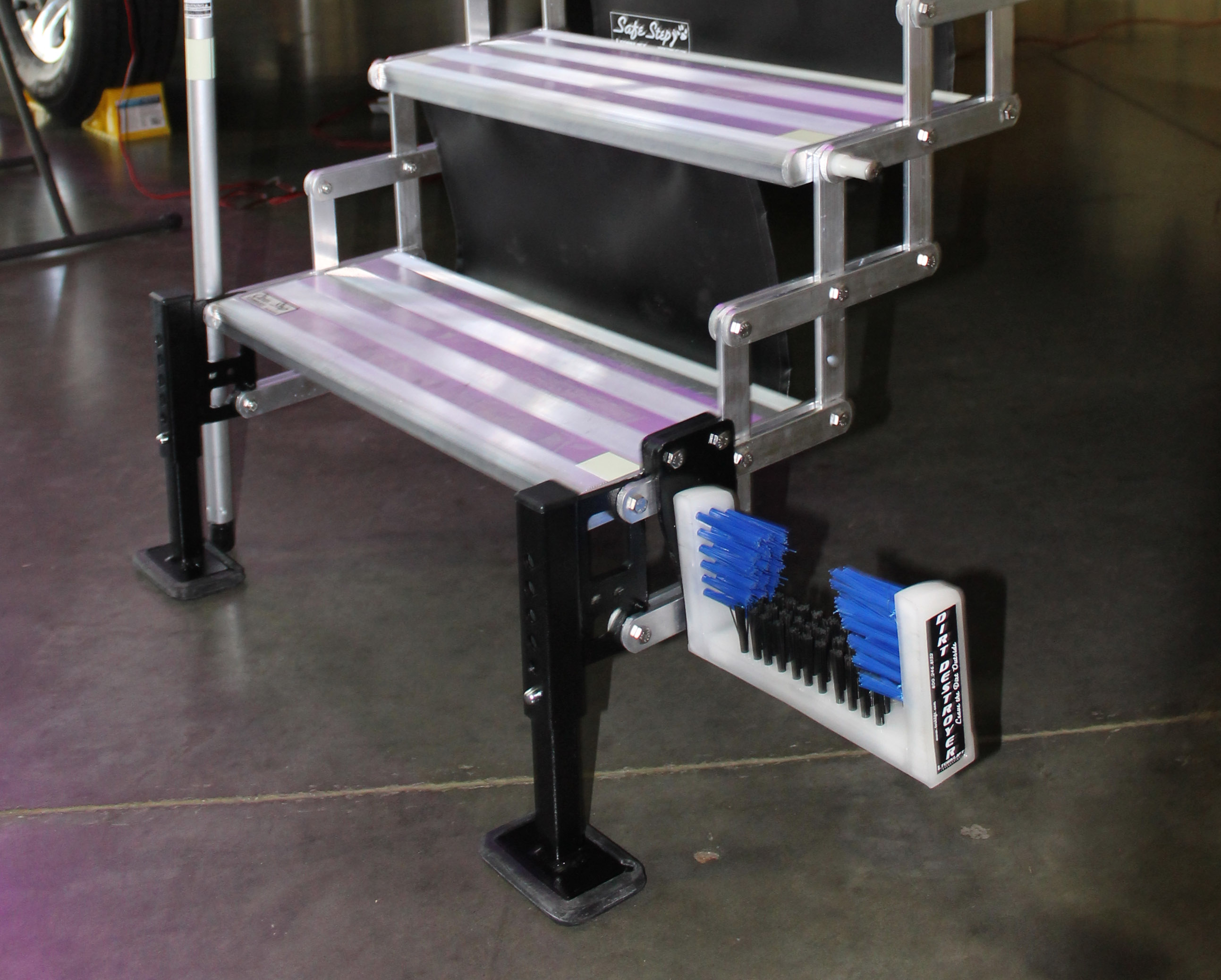 The All Terrain Landing GearAre your RV steps too high? Are your RV steps broken or do you have recalled steps? Do you want to get rid of your RV booster step? Well, look no further because the GlowStep Revolution RV step will solve all of your old factory trailer step issues especially with the precision elevation control. Patent pending, the precision elevation control allows you to have 7 inches of vertical elevation adjustment. But don't take our word for it. Shannon goes on to say this in her GlowStep Revolution review:
"The GlowStep Revolution stairs have a nifty feature that allows the steps to remain level in uneven terrain and eliminate the need for a portable step when the door side of the trailer is elevated for leveling."
This nifty feature that she's referring to? The All Terrain Landing Gear which is designed to be leveling feet for RV steps and provide Earth to RV stability.
See the never-before-seen patented features such as 8 position step elevation adjustment that Trailer Life magazine predicted would change the RV industry here.
Some other great features of the GlowStep Revolution leveling RV steps include:
• Only RV step system with 7 inches of vertical precision elevation adjustment
• Unparalleled stability eliminating the unsafe diving board effect
• Direct bolt-on installation easily replaces your factory step system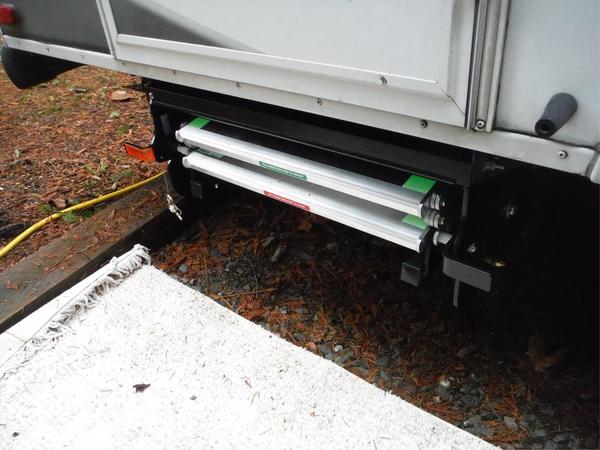 The GlowStep Revolution in stored position
• Earth to RV: Brings step to ground level (No more unsafe booster step)
• Landing gear quickly levels on uneven terrain (included)
• 7.5-inch step riser height to accommodate those with limited mobility
• Step system accessories: Handrail, pet safety barriers and shoe cleaning attachment
• Made from 100% lightweight aircraft grade aluminum and stainless steel (rust free)
• Designed specifically for all RV towables
• Bushing bearing bolted for maximum stability and longevity - also provides smooth operation when deploying or retracting steps to prevent binding and grinding common with factory steps
• Locking mechanism secures steps for safe travel while improving ground clearance
• SureGrip™ step tread eliminates jagged holes commonly found on factory steps
• Self illuminating steps glow in the dark for up to 10 hours with only five minutes of light exposure - no batteries
• Safely enter and exit your RV after dark
• Legendary Lifetime Warranty
• Legacy step system: With the ability to add or remove steps, take them with you when you trade in for your next RV
• Proudly made in the USA
Not only will these adjustable trailer steps change the industry, but there are some accessories that go with the GlowStep Revolution RV scissor steps as well. Some GlowStep Revolution trimmings include: the SafeStep which turn your scissor steps into pet friendly steps, the DirtDestroyer which is a shoe cleaning attachment and the GlowStep Handrail.
Now through May 15th we have a contest where you have a chance to win a set of the GlowStep Revolution steps just like Bruce and Shannon's. Submit your scary step photo or story here or post on social media using hashtag "#RVStepFail" to be entered to win the GlowStep Revolution by Torklift International.
---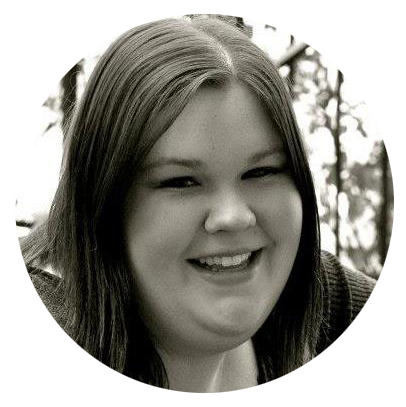 Written by Kerstin Stokes:
As a graduate from the College of Idaho with a B.A. in both History and Art, Kerstin has found her passion for writing and marketing. She enjoys looking up tasty recipes for baking and daydreaming about future travels.
Related Posts
Comments
No comments made yet. Be the first to submit a comment