Are you a truck camper owner? If you are, you know the struggle is all too real with how to store a truck camper when it is not in use. Just leaving your truck camper unsupported on its camper jacks results in unnecessary stress not only on the jacks but the camper frame as well. You don't want to encounter dire consequences if they fail. No one wants that, including your wallet. The truck camper storage stands many people get from the local hardware store don't have the strength required for stabilizing a truck camper. So what's the solution for your camper storage? The Torklift Camper Packer truck camper stabilizer stands.
Pack up the Camper with Camper Packer
These are not your ordinary hardware store sawhorse stands. The Camper Packer is designed to be double the length of your typical saw horse. With a rated weight capacity of 6,000 pounds, it is up to 12 times more the typical sawhorse stands. These camper storage stands are engineered to support and displace the weight of your camper evenly, making it great for long term use – a perfect solution for storing a truck camper over the winter.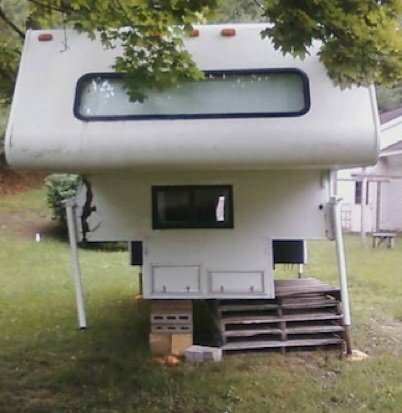 Camper from accident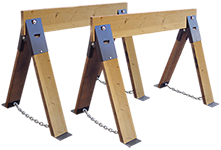 Avoid accidents with Camper Packer
Camper Packer features:
• The only engineered high capacity structural support base made specifically for truck campers
• Double the length of the typical sawhorse stands, measuring 50" from side-to-side when completely assembled
• Rated up to 12 times the weight capacity than the average sawhorse camper stands at 6,000 lb. capacity per pair* must be 1" above ground, truck camper leveling blocks are great for this application
• Prevents camper frame damage by redistributing the stress off the four corners of the camper frame and onto the Camper Packer
• Dramatically reduces stress on truck camper jacks extending the life of your camper jacks
• Designed for long term or short term use, perfect for winterizing an RV
• Easy assembly and 100% tool free operation
• Designed for easy storage when not in use
• 5 year warranty
• Proudly made in the USA
Camper Packer supports a Bigfoot

Camper Packer supports
their Bigfoot camperWith a name like "Bigfoot" one imagines a large heavy duty object, not a dainty fragile flower. The Bigfoot camper certainly lives up to its name. It's a quality truck camper that appreciates the strength and support Camper Packer storage stands provide it with. Kaylee Yochim and her husband are proud owners of a Bigfoot camper and they were excited to share their experience with Camper Packer storage stands as their storage solution.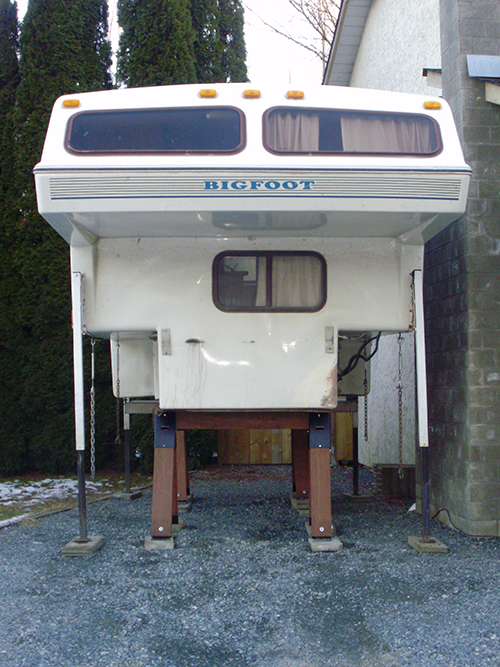 Front View of Bigfoot camper with
Camper Packer
"We set them up and unloaded our camper for the first time on the weekend. The set up was fairly straight forward as neither me or my hubby are very handy but we were able to set them up ourselves with tools we already owned. The finished product is very sturdy and I especially love that the camper packers are collapsible for easy storage when not in use. Our camper is a relatively heavy model but the camper packers hold the weight with ease. We can feel confident that our camper is safely stored when not on our truck. Thank you so much Torklift for an awesome product!"
-Kaylee Yochimt
How else does the Camper Packer flaunt its quality? The special treated lumber shields against the elements and is double-coated on the ends to further protect from exposure to rocks and dirt. The steel components of the Camper Packer kit are protected with a high impact powder coat. This allows protection against the negative effects of corrosion and rust. Most hardware in the kit is stainless steel.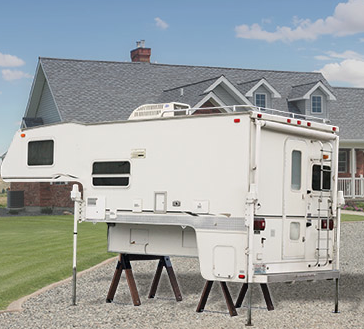 The #1 storage solution for truck campersBecause the camper storage stands are collapsible and fold away when not in use, they are specially designed for easy storage when you're ready to load the truck camper onto your truck again.
If you are tired of struggling with finding a storage solution for your truck camper, don't waste time with the standard sawhorse stands again. Be sure your truck camper is properly stabilized by relieving any tension on the jack stands -- the Torklift Camper Packer is the only solution.
Click here for more information on the Camper Packer or find a dealer near you by searching the Where to Buy section on our website.
Written by Danielle Winski:
With a B.S. in Marketing Management from Western Governors University of Washington, Danielle is passionate about using different technical and creative outlets for designing marketing content. She is an avid reader, writer and nature photographer in her free time.