Blog
Over 40 Years of Innovation, Quality, Safety
5 things to consider when selecting truck camper tie downs for Chevy or GMC trucks
When looking for Chevy truck tie downs for truck campers, consider an application with an advanced design created specifically for a Chevy/GMC to ensure you have the absolute strongest tie down system for hauling a camper.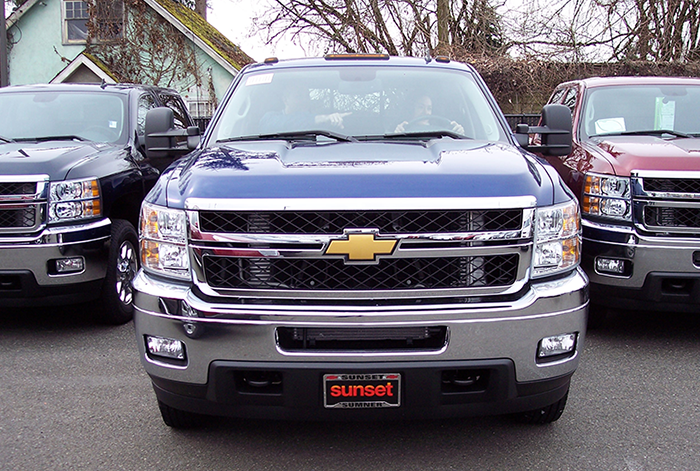 Tie down fits for Chevy/GMC trucks
(actual designs vary)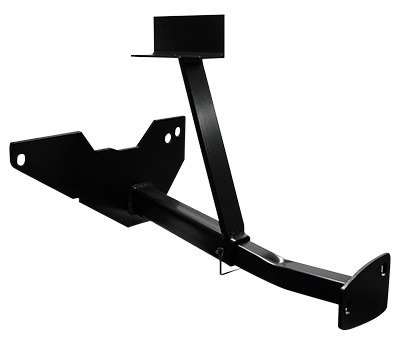 Steel camper tie down
When selecting a tie down system for a Chevy/GMC truck, the best tie down design is frame-mounted, making it the pinnacle of strength and durability. Be sure to consider the following before selecting and installing tie downs on a Chevy truck:
1) Frame-mounted tie downs for Chevy trucks
To prevent camper movement and achieve the safest set up, the Chevy truck must become one unit with the tie down system. The frame-mounted design incorporates four independent tie down points and fits specifically to each model. This allows the strongest possible attachment to the truck frame and dramatically improves stability.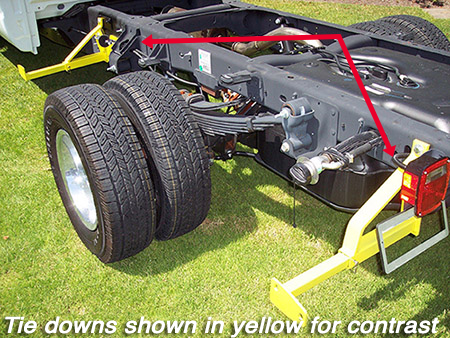 Torklift Tie downs attach directly to Chevy truck frame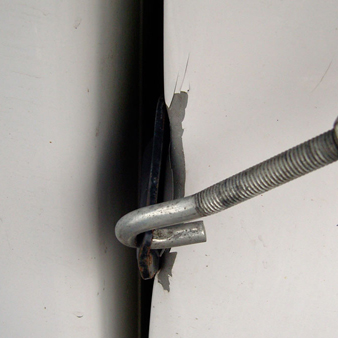 Bed-Damage from bed-mounted tie downEngineered to fit tight and secure to the truck frame, Torklift International frame-mounted tie downs do not have any impact on ground clearance. By using a design that is 100% supported by the Chevy truck frame, any chance of bed and bumper damage is eliminated.
As opposed to a frame-mounted tie down design, bed-mounted tie downs can create damage to the Chevy truck bed. Designs that attach to the truck bed may also require intentional drilling of the truck bed or bumper, causing permanent damage. For details on how this damage can occur, read our editorial on how to prevent bed damage when hauling a truck camper.
2) Lifetime Warranty
Tie Downs by Torklift International have a lifetime warranty. When Torklift Tie Downs are used with our spring-loaded turnbuckles, the lifetime warranty extends to the Chevy/GMC truck frame and camper anchor points for the extent of its manufacturers warranty. Call us at 800-246-8132 for warranty details.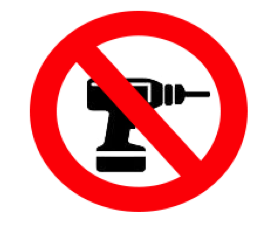 3) Choose a no-drill Chevy tie down installation
Most applications of Torklift International Tie Downs do not require drilling. The design of each tie down is specifically engineered for each year/model of Chevy truck, making Torklift tie downs the strongest possible tie down system for Chevy/GMC.
After considering other GMC tie down applications, Doug Ames decided to install Torklift frame-mounted tie downs on his 2008 GMC truck to accommodate a truck camper.
"We had no experience and didn't even know how to attach the camper to the truck. The dealer we considered purchasing from showed us the "required" Happi Jac system and I was very concerned," said Ames. "I am extremely careful about any modifications to my truck and I hate to drill holes if not needed."
Doug was able to install the Torklift tie down system on his own. "It took longer to gather up the tools than it did to install the tie downs," he said.
To see application options on tie downs for Chevy/GMC, view our application guide or use our automated tie down application guide.

4) Opt for a lightweight, corrosion resistant application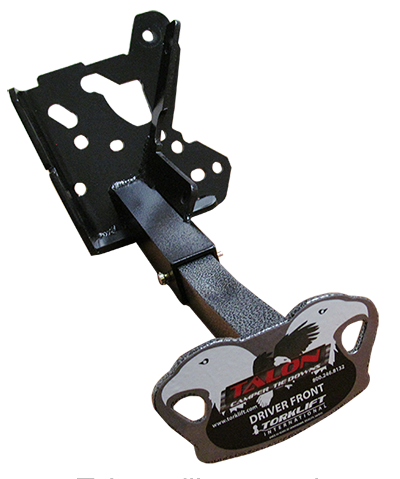 Talon Tie Downs for Chevy/GMC
For the most advanced tie down design on the market, consider Talon Tie Downs for Chevy trucks. Our engineers developed the high performance Talon Tie Downs to handle even the toughest climates. Regardless the terrain, the aluminum Talon's high impact powder coat protects from corrosion and rust.
Talon Tie Downs are the only tie downs that come with warranty for corrosion protection. These camper tie downs are precision crafted from lightweight military grade aluminum alloy making them virtually rust-resistant.
Due to the properties of aluminum, Talons are not only stronger that steel designs but also up to 50% lighter than steel applications. With the truck's payload and weight capacities set by Chevrolet, a lighter tie down system helps to alleviate unnecessary weight when it comes to hauling a camper.
Daniel Timm hauls a Lance camper with his 2015 Chevy 3500 truck.
"The Talons are much lighter than the steel design," explains Daniel Timm. "With all the weight of the truck camper carried by the truck, every pound not used for tie downs can be used for camping gear."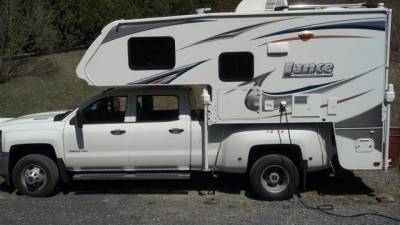 Daniel Timm's Talon Tie Downs with a Lance Camper
"Having the tie downs corrosion free is very nice," said Timm. "They are easier to use and look like they will last longer than the truck!"
Take a look at this quick video:

If you don't see your Chevy truck year/model on the application guide, check back regularly as new fitments are added daily, or give us a call: 800-246-8132.

5) Protect the Chevy truck tie downs with a finishing kit
Once installed, further ensure your Chevy truck tie downs remain in good condition by using the Torklift Tie Down Finishing Kit. When your system is not in use, remove the tie down inserts. Once the inserts are removed, cap off the tube with the specialized foam plug and covering. This will prevent excess water and road grime from entering the tubes.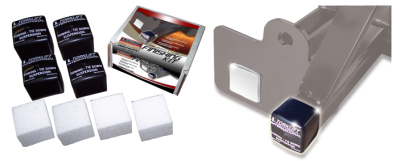 Tie Down Finishing Kit
Applying the Tie Down Finishing Kit is the most cost effective measure to minimize the harsh effects of the environment. If you opt for rust-free Talon aluminum Tie Downs, the Finishing Kit is included with each set of Chevy truck tie downs.
If you have any questions regarding our lifetime warranty or Torklift tie down installation for Chevy/GMC trucks, contact our Tech Support by calling 800-246-8132 or send an email to support@torklift.com.
Comments
No comments made yet. Be the first to submit a comment