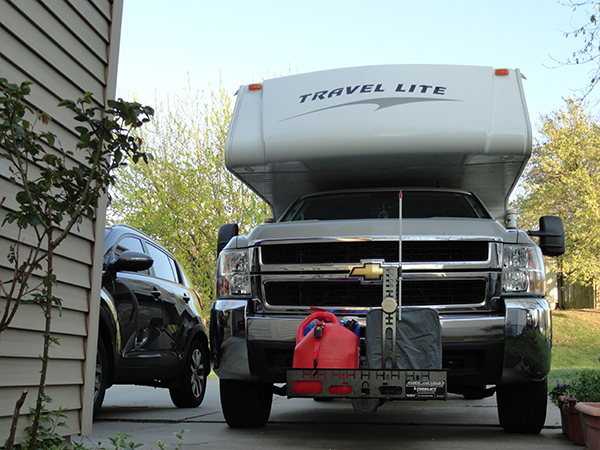 When an unknown thief attempted to steal one of our customer's generators, we were excited to know the thief couldn't get past our Lock and Load generator security tray.
"Somebody tried to steal my Champion Power Equipment 73540i 2000watt portable inverter generator from the Torklift Lock and Load Maximum Security Cargo Tray attached to the front hitch receiver of the truck in the driveway. The culprit never succeeded in stealing the generator but took the five-gallon gas can instead that was only secured to the tray by a ratchet strap." –John Patterson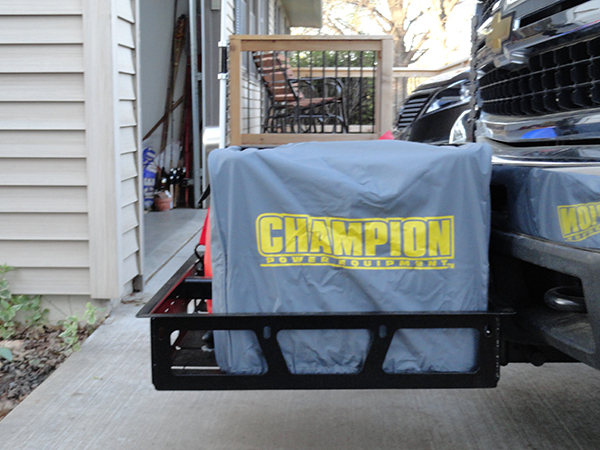 Wow John! It's unfortunate to hear that someone tried to steal your generator, but we're happy to hear that the Lock and Load hitch mounted cargo carrier did its job and kept your Champion generator safe from theft!
Last Christmas, Torklift International was able to play Santa Claus to a deserving customer whose only wish was to get a Lock and Load generator tray for Christmas. You can read the whole story here, but in the spirit of Christmas, we secretly sent him the Lock and Load locking cargo tray. He absolutely loved his surprise and has been updating us on how much he loves his Lock and Load since then. We are excited our Christmas gift stood the test of thievery.
Lockable for Your Peace of Mind
One of the best features of the Lock and Load is that it is lockable to prevent costly generator theft. The Lock and Load comes with a high security tamper-proof lock that makes it so your generator doesn't get stolen. John learned that the best kind of theft prevention is this generator tray:
"I'm hoping that big puck lock securing the generator to the tray helped convince the perpetrator to give up and just take the gas can instead. The additional security measures of the cable lock give me a little more piece of mind. The Lock and Load in my opinion is a very capable product of preventing theft of your expensive generator." –John Patterson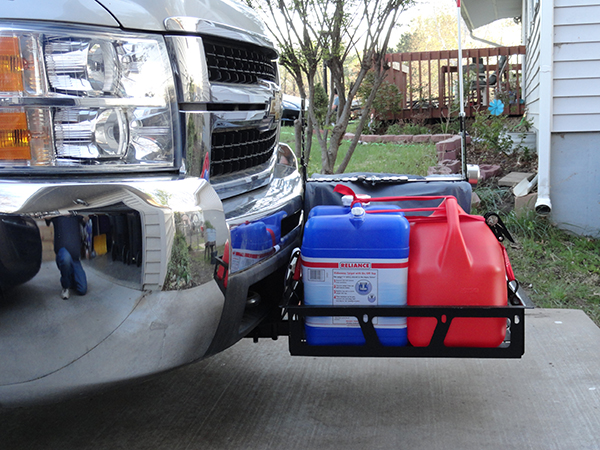 Easy to use – Install it, then forget about it!
This receiver hitch generator tray mounts easily into front or rear standard 2" x 2" receiver hitches and allowsyou to lock, store and run your generator and other motorized equipment simultaneously. You can even leave your generator in the hitch mounted cargo carrier – no more heavy lifting! All in all, John is incredibly happy with his generator carrier and finished his message with this wonderful statement:
"The Lock and Load Maximum Security Cargo Tray is an incredible product that Torklift has devised to help alleviate theft of expensive generators and anything else of value for that matter. Thanks again Torklift." –John Patterson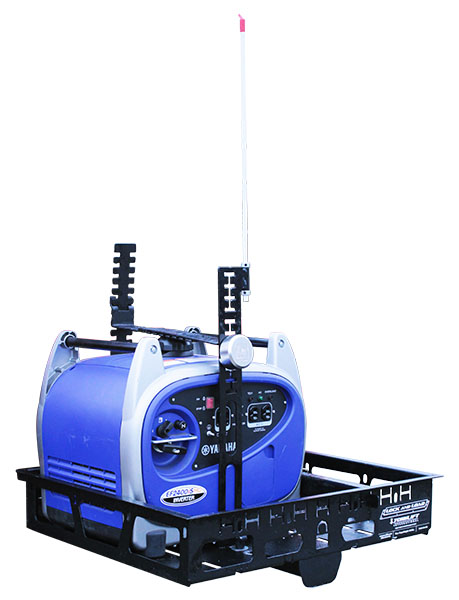 Lock and Load features include:

• Protect costly generators, camping gear, welders, tool boxes, plasma cutters and more from theft
• Allows you to lock, store and run your generator and other motorized equipment simultaneously
• Avoid exhaust fumes and stains by permanently storing your generator while on the road or off the grid
• No more heavy lifting – your generator stays on the tray even while running
• Features a safety visual sight indicator to prevent risk of damage while driving (Part #A7752)
• License plate relocation holes to attach license plate (Part #A7752)
• Mounts easily into front and rear receiver hitches
• Fits most common generators
• High security tamper proof puck lock included
• Cargo tray dimensions:27-13/16 L" x 23-1/2"W x 23" H
• Maximum security strap adjusts to secure multiple objects (extra security straps sold separately) 6-5/8"L x 13-5/8"W x 13-1/8"H to 27-13/16 L" x 23-1/2"W x 23"H
• Available in high impact powder coat steel
• Legendary Lifetime Warranty
• Proudly made in the USA
If you have been looking for new generator storage or are wanting to prevent generator theft, now is the time to check out the Lock and Load so your generator is stored safely this winter. If you want to learn more, click here.
If you are looking to store a smaller generator, the Lock and Load is available in a smaller size. The Lock and Load SideKick is 21.25" x 16.125" and fits all front or rear 2" x 2" mounted trailer hitches. More features can be found here.
Participating dealers are featuring the Lock and Load and smaller version the Lock and Load SideKick RV cargo carrier 10% off for a limited time here. If you want to wait until Christmas for your Lock and Load present – find a Certified Dealer near you by visiting our Where to Buy page and save it for later!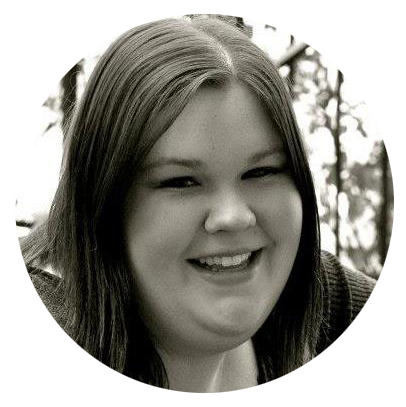 Written by Kerstin Stokes:
As a graduate from the College of Idaho with a B.A. in both History and Art, Kerstin has found her passion for writing and marketing. She enjoys looking up tasty recipes for baking and daydreaming about future travels.