Getting in and getting out of your RV is the first and last thing you do at the beginning and end of every journey you take. With so many step options available how do you decide what way is best for you? From the do-it-yourselfers to Lippert's Solid Step, MORryde's StepAbove and Torklift's GlowStep Revolution, which is going to meet and exceed your needs?
The DIY options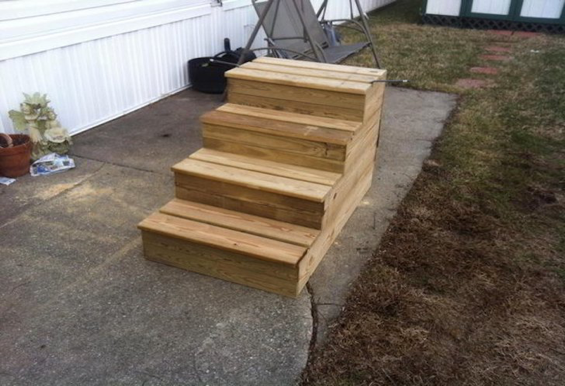 If you're a do-it-yourself kind of person there are a couple options for you. The first project idea I saw was a pallet staircase that was four broken down pallets that were cut and stacked to create stairs. This project was affordable and the materials seemed easy to find. Another project layout I saw, was a staircase cut out of plywood with slats to insert as the steps. These kinds of projects do take time but materials are both affordable and readily available. The downside might be the time it takes to build it, and also finding a place to store it if you are traveling.
Lippert SolidSteps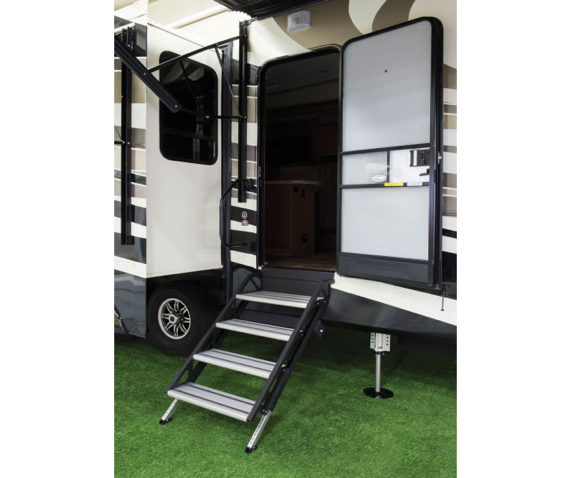 These steps operate through a range of heights with adjustable extensions. The riser height is 8 inches. The design comes parallel to the ground reducing the risk of slipping or falling during use. The step system stows in the doorway inside the RV. This set of steps is a manual steel step with aluminum tread with optional LED tread lighting. The Lippert Solid steps has a 400-pound capacity. It's a sturdy step, but be sure to double check that the steps are brushed off to prevent any water, snow, or other debris from getting inside.
MORryde StepAbove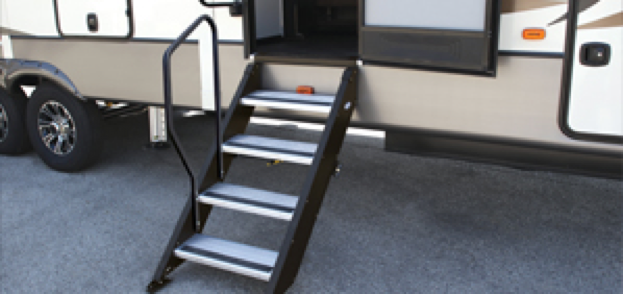 This is a set of steps that provide stable entry and exit from your RV. A twist handle is used to release the steps and they store right inside the door. The steps seem simple to use. You lift the bottom of the step up and close it above your head- similar to a drawbridge. Many see concerns with the height of the twist handle from the ground. As the twist handle is not at a low point for access, this might be difficult for a shorter person or a child to lower the step. As with the Lippert step, there is a possibility of debris like water, sand, dirt or mud inside the RV since it stores inside the door opening. Parking within narrow spaces is also concerning because this step requires about 5 feet to deploy with its drawbridge design. It features adjustable feet for uneven terrain, however just like the Lippert step, it provides no elevation adjustment for overall step height adjustment that is often needed when leveling an RV. This step has a step riser gap from 8 to 9 inches depending on the model. You can purchase the StepAbove stairs in a three step or four step series with an optional handrail and 500-pound weight capacity for both sets.
Torklift GlowStep Revolution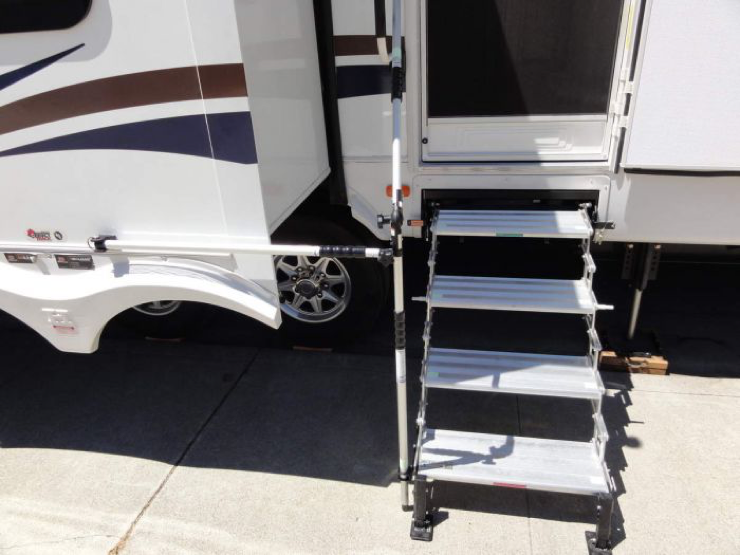 With seven inches of precision elevation adjustment, three positions of upper adjustments between RV and top step, five positions of lower adjustments, plus All Terrain Landing Gear adjustable feet you are guaranteed the safest entry and exit of your RV. These steps are composed of 100 percent rust-free aircraft grade aluminum and are self-illuminating, glowing in the dark for up to 10 hours with no batteries needed and recharge with five minutes of light exposure. It has a specifically engineered hinge assembly unlike any in the industry using a bushing bearing design. Unlike many camper steps available, the GlowStep Revolution has a riser gap of only 7.5 inches where others have a range of 8 – 11 inches. This step system stores and locks under the door way, making it easy to deploy and store. Many accessories are available for the GlowStep Revolution such as the GlowGuide handrail, SafeStep pet barriers, and the DirtDestroyer. Torklift's GlowStep line of RV steps guarantee longevity, durability, and quality with a lifetime warranty. Check out what Trailer Life Magazine has to say about the GlowStep Revolution here.
So there you have it, the different types of steps that are available for your trailer! In order to enjoy the GlowStep Revolution, give us a call at 800.246.8132 or email us at support@torklift.com to get your set today.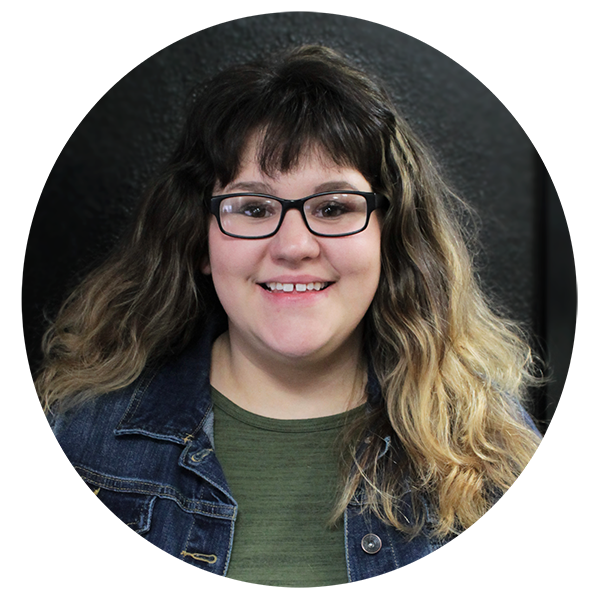 Written by Shyann Guerra:
Being in an environment in which I can problem solve is where I flourish. Every answer to a problem leads me to a new concept to understand or a lesson to learn. When I'm not solving problems I enjoy camping and going to festivals with my family - from the local city center festivals to the mountains of Wenatchee at the Winter Grass, blue grass music festival. Experiencing culture is where my heart is content.
'