Turnbuckles are a very important piece of equipment that connects the truck to the tie down system for your truck camper. When it comes to turnbuckles, you might be wondering what design will work best for your application. Because there are several different turnbuckle models for different types of camper tie downs, we'll help you determine what type of turnbuckle you will need.
1. Opt for a spring-loaded turnbuckle
It is important to use turnbuckles that are spring-loaded to allow some give when your vehicle encounters uneven roads. Torklift strongly recommends using spring-loaded turnbuckles on all four points of the camper. The spring design acts as a shock absorber protecting the anchor points on your new camper as well as the tie down system. After all, the number one reason someone uses a truck camper is to go places other conventional RVs can't imagine going.
2. Select a turnbuckle that you are comfortable with
For frame-mounted applications, choose from the Basic SpringLoad Kit, SpringLoad XL, and the most popular truck camper turnbuckle in the world, the original FastGun turnbuckle.
3. Turnbuckle chain system
The Basic SpringLoad Kit includes two quick links, two heavy-duty forged steel turnbuckles and 24 inches of marine grade chain. This basic turnbuckle bolts easily to the end of each tie down providing the required suspension to help protect camper anchor points.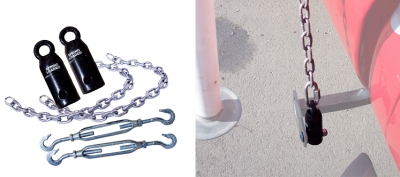 Basic Springload Kit chain system
4. Consider a simpler, chainless turnbuckle
The SpringLoad XL turnbuckle is made from aircraft grade aluminum and stainless steel, reaching 28 to 43 inches. Made with a square body for easy adjustment, the SpringLoad XL has internal springs and spring tension indicators.


SpringLoad XL chainless turnbuckle
5. Easiest turnbuckle: Go Quick-Disconnect
The original FastGun spring-loaded turnbuckles are the top selling turnbuckle in the world because of its quick-disconnect handle making adjustment extraordinarily fast and convenient. To protect your investment, utilize the FastGun Locks to prevent your turnbuckles from being stolen. The turnbuckle design also features the patented spring tension indicators to ensure proper installation.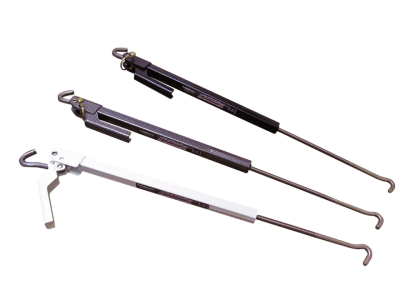 FastGun Quick-Disconnect turnbuckles
6. Make any turnbuckle quick-disconnect
By adding a Derringer Handle to any basic hardware turnbuckle, you can achieve the quick-disconnect capability and convenience of a FastGun turnbuckle.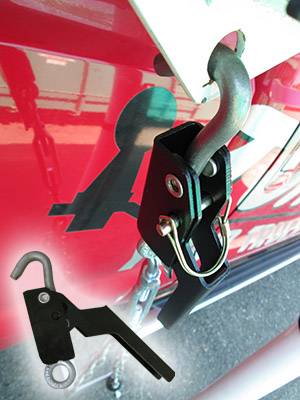 Derringer handles for quick-disconnect capability
7. What turnbuckle should be used with a bed-mounted system?
If you choose a bed-mounted tie down system, appropriate turnbuckles for your application would be the AnchorGuard or AnchorGuard Derringer turnbuckles. The front set of AnchorGuard turnbuckles are spring-loaded and the rear set is cushioned to accommodate your bed/bumper mounted tie down system.
Made from 100 percent stainless steel, AnchorGuard turnbuckles are easy to set up and also come with spring tension indicators.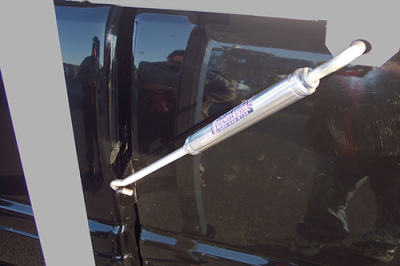 AnchorGuard turnbuckle for bed-mounted tie down applications
8. Upgrade to a Quick-Disconnect
For the best turnbuckle for a bed-mounted tie down system, the AnchorGuard Derringer combines the FastGun quick-disconnect derringer handle made from aircraft grade aluminum with the basic stainless steel AnchorGuard design.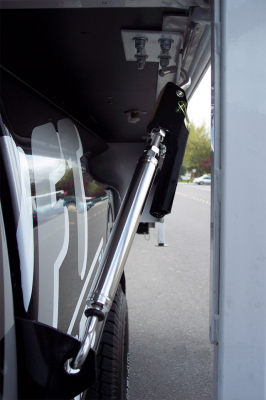 AnchorGuard Derringer turnbuckle with quick-disconnect
Now that you are familiar with different options of turnbuckle designs, you will need to know how to properly install a turnbuckle on your camper.
It is very important to apply the correct amount of tension when tightening your turnbuckles. If there is not enough tension you could potentially lose your camper. If there is too much tension you may damage the anchor points on your camper.
Camper manufacturers suggest that 300 pounds of tension be applied to secure the camper properly. To properly achieve this, Torklift created the patented spring tension indicator.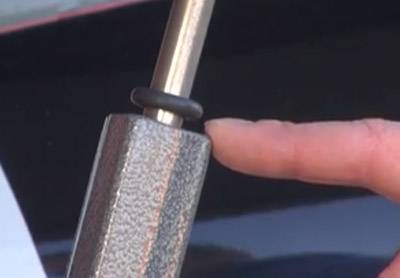 Patented spring tension indicator
By setting the O-ring of the tension indicator flush with the body of the turnbuckle, once tightened the internal spring compresses and a quarter inch space becomes visible between the O-ring and body of the turnbuckle. The space indicates that you have achieved the proper 300 pounds of tension.
To learn more about how to install truck camper turnbuckles, watch this quick video: