FastGun WobbleStopper stabilizes the truck camper and provides camper jack support
Why didn't I think of that?
Sometimes, it's the simplest thing that make you wonder, "Why has no one thought of this before?" That's the feeling you get when you see a product like the FastGun WobbleStopper from Torklift International.
FastGun technology with a kitschy name
You've likely heard the old saying, "When the van's a-rocking, don't come a-knocking?" Well, Torklift International just de-bunked that old message. Just the name alone is enough to stop and take a look. This thing works and it works well. The FastGun WobbleStopper acts as a support connection between the front camper jacks and body of the camper, preventing that annoying camper sway while inside the unit.
When customer Matt Rivard wrote to say how he had low expectations of its claims to reduce the back and forth wobble of his truck camper, he was pleasantly surprised at how once installed, it barely budged. The FastGun WobbleStopper features the unique FastGun technology for easy disconnect and adjustment in seconds. The camper stabilizer also stores easily to the camper jacks when in transit or not in use.

More bang for your buck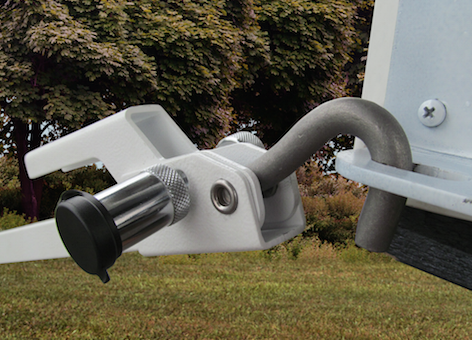 Secures and prevents camper theft
with locking mechanism Like many of Torklift International's products, we are constantly looking for ways to improve on a great idea. In addition to reducing camper wobble and camper frame stress, the FastGun WobbleStopper has built-in keyed-alike locks positioned to prevent other vehicles from loading up your camper and driving away.




Crafted with aircraft grade aluminum and high-impact powder coated stainless steel, this baby is solid and reliable. With easy DIY bolt-on installation for all round and square jack applications, you'll find the investment worthwhile and ask yourself what took so long?
Click here to learn how to prevent camper theft and damage.
To see the FastGun WobbleStopper in action, watch this video:
Torklift International did it again
There's a reason why Torklift International is a leader in the RV industry. Our continued commitment to high quality and ability to fuse technology and creativity together, we're able to develop the innovative products you've grown to expect from us. As always we stand behind our American-made products with our Legendary Lifetime Warranty.
Click here to learn more about the FastGun WobbleStopper.
---

Written by Tamara Williams:
Currently Tamara Williams studies English at Arizona State University. She is a writing professional specializing in technical writing and SEO blogging for small businesses. Tamara also works with Project Pen, an innovative program for inmates at New Mexico and Arizona prison systems editing and providing feedback for their essays, poems, short and non-fiction stories.