As both experts and enthusiasts when it comes to the RV industry and RV parts or equipment, we've taken notice to a common problem that's been rocking the truck camping community for far too long. For those who offload their camper often, you probably know what were "swaying"…or excuse us, saying. When a truck camper is free standing with people inside the unit, the camper sway and wobble is certainly an uncomfortable experience.
What's happening to a truck camper when excessive camper sway and wobble is constant? As the truck camper sits on four points using a camper jack system, the reckless movement causes significant strain and wear to the camper jacks. It also puts unnecessary pressure on the camper frame. Camper jack failure or damage to the camper itself is not the direction you would want your hard-earned dollars to go. Invest in preventative measures to protect the integrity and condition of your truck camper.
By eliminating this rocking motion while your truck camper is free standing and off of your truck, the camper frame and camper jacks are fully supported. Since our loyal customer and good friend Jim Weber planned a week of camping with the truck camper offloaded, he installed something special from Torklift. Acting as jack braces on his truck camper to eliminate camper sway and provide extra support for the camper jacks, Jim was able to achieve rock solid stability. Yes – the jig is finally up!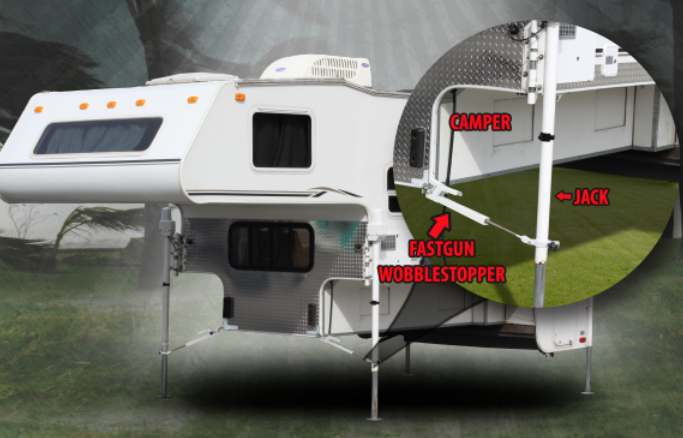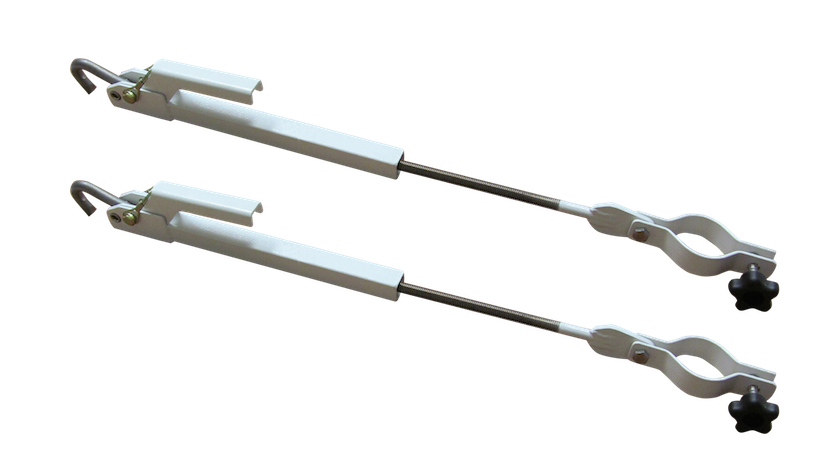 Introducing the Torklift International FastGun Wobble Stopper.
That's right – feel free to do a little jig inside the truck camper to celebrate, just because you can!
Here's how it works:

The FastGun Wobble Stopper connects the front camper jacklegs to the camper body, acting as a supportive connection that stiffens the jacks and stabilizes the unit. With a lever-action quick disconnect FastGun handle, the FastGun Wobble Stopper connects in seconds.
The FastGun Wobble Stopper stows directly to the camper jacks so it's extremely discreet when not in use. The lockable feature helps deter and prevent any possibility of theft. No other vehicles can back up and take off with your camper because the braces block access. Click here to learn how to prevent camper theft and damage.

FastGun Wobble Stopper installed
on Jim Weber's camper "When I take [the camper] off there's always this uncomfortable wobble, even fully lowered to the ground. Well son of a Fast-Gun (see what I did there), Torklift makes jack braces called Wobble Stoppers," Jim writes on RV.Net. "They took all of 15 minutes to put on and wow, what a difference."
See Jim Weber's experience with the FastGun Wobble Stopper by reading the entire thread on popular online forum RV.Net.

Known as Languiduck on RV.Net, loyal Torklift customer Keith Fromme also installed the FastGun WobbleStoppers on his truck camper.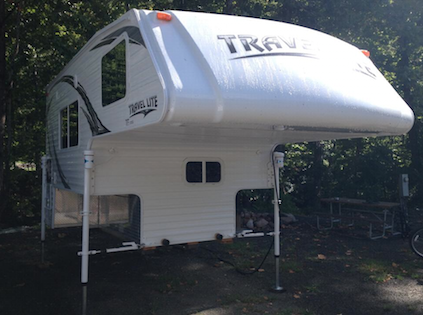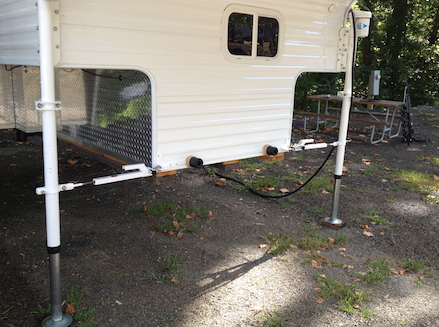 FastGun Wobble Stoppers installed on Keith's truck camper
"Upon connecting the Wobble Stoppers for the first time, almost all sway and wobble from my camper jacks was eliminated," said Keith. "I can now walk inside and move around the camper without the swaying feeling. It's a drastic improvement."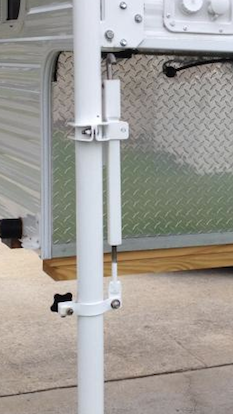 Stores to jack when
not in use
Keith explained to us that he usually unloads his camper once he arrives to a destination. Rather than tiptoeing around the camper for fear of camper wobble, his family is able to enjoy a very solid feeling camper because of the stability FastGun Wobble Stoppers provide.
Keith said that his favorite feature of the FastGun Wobble Stopper is that they self-store.
"I already have a ton of things to pack and unpack, and I don't have to worry about finding a place to store these. They are always right where I need them to be," Keith explained. "The last thing I would want is the hassle of removal and finding yet another spot to store or haul something."
"They are easily one of the best additions I have made to my truck camper set up." - Keith Fromme
Watch this video to see the dramatic stabilizing effects:
Torklift International offers designs available to fit round or square camper jacks. Made from aircraft grade aluminum and stainless steel, the FastGun Wobble Stopper defines durability with a high impact powder coat protective finish in white. Manufactured locally at our facility in Washington State, the FastGun Wobble Stopper comes with Torklift's Legendary Lifetime Warranty promise.
Click here to learn more about the FastGun Wobble Stopper.
---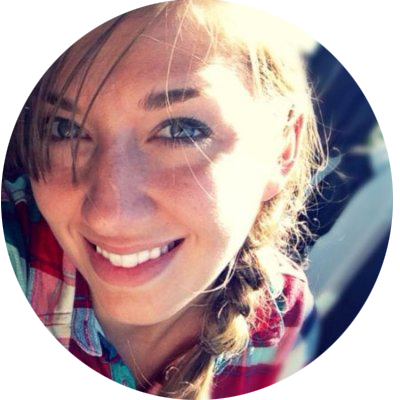 Written by Sheryl Bushaw:
As a graduate from Arizona State University with a B.A. in Journalism and emphasis in Public Relations, Sheryl is a passionate writing professional with focus in areas of copy writing, social media and creative design. She is a travel enthusiast and explorer-extraordinaire with a zest for life.