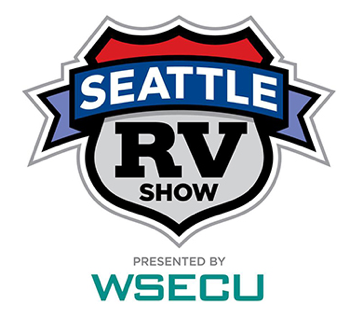 It's that time of year again. As February draws closer, Torklift International is hard at work preparing for the much anticipated 2016 Seattle RV Show. Not only will Torklift be available to share towing and RVing tips, we'll also feature the newest and most innovative RV accessories designed to improve the camping experience. From February 11-14, guests from all over the state and across the nation will have the opportunity to attend Seattle's best RV show. With RV seminars, "Ask a Tech" informational exhibit and interactive activities for the kids, there's something for everyone at the Seattle RV Show.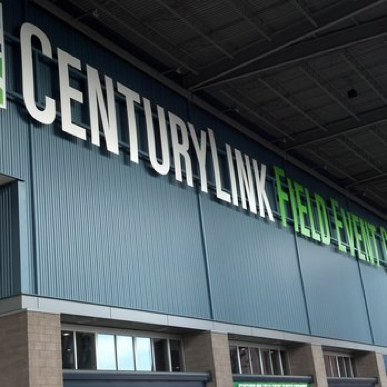 The RV expo emulates all things RV. Located at Century Link Field Event Center, campers and outdoorsmen alike will enjoy four days of ultimate access to the industry's top providers and manufacturers. We at Torklift International are thrilled to be among the show's contributors. With a number of interactive displays and opportunity for hands-on experience, find our products featured at booth E1. We will bring the unique Torklift brand to this RV show near Seattle with products designed to make your outdoor adventures safe and convenient.
At the Seattle RV Show, explore many features and benefits we offer with the following products:
• GlowStep Revolution RV Step System
• HiddenPower under vehicle battery mount
• StableLoad suspension stabilizer
• SuperHitch Outlaw Series
• Truck camper turnbuckles
• TRUE Frame-Mounted Tie Downs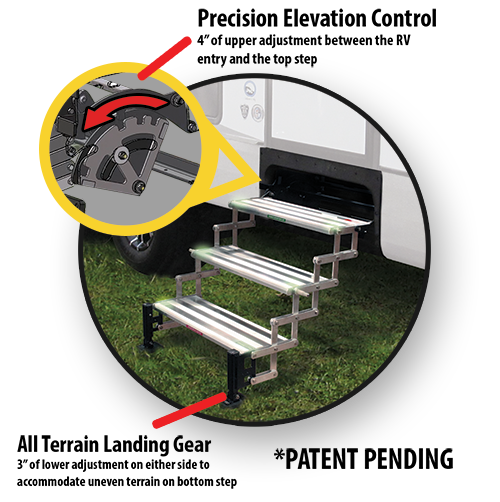 GlowStep Revolution
This never-before-seen RV step system is revolutionizing and changing RV's as we know it. Trying out the GlowStep Revolution should be first on your 'must-do' list when you attend the Seattle RV Show. We've seen countless RV's and trailers with wonky steps that hover above the ground. Don't believe us? Check out #RVStepFail to see for yourself. Often there aren't enough steps to safely reach the ground and the lack of connection sends the RV into a diving board motion. How does the GlowStep Revolution solve your RV step woes?
Here's how:
• GlowStep Revolution is available in 2-6 steps and has 7 inches of vertical step elevation adjustment
• Since the steps connect firmly to the ground estabilishing stability, there is no need for a clunky booster step
• All Terrain Landing Gear uses adjustable feet to level on uneven terrain
• Made from lightweight aircraft grade aluminum (rust free)
• Glows in the dark for up to 10 hours with only five minutes of light exposure
• Legendary Lifetime Warranty
• Proudly Made in the USA
When you come to the show, you have check these out! This is something folks in the RV industry are buzzing about. See the recent article in Trailer Life Magazine here.
Torklift's HiddenPower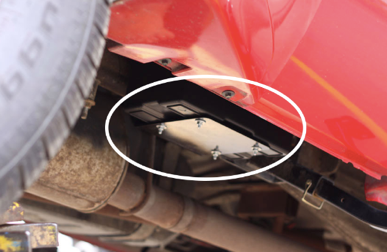 HiddenPower does not affect
ground clearance
In the world of the modern RV, energy efficient electrical systems are essential. There is nothing more frustrating than driving somewhere, only to suffer sudden and unpredictable battery failure. At the Seattle RV Show, learn about the HiddenPower under vehicle hidden battery mount, our universal battery tray for all types of Group 24, 27 and 31 twelve volt batteries (including lead acid, AGM, sealed and gel cell).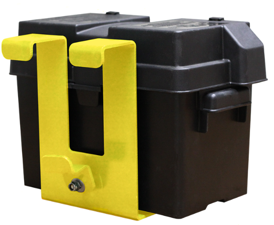 Under vehicle
battery mountAt the booth, visually learn how to significantly extend the time you're able to run your 12-volt systems by recharging through your existing solar panels, generators and converters. By adding the HiddenPower Wire Harness, directly wire your truck or RV into the extra battery. You're able to avoid wasting fuel by powering accessories without turning your truck engine on.
When you see us at the show, don't forget to ask us about installation. The HiddenPower is engineered to include no-drill installations with a quick disconnect feature so you can quickly detach the battery for service and maintenance. Attend the Seattle RV Show for more details on the HiddenPower battery storage tray.
Find a solution for your suspension with StableLoads

Do you often tow or haul heavy loads? If you're visiting us at the Seattle RV show, you're probably no rookie when it comes to pulling a load or two behind your truck. One thing's for certain -- the feeling of your load controlling your truck and not you isn't something anyone wants to experience. Some of the problems drivers often encounter when hauling or towing heavier loads include excessive side-to-side sway, porpoising and body roll. If you're looking for a way to improve your vehicle's suspension, look no further than the StableLoad suspension stablilizer. 


At the Seattle RV Show we'll illustrate the science behind the StableLoad Suspension Stabilizer and how it's able to dramatically improve vehicle handling characteristics by "pre-activating" the overload leaf springs. StableLoads tap into the primary function the vehicle manufacturers intended, maintaining four-point suspension. Click here to see how the StableLoad measures up to other aftermarket suspension products.
If you're a veteran of towing and hauling, why else should you consider StableLoads?
• StableLoads are designed with a "quad contact" design that complements the manufacturer's four-point suspension, as opposed to reducing it to two points of contact with all other rear suspension products
• StableLoads have the ability to be turned on and off in seconds – engage the StableLoads when in tow/haul mode, disengage or turn them off when not towing or hauling so you can enjoy your smooth factory suspension
• Quick, no-drill installation available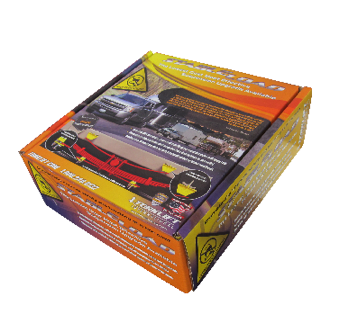 StableLoads come in a set of four to outfit one vehicle
If you would like to know more, click here or attend the Seattle RV Show for more details.
SuperHitch your Ride
What are you towing? Whether it be a fancy boat, travel trailer, toy hauler or flatbed trailer, you'll want to discover the SuperHitch Outlaw Series. At the Seattle RV Show, we're excited to have the crowned jewel of the Outlaw series on display: the SuperHitch Magnum 30K. Also see how the SuperTruss Receiver Extension is the safest and strongest towing extension on the market.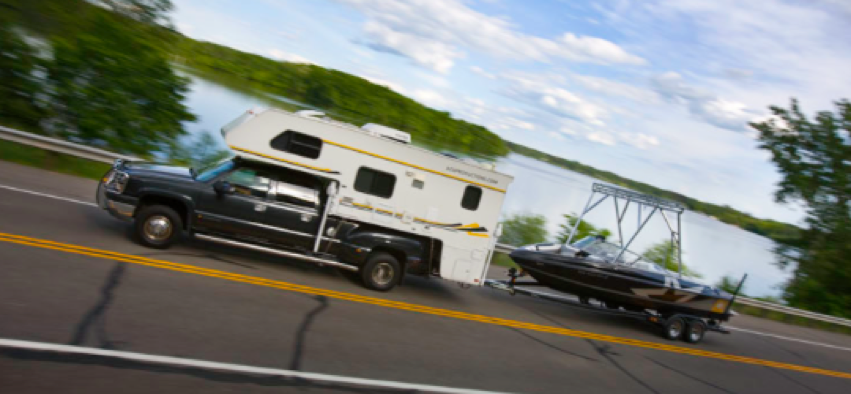 SuperHitch and SuperTruss allow you to tow and haul at the same time
The SuperHitch Series includes:
• SuperHitch Magnum 30K -- 3,000 lbs tongue weight, 30,000 lbs pull*
• SuperHitch Original 20K -- 2,000 lbs tongue weight, 20,000 pounds pull*
• SuperHitch Hero 15K -- 1,500 lbs tongue weight, 15,000 pounds pull*
• SuperTruss Receiver Extension -- Pick your extension size to find weight capacities
• SuperHitch Everest WD System -- 3,000 lbs tongue weight, 30,000 lbs pull
• SuperHitch Pintle & Ballmount accessories rated up to 30K
*When used with weight distribution.
When at the Seattle RV Show, take a close look at the design features of the SuperHitch. Ask us how our design prevents "egging" (common elongation from rigors of heavy towing). We'll be happy to share with you each and every benefit the SuperHitch Outlaw Series offers, providing you with the safest towing experience you can trust and depend on.
Turnbuckle Up
Not only do we have trailers and towing covered, Torklift International is also the number one source for truck camper equipment. Keeping your truck camper secured properly to your truck is crucial. The combination of truck camper tie downs and turnbuckles plays a huge part in how effectively you're hauling your camper.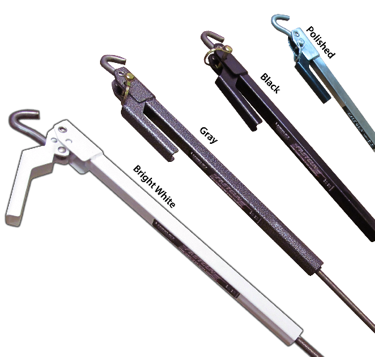 By far the most popular turnbuckle is the Torklift Original FastGun. With a quick-disconnect handle and spring tension indicator, this turnbuckle is hands down the easiest way to connect your truck to the camper tie downs. It takes as little as four minutes to install the FastGuns as opposed to upwards of 30 minutes using traditional chain configuration. At Seattle's RV Show, ask us why having spring-loaded turnbuckles are an important factor.
We have a variety of turnbuckles for both bed-mounted and frame-mounted tie down configurations. Explore our turnbuckle line or find the one that best suits you by trying each design at the Seattle RV show.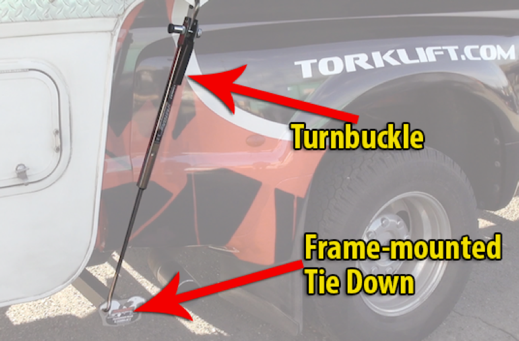 Truck Camper Tie Downs
Truck campers are a quintessential staple of any RV trade show. While visiting the RV show in Seattle, check out Torklift's frame-mounted truck camper tie downs in both steel and aluminum versions. You'll be able to compare the differences between the Talon aluminum tie downs versus traditional steel, and how lightweight the high performance Talons compare.
Torklift will be happy to share with you why choosing a frame-mounted tie down application is the safest and most secure way to haul a truck camper.
Torklift Seminars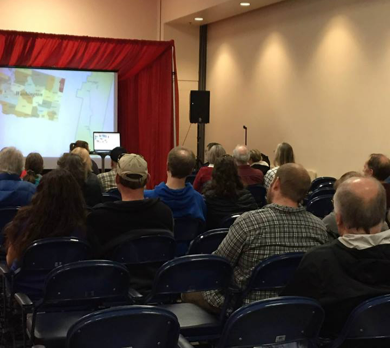 Attend a seminar at Seattle RV ShowFinally, guests at Seattle's RV exhibition will have the opportunity to attend Torklift Central's RVing seminars. We'll cover everything from towing to hauling so you leave armed and prepared with knowledge on how to hit the road with safety top of mind. Attend one or attend all -- Our seminars will cover the following topics:
• Proper Dinghy Towing (Thursday at 12pm, Saturday at 12pm)
• Proper Travel Trailer Towing (Thursday at 2pm, Sunday at 11am)
• Proper Fifth Wheel Towing (Friday at 2pm, Sunday at Noon)
• Equipping your truck to carry a truck camper (Friday at Noon, Saturday at 11am)
• Towing Capacity – Truck and Trailer (Thurs-Sun at 1pm)
Have a particular question? Torklift will also be available to talk all things towing and RV in the "Ask a Tech" exhibit. Don't forget to mark your calendars for February 11-14, 2016 and visit Torklift at booth E1 at the Seattle RV trade Show. See you there!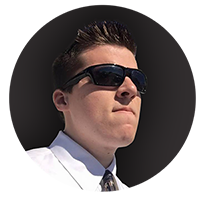 Written by Andrew Wales:
Andrew is a recent graduate from the University of Washington, where he earned his B.A. in Arts, Media and Culture. In his free time, he channels his passion for writing into numerous projects, including the development of a series of full-length science fiction thriller novels. He seeks to put his devotion to writing to good use in the professional field as a technical writer.