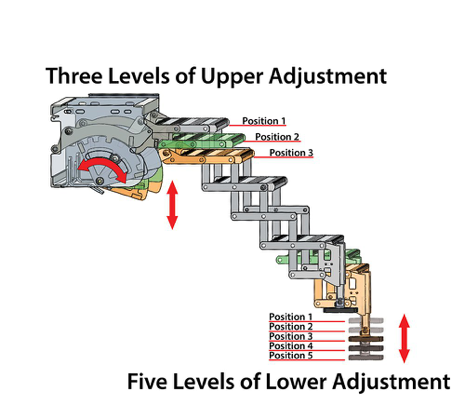 The GlowStep Revolution is the first and only patented step system designed for all RV towables that is versatile and flexible to adapt to any type of terrain. The step entry system is revolutionary for several reasons. Featuring 7 inches of precision elevation adjustment, the GlowStep Revolution has 3 positions of upper adjustment between the RV entry and top step, plus an additional 5 positions of lower adjustment with the All Terrain Landing Gear adjustable feet. As the only step in the world that features this patented and unique level of adjustment at both the top and the bottom of the step system, this step allows all options for accommodating any terrain.
Step series:
Two Step System - Starting at $490.00
Three Step System - Starting at $540.99
Four Step System - Starting at $586.99
Five Step System - Starting at $624.99
Six Step System - Starting at $653.99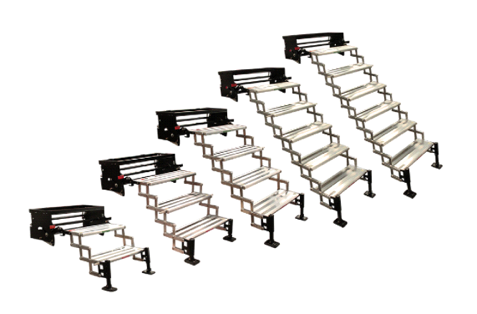 The most common application is the 27.5-inch four step series part number A8004. This is because most fifth wheels sit at the same height, the only difference is the length and the layout. The prices of the steps are the same for both the 25.5-inch and the 27.5-inch width models.
To determine the cost of your GlowStep Revolution, first find out how many steps you need. So how do you determine your fit?
Measurements to determine fit of GlowStep Revolution
1) Dimension A: Measure the width between your factory mounting brackets
2) Dimension B: Measure from the top of the step opening to the ground If you have a non-removable bracket to determine how many steps you will need, then there is an extra measurement you have to take to ensure a proper fit: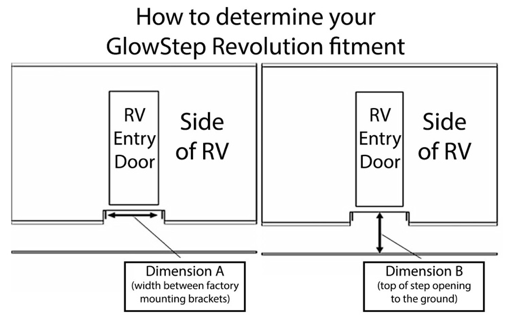 3) Dimension C: Measure from the top of the step opening to the bottom of the stored step This measurement is to make sure that when the set of steps are compressed that they will fit properly into the storage compartment.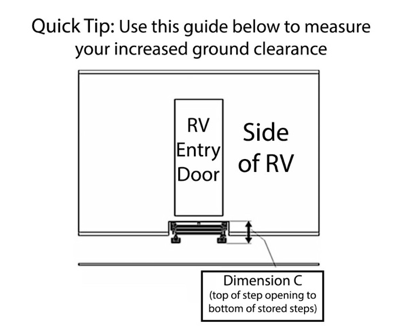 Torklift has designed two parts that will help to achieve a seamless installation of the GlowStep Revolution. Almost 100% of GlowStep Revolution RV steps are a direct bolt-on with no modification required, but just in case you find yourself with a very unique RV, here is some additional details to consider.
GlowStep Revolution Spacer Kit
This kit achieves installation of the GlowStep Revolution step system in applications where the width between factory mounting brackets on your towable is between or larger than the standard factory measurement of 27.5 inches or 25.5 inches (very uncommon). This kit includes four ¼ inch thick steel spacer plates with longer hardware.
GlowStep Revolution Vertical Stud Adapter Bracket
The GlowStep Revolution Vertical Stud Adapter Bracket is made specifically for trailers without vertical brackets that extend out perpendicular from the trailers frame or "predrilled step frame outrigger mounting brackets" to install the GlowStep Revolution. The Vertical Stud Adapter Bracket is attached underneath your step opening allowing the GlowStep Revolution to bolt directly to the bracket.
Top 3 reasons why you need GlowStep Revolution?
Aside from the extensive adjustability the GlowStep Revolution step for towables provides, there are several reasons why these steps will make you one happy camper. Here's some points to consider:

#1) Avoid getting Dumped with Dirt
Imagine going to stow your steps and having to thrust a heavy unit above your head, only to get flung with dirt and debris that covers your clothes and gets stuck in your hair. With GlowStep Revolution, this scenario will never be a reality. The easy bolt-on installation fits into the factory step compartment, replacing factory steps. Since the steps are installed in the factory compartment, they remain conveniently outside the RV. Drawbridge style steps that fold up and store inside the unit dump dirt, water, sand and other unwanted debris all over you and inside your RV. If you're looking to avoid any unnecessary mess, the GlowStep Revolution steps are the right option for you.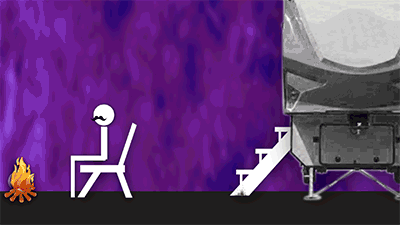 #2) Don't Get Stuck Between a Rock and a Hard Place
With your trailer or fifth wheel, it's no doubt you'll encounter a multitude of obstacles. Whether it's a tight campground space, a narrow storage area or simply pulling through a gas station. If you want to access the inside of your unit, it's typical to just open the door and store any last minute groceries, camping gear, etc. For those that opt with drawbridge style steps, you'll find that it's not as easy to deploy the steps in tight spaces since clearance will be the deciding factor. Also, you'll find your access to entry opening will be completely blocked. With GlowStep Revolution you can enjoy the simple pleasures of parking wherever you want and accessing your unit at any time. The multi-link hinge design easily extends to accommodate tight space constraints so it doesn't matter how close you park to structures, trees, service bays or inside of a storage facility.

#3) Skip the extra drilling!
In contrast to steps that drill into the vinyl and wood of the RV's entry threshold, GlowStep Revolution steps are completely bolt-on to the RV's frame. This avoids vulnerability to possible water damage from drilling holes, and upholds the value and integrity of your RV. Another plus? Available ranging from two to six steps, steps can easily be added and removed so you can take the GlowStep Revolution step entry system with you when you trade in for your next RV.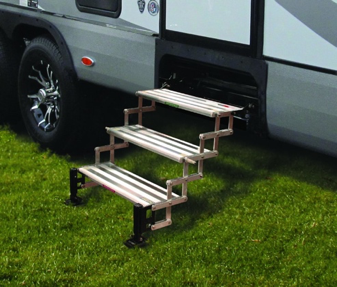 Handcrafted and manufactured from 100% lightweight aircraft grade aluminum and stainless steel, GlowStep Revolution will meet any of your RV step needs. This step system also has safety features built in like the SureGrip step tread and self-illuminating feature that keeps the steps glowing in the dark for up to ten hours with only five minutes of light exposure.
The GlowStep Revolution is proudly made in the USA and comes with our Legendary Lifetime Warranty. For more information click here, email our Tech Support at: support at torklift.com or give us a call us at 800.246.8132.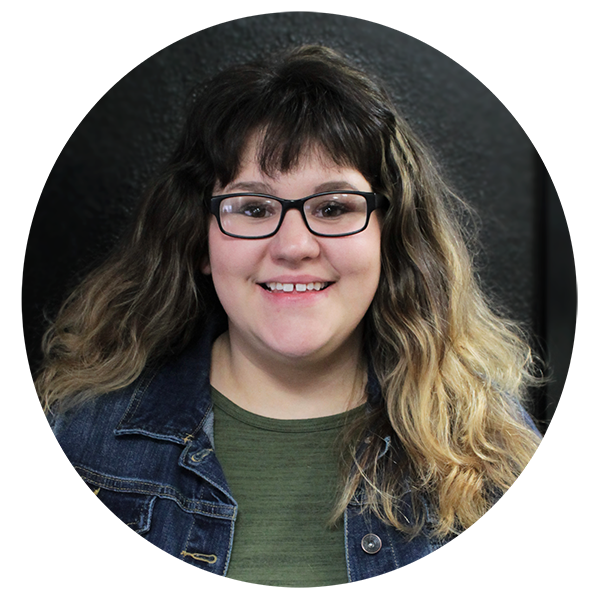 Written by Shyann Guerra:
Being in an environment in which I can problem solve is where I flourish. Every answer to a problem leads me to a new concept to understand or a lesson to learn. When I'm not solving problems I enjoy camping and going to festivals with my family - from the local city center festivals to the mountains of Wenatchee at the Winter Grass, blue grass music festival. Experiencing culture is where my heart is content.