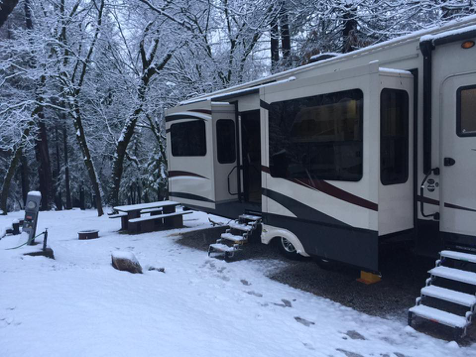 Have you ever sat down, maybe in the morning during your coffee time, or at night once everyone has gone to bed and thought: what's my "trailer legacy?" We know, it sounds like a weird question, but it's interesting to think about. What trailer do you currently have and how will it stand up to the test of time – especially when it comes to keeping your loved ones safe? Little did you know that you can bring your step investment with you from trailer to trailer. Whether upgrading or downsizing, invest in a safe set of steps that will stick with you for a lifetime.
The GlowStep Revolution trailer steps are designed to be a legacy step system. Giving you the ability to add or remove steps, take the GlowStep Revolution with you when you trade in for your next RV. If you know that the trailer you currently have isn't the last trailer you will ever own, save your old factory steps and take the GlowStep Revolution with you when you upgrade to your next ultimate 5th wheel, toy hauler or travel trailer.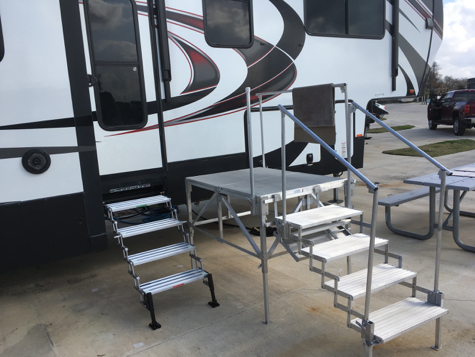 Similar to the staircase found in your home, the GlowStep Revolution entry step system has the shortest riser height in the industry at only 7.5-inches. It stores inside the factory opening that already exists so all your storage opens up for more gear you want to bring along. Along with the All Terrain Landing Gear that comes standard with the steps, you have the ultimate in safe entry and exit from your trailer. The adjustable feet are like planting roots each time you deploy the steps, ensuring your family stay safe and the trailer doesn't bounce around when someone is going up and down the stairs.
While the steps are an investment up front – if you think about it, taking the steps with you makes your investment all worth it because you still have amazing steps for your trailer and don't have to deal with unsafe and unstable factory steps – or purchase new steps. Plus, while your trailer may not have a lifetime warranty, your GlowStep Revolution does. It comes with our Legendary Lifetime Warranty ensuring that your steps last for a lifetime.
Features of the GlowStep Revolution Include: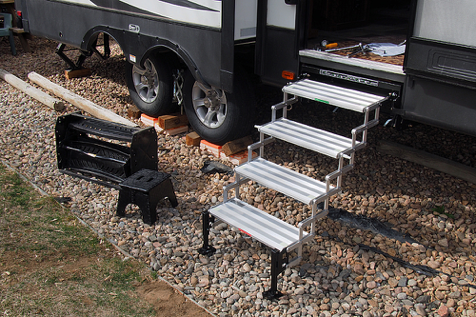 • Only RV step system with 7 inches of vertical precision elevation adjustment
• Unparalleled stability eliminating the unsafe diving board effect
• Direct bolt-on installation easily replaces your factory step system
• Earth to RV: Brings step to ground level (No more unsafe booster step)
• Landing gear quickly levels on uneven terrain
• Ground supported connection to RV - No more shaking as people or pets enter and exit
• Similar to the staircase in your home, the 7.5-inch step riser height accommodates those with limited mobility
• The multi-link hinge design easily extends to accommodate tight space constraints so it doesn't matter how close you park to structures, trees, service bays or inside of a storage facility
• Step system accessories: Handrail, pet safety barriers and shoe cleaning attachment
• Made from 100% lightweight aircraft grade aluminum and stainless steel (rust free)
• Designed specifically for all RV towables
• Bushing bearing bolted for maximum stability and longevity - also provides smooth operation when deploying or retracting steps to prevent binding and grinding common with factory steps
• Locking mechanism secures steps for safe travel while improving ground clearance
• SureGrip™ step tread eliminates jagged holes commonly found on factory steps
• Self-illuminating steps glow in the dark for up to ten hours with only five minutes of light exposure - no batteries
• Safely enter and exit your RV after dark
• Sold in applications for 2-6 steps
• Legendary Lifetime Warranty
• Legacy step system: With the ability to add or remove steps, take the GlowStep Revolution with you when you trade in for your next RV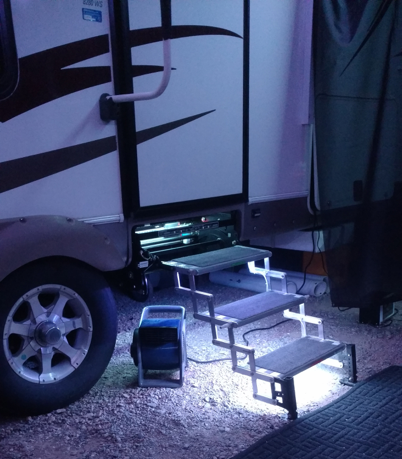 • Proudly made in the USA
*Patented
We're always here to answer your questions about these upgraded trailer steps by either calling us at 800-246-8132 or by finding a Certified Dealer near you here. Ensure that the trailer that you're leaving behind has steps your kids will be safe using and love – remember to include your GlowStep Revolution in your last will and testament. Let us get you set up with a set of your own GlowStep Revolution steps for your trailer today!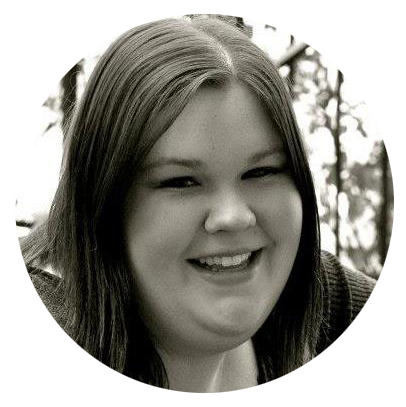 Written by Kerstin Stokes:
As a graduate from the College of Idaho with a B.A. in both History and Art, Kerstin has found her passion for writing and marketing, and has loved every minute of working for Torklift for over 2 years. She enjoys looking up tasty recipes for baking and daydreaming about future travels.