On June 13-18, at the County Fair Grounds, in Elkhart the 2017 North American Heartland Owners Rally will take place. This rally is for anyone who owns a Heartland RV, and is a paid member of the Heartland Owners Club. With an expectancy of more than 550 people, we are all looking forward to seeing the latest and greatest from Heartland.
What kind of units can you expect to see at the rally?
With anywhere from 275- 300 units to be present, there will be a wide variety of Heartland RVs and fifth wheels. You can expect large groups of Bighorn, Big Country and Landmarks. As an RV enthusiast like many of you reading this we are all excited to see the latest from Heartland. Big Country's new 3560 SS is going to be something we are hoping to see. Coming in at 13'3" feet tall, 40.7 feet long, and 8 feet wide, it has the ability to sleep four people. This Big Country offers a master suite (queen standard, king optional) and a full bath with many other options available like a fire place or theater seats. Another unit we are hoping to see is 3575 Elite designed by Big Horn. It's 8 feet wide, 13'3 feet tall and 39'4 feet long and able to sleep four people. This RV has standard hand crafted cabinetry with Amish-crafted natural hardwood cabinet doors with hidden hinges and drawers. With an optional electric fireplace, large four door refrigerator, or a programmable safe, this RV is the top of the line.
Will Torklift be there?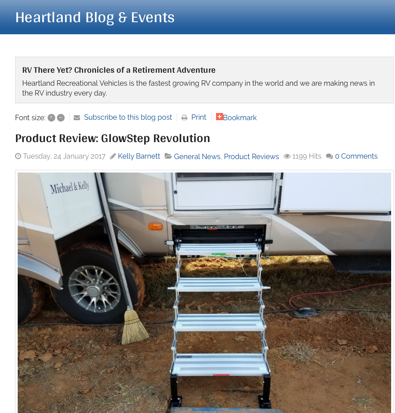 We wouldn't miss it! Our very own Kyle Bonita will be there giving a demonstration of our GlowStep Revolution. He will be comparing a factory step to the GlowStep Revolution and all of the features it has to offer. We are hoping to see Heartland family member Kelly Barnett, owner of a Landmark Key Largo who loves our GlowStep Revolution. She personally wrote a article to Heartland that was posted on their Heartlands' blogs and event page, about the replacement of her factory steps and installation of our GlowStep Revolution and what difference it has made to her:
A quote directly from her write-up is, "There is a major difference in the stability of the old steps and the new. Walking up and down the steps there is no 'give' because the steps are supported by the legs that rest upon the ground and don't just hang freely in the air. The GlowStep Revolution makes you feel more safe and secure while going up and down the steps."
Another Heartland owners club member we are looking forward to see is user Coram8. He posted on the forum with a couple questions and concerns, and was wondering if the GlowStep Revolution would solve these issues. Our steps have a weight capacity of 375 pounds, so there is more than enough support. As far as the clearance between the ground and the first step on your
RV steps Torklift's GlowStep Revolution is your solution! Our steps connect to the RV and directly to the ground eliminating the unstable and unsafe diving board feeling. We have also designed an accessory called SafeSteps that may benefit you as well! This is a protective panel that creates a vertical barrier closing the gap between the steps to prevent your children or pets from falling between the steps. Check out this GlowStep Revolution thread on the Heartland Owners Club member forum at Heartlandowners.org.

Gimme my GlowStep Revolution- find out how to get one free
Heartland Owners Club member Avviclif was wondering if Torklift was going to have any rally specials, and with a lot of excitement about our GlowStep Revolution Torklift will be running a promotion this year. For this rally, attendees must post a photo of their current steps on our Facebook page using the caption, "Gimme my GlowStep Revolution!" with #Torklift in order to be entered to win. The rally director will choose and announce the winner of a free set of GlowStep Revolution steps. Let's see your steps! Check out Avviclif's post on the 2017 Goshen Rally- Vendor Specials thread.

As much as we are all excited about seeing the latest and greatest from Heartland, we are very excited to see all of you as well. For more information of our GlowStep Revolution and any of its accessories contact us at 800.246.8132 or visit Torklift.com.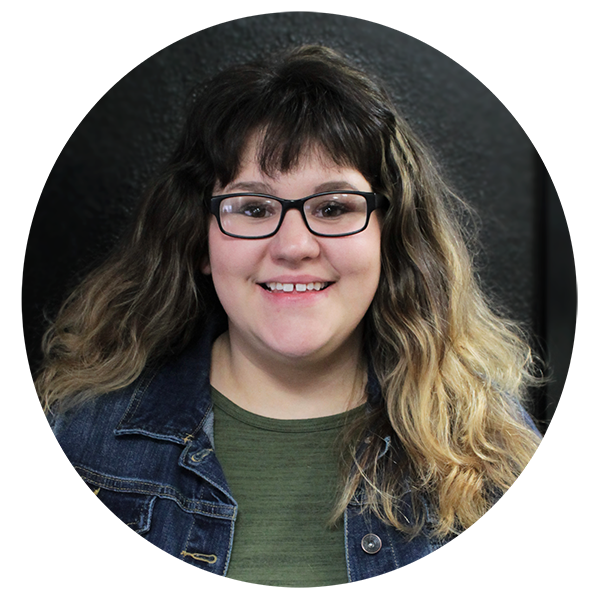 Written by Shyann Guerra:
Being in an environment in which I can problem solve is where I flourish. Every answer to a problem leads me to a new concept to understand or a lesson to learn. When I'm not solving problems I enjoy camping and going to festivals with my family - from the local city center festivals to the mountains of Wenatchee at the Winter Grass, blue grass music festival. Experiencing culture is where my heart is content.