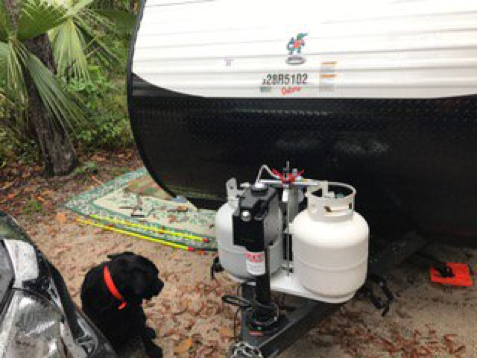 Short answer is, it depends! When speaking with our resident Torklift RV expert Darrel, he said, "the most important thing is to make sure you fill them up before you go!" In an RV or trailer, the furnace is the biggest consumer of propane; with the oven coming in second depending on how much cooking you plan on doing. Another factor to consider is the length of your trip, is it going to be long or a quick trip? You may need to shower which also requires propane for the water heater. Trying to determine how much propane you're going to use varies with every scenario, so we'll take you through a few to help give you an idea.
California vs. Alaska
Planning a trip to California or Alaska? Let's say you're planning a series of vacations and the first trip is going to be California during the month of August. In this situation, you are going to have warm weather and will probably only need propane if you are going to cook or grill. Essentially, using very little to none. Where is your next trip? How about Alaska in November? For these kinds of conditions, you'll need more propane because you will likely be using your furnace, needing warm water for showers and propane for cooking as well.
How much does propane cost?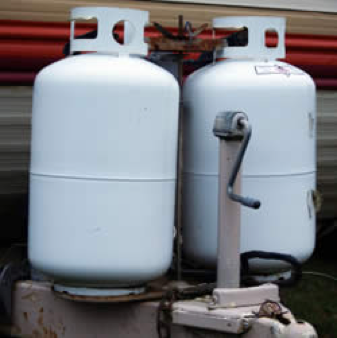 Before you can purchase the actual propane gas, you'll need an LP tank to hold it in, and prices vary between brands. For example, an empty Bernzomatic 20-pound tank starts at $32.97 and another brand is Worthington Pro Grade which is an 11-pound tank that starts at $56.97. After you've purchased the tanks, you need to fill the tank with propane. Just like the different brands of tanks, propane prices vary as well. Mostly it will depend on how big your tank is and how much gas you'll need to fill it up, which can run you anywhere from $15 to $30. Also, if you have two tanks you'll need to multiply your cost by two. Two tanks is a clever idea for the many situations that can arise while camping and as a backup if you use all the propane from the first tank.
Another cost to consider is the unthinkable – what if your tanks get stolen? While it's an unfortunate occurrence, it's not uncommon. You have just returned from your hike and both of your propane tanks are missing, the lines on your RV have been cut and now you have to pay $500 for the repair and replacement costs. With propane tank theft on the rise, what can you do to prevent this?
The Fortress GasLock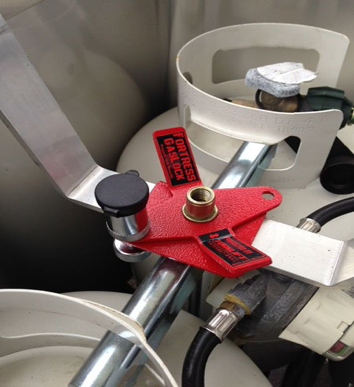 Torklift has designed a product that can safely secure your propane tanks called the Fortress GasLock. This is an investment that protects your investment.
It requires no tools and only takes seconds to install. The Fortress GasLock works with most common threaded rods (fits available for 3/8" and ½" size applications), and is designed for dual tank usage. Constructed out of military grade aluminum with a high impact powder coat, this is the only lock available that is specifically designed for RV propane tanks in the industry. There is also an Airstream version available if you have one of those iconic trailers.
Further features of the Fortress GasLock include:
• Avoid typical propane tank theft repairs exceeding $500
• Allows tanks to be quickly locked when mounted to trailers, towables and RVs
• Does not interfere with LP tank valves and can be filled while locked
• No tools, no modifications, installs in seconds
• Affordable investment
• Designed for dual tanks
• High impact powder coated military grade aluminum
• Fits available for all applications
• Only lock available for propane tanks in the industry
• Proudly made in the USA
Kit includes:
• One GasLock assembly
• Lock and keys
• Theft deterrent decal
For more information on the Fortress GasLock contact us at 800.246.8132 or visit our website Torklift.com.
Written by Shyann Guerra:
Being in an environment in which I can problem solve is where I flourish. Every answer to a problem leads me to a new concept to understand or a lesson to learn. When I'm not solving problems I enjoy camping and going to festivals with my family - from the local city center festivals to the mountains of Wenatchee at the Winter Grass, blue grass music festival. Experiencing culture is where my heart is content.