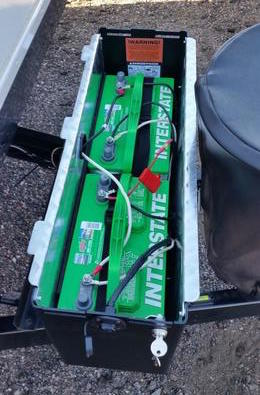 For those who enjoy boondocking or bringing amenities and the comfort of home such as hair dryers, laptops and more – you're going to need power. What's the best way to get power through your RV? Batteries! Now as RVs are getting more technologically advanced, RV batteries are a necessity, but how well do you understand the batteries for your RV?

The basics of understanding your RV battery
At their most basic level, a RV deep cycle battery is lead acid, which means they have several cells connected in a series. Each cell produces volts which is where you get the power from. There are three major kinds of deep cell batteries for RVs available that are made out of plates and electrolytes composed of sulfuric acid, lead and water: AGM, flooded wet cell and gel cell. Each RV battery has both its advantages and disadvantages:
• Flooded wet cell battery: available in 6-volt or 12-volt variations, flooded wet cell batteries are the most common RV batteries and are very affordable.
o How it works: Flooded wet cell batteries vent oxygen and hydrogen gas while charging, the gases are produced from the electrolysis of water. It requires distilled water to be added and has to be in a ventilated area due to the gases.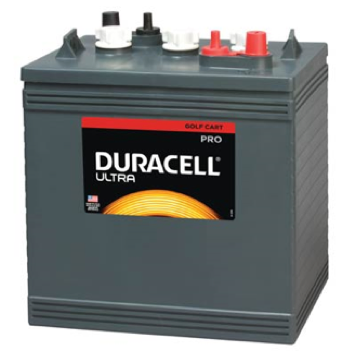 • AGM battery: variation of a lead-acid battery that has advantages over a flooded wet cell battery including a spill-proof design, faster charging time and a longer life.
o How it works: AGM batteries have a fiberglass mat between the plates to absorb the electrolytes while charging and can be mounted in any position. They are more expensive and require a compatible battery charger.
• Gel cell battery: Does not contain liquid and is therefore leak proof. It also has a high performance at many different temperatures.
o How it works: Unlike the other two batteries, the sulfuric acid in gel cell batteries is mixed with a thickening agent and forms a gel-like substance. They charge at a slower rate and are more expensive as well.
The life expectancy of RV batteries will depend on how you use them, how well they're maintained, how they're charged/discharged and stored. The average time of usable power for deep-cycle batteries is 20 hours but the greater the amp-hour rating, the greater the battery storage capacity. There are many sizes available, but the most common are group 24, 27 and 31.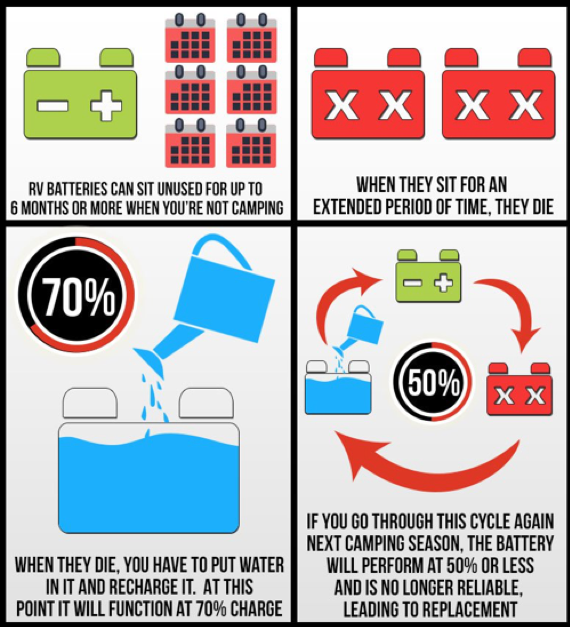 Maintaining RV batteries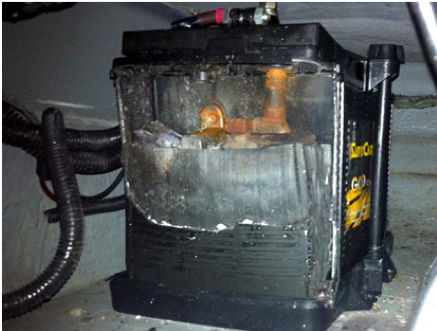 The two most common causes for RV battery failure are overcharging and undercharging which can lead to sulfation, which is the formation of sulfate crystals that corrode battery parts. Undercharging is a result of batteries being repeatedly discharged and not fully recharged between cycles. Overcharging is when there is a severe loss of water and plate corrosion and causes overheating and loss of water. Luckily – both of these events are avoidable. Some maintenance tips include:
• Checking the batteries once a month to see how they look and refilling the water if needed
• Cleaning the batteries to remove corrosion (usually with a stiff wire brush or toothbrush)
• Use battery sealant spray to prevent further or future corrosion

RV battery storage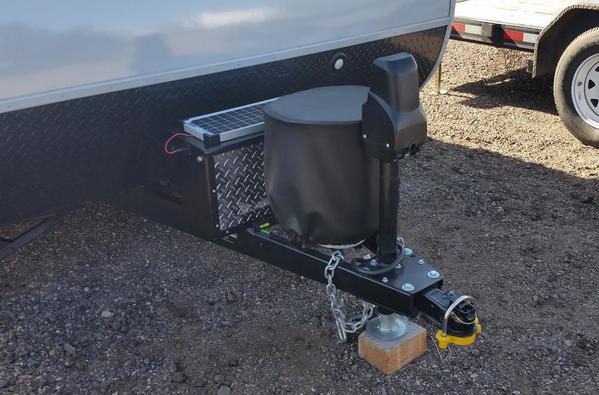 One of the best ways to help maintain your RV battery is to make sure they're stored properly, fully charged in an enclosed and well-ventilated area. The PowerArmor RV battery box is designed to provide a safe, lockable storage area for 12 and 6-volt battery applications. Made from 100% heavy gauge diamond plate aluminum with black high impact powder coat frame, we're not the only ones that think this box looks and functions great.

"It is doing a good job of keeping the battery charge. Plus, it is super easy to unlock the PowerArmor, I feel confident that my battery will still be there the next time I travel."
-Jim Baker

When using the PowerArmor to store batteries, you benefit from having extra battery power for your RV, boat, truck camper or vehicle. An access port allows for electrical wires to pass through the side wall of the box so it easily connects to your electrical circuit system. With battery health and performance in mind, the locking battery box features a special ventilated design and acid neutralizing battery mat.

Features of the PowerArmor include: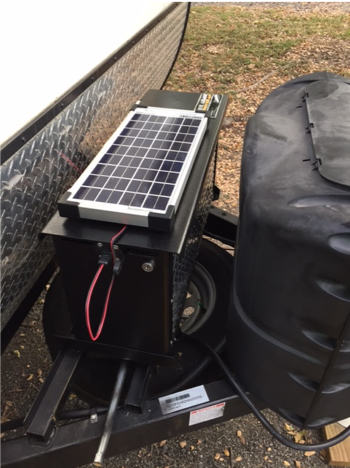 • Prevent common and expensive storage/battery theft (lock included)
• Maintains charge increasing the longevity of the batteries up to 400% to avoid premature battery replacement (solar only)
• Dual use for securing batteries and other gear
• Bolts to your RV, camper bumper, boat, truck, van, etc.
• Heavy gauge diamond plate aluminum for maximum durability
• Designed specifically to access RV batteries avoiding interference with your RV
• Uses a 10 Watt solar panel (solar only)
• Comes in bright tread diamond plate featuring black high impact powder coat frame
• Multiple box sizes available holding up to five batteries
• Adjustable dividers for custom size compartment storage (PowerArmor Max only)
• Acid neutralizing battery mat to avoid corrosion
• Legendary Lifetime Warranty
• Proudly made in the USA

PowerArmor and PowerArmor Solar:
• 17-inch box can hold up to one group 24-27 battery
• 17-inch box can hold up to one group 24-27 battery
• 24-inch box can hold up to two group 24-27 batteries
• 26-inch box can hold up to two group 24-27 batteries, and two group 31 batteries
PowerArmor MAX:
• 58-inch box can hold a combination of up to two group 24-27 batteries with two group 31, for our 31 or 27, or five group 24 batteries

If you're interested in learning more about the Torklift International PowerArmor, there are a couple of options for you! Call us at 800-246-8132 and our tech support would be happy to answer your questions about protecting and maintaining your RV batteries. Or, find one of our Certified Dealers near you by clicking here to get set up with one of these RV battery boxes and onto your next adventure.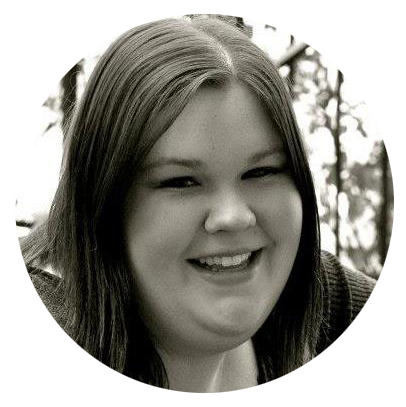 Written by Kerstin Stokes:
As a graduate from the College of Idaho with a B.A. in both History and Art, Kerstin has found her passion for writing and marketing. She enjoys looking up tasty recipes, spoiling her cat Clio and daydreaming about future travels.