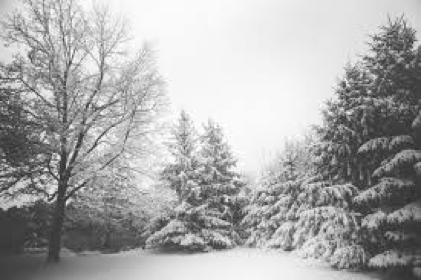 Winter is near and hopefully you're prepping your RV so once spring season comes, your trailer still in tip top shape for camping. Have you completed everything on your checklist? Don't forget that one of the most important steps for winter storage is to keep your batteries in good shape! A common mistake that RV owners make is leaving their battery plugged into the RV converter to maintain its charge while in storage.
Why shouldn't I keep my batteries plugged in all winter?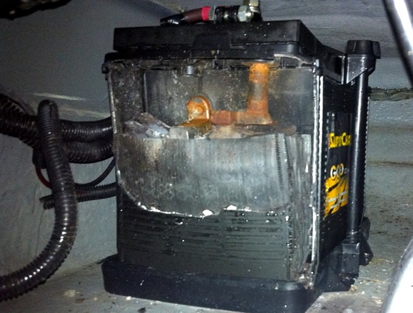 Keeping your batteries plugged in all winter long results in overcharging the battery. RV battery converters charge at a constant voltage that is too high for the battery over such a long period of time. Overcharging results in a fried battery that will no longer function to its full potential. The constant high voltage causes the electrolytes necessary for battery function to boil out, leaving the battery permanently damaged. Battery replacement can cost hundreds of dollars.
Should I leave it unplugged all winter?
That's also not recommended. If your battery is left sitting and discharges to low enough levels for a long period of time, it will no longer be able to perform or charge up to its full potential. The battery charge capacity is also effected and won't hold charges for as long as it had originally. Many think a quick fix is just to simply add water and recharge. This unfortunately doesn't help the battery regain its charging ability. You're still stuck with a battery that isn't operating to its full potential.
What can I do to AVOID either overcharging or undercharging my RV batteries?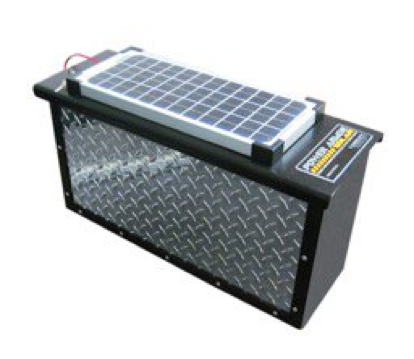 Torklift has designed a high-quality locking aluminum solar battery box called the PowerArmor Solar. It features a lockable slide top that can easily be accessed no matter the mounting location. This box comes in a bright tread diamond plate design featuring a black high impact powder-coated frame for durability. The box bolts directly to RV, trailer tongue, boat, camper bumper, etc. The PowerArmor Solar also has an access port that allows electrical wires to pass through the side wall of the box to easily connect to your electrical circuit system and keep them safe.
More features of the PowerArmor Solar include:
• Prevent common and expensive storage/battery theft (lock included)
• Maintains charge increasing the longevity of the batteries up to 400% to avoid premature battery replacement (solar only)
• Dual use for securing batteries and other gear
• Bolts to your RV, camper bumper, boat, truck, van, etc.
• Heavy gauge diamond plate aluminum for maximum durability
• Designed specifically to access RV batteries avoiding interference with your RV
• Uses a 10 watt solar panel (solar only)
• Comes in bright tread diamond plate featuring black high impact powder coat frame
• Multiple box sizes available holding up to five batteries
• Adjustable dividers for custom size compartment storage (PowerArmor Max only)
• Acid neutralizing battery mat to avoid corrosion
• Legendary Lifetime Warranty
• Proudly made in the USA


How does the PowerArmor Solar keep my batteries charged?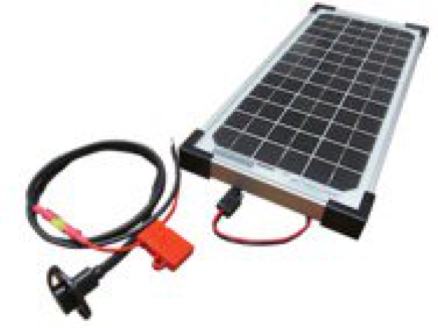 The PowerArmor Solar locking battery box features a Zamp 10-watt solar panel that extends battery life up to 400% and prevents premature battery replacement. This means that you can keep your battery plugged into the PowerArmor Solar all winter and it will trickle charge your battery – ensuring that it maintains its existing condition all winter. The slow trickle charge reduces the chances of both over and undercharging with exposure to sunlight.
But what if I have more than one battery?
The PowerArmor and PowerArmor Solar are offered in multiple different sizes for all your RVing and boat battery needs. Including the PowerArmor MAX that holds up to five batteries.
• PowerArmor Single*: 17-inch box can hold one group 24-27 battery (perfect for marine applications).
• PowerArmor DH and PowerArmor Solar: 24-inch box can hold up to two group 24-27 batteries. The 26-inch box can hold up to two group 24-27 batteries, and two group 31 batteries.
• PowerArmor MAX: 58-inch box can hold up to two group 24-27 batteries, two group 31, four 31 or 27, or five group 24 batteries.
Torklift's PowerArmor Solar battery box meets all your needs and protects your batteries over the winter season. For questions or more information on the PowerArmor and PowerArmor Solar, call us at 800.246.8132 or visit our website torklift.com.
*A7720RS PowerArmor Solar Single requires use of 6-amp Regulator to avoid overcharging battery.
*Use of PowerArmor Solar does not replace general recommended inspection and maintenance of batteries.
Written by Shyann Guerra:
Being in an environment in which I can problem solve is where I flourish. Every answer to a problem leads me to a new concept to understand or a lesson to learn. When I'm not solving problems I enjoy camping and going to festivals with my family - from the local city center festivals to the mountains of Wenatchee at the Winter Grass, blue grass music festival. Experiencing culture is where my heart is content.