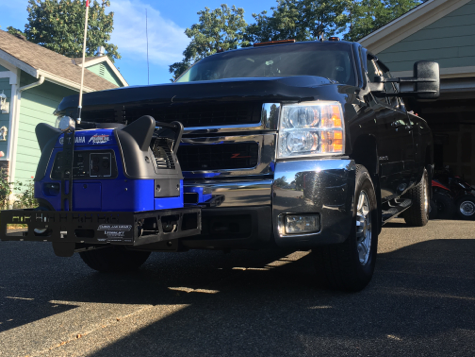 You are getting your new 5th wheel set up: Hitch? Check. Extra batteries for power? Check. Extra generator? Check – but you're not sure the best to place to store it. Storing it inside the trailer could potentially ruin your new carpets or flooring with stains as well as exhaust fumes blowing throughout the trailer.
Did you know there's a solution to this little issue? Enjoy extra generator power without having to deal with constantly moving it in and out of your RV and potentially cause damage or mess. Presenting: the Lock and Load! This generator tray is perfect for not only storing your generator while you're on the road – but also locking it up so it's safe from potential theft!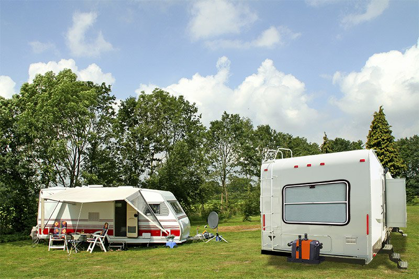 You may be asking, "where?" There's a couple of different options that will work. You can either install it on the front of your truck like the photo above – perfect for your convenience and you don't even have to think about it once it's on the tray. Or, you can install it on a hitch that is behind your 5th wheel (shown to the left).
There are many 5th wheel trailers that come with a hitch already installed on the back – usually for cargo trays or bike racks. In this instance, it's a perfect spot for the Lock and Load! For those who are really dedicated to extra power, you could always get a custom receiver installed, just like the one we installed below at our Retail Product Development Center, Torklift Central in Kent, WA!
Lock and Load Features Include: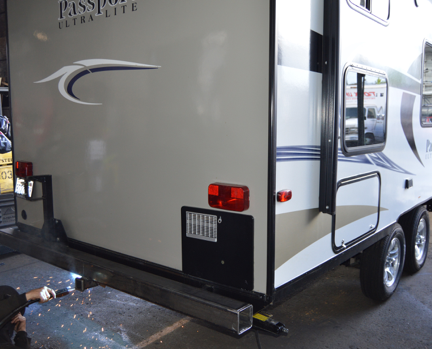 • Protect costly generators, camping gear, welders, tool boxes, plasma cutters and more from theft
• Allows you to lock, store and run your generator and other motorized equipment simultaneously
• Avoid exhaust fumes and stains by permanently storing your generator while on the road or off the grid • No more heavy lifting – your generator stays on the tray even while running
• Features a safety visual sight indicator to prevent risk of damage while driving (Part #A7752)
• License plate relocation holes to attach license plate (Part #A7752)
• Mounts easily into front and rear receiver hitches
• Fits most common generators
• High security tamper proof puck lock included
• Cargo tray dimensions: 27-13/16 L" x 23-1/2"W x 23" H
• Maximum security strap adjusts to secure multiple objects (extra security straps sold separately) 6-5/8" L x 13-5/8"W x 13-1/8"H to 27-13/16 L" x 23-1/2"W x 23"H
• Available in high impact powder coat steel
• Legendary Lifetime Warranty
• Proudly made in the USA Kit includes:
• Cargo tray
• Heavy duty puck lock
• Adjustable maximum security strap
To make your 5th wheel trailer even more versatile and have the ability to off-road for long periods of time, get the Lock and Load generator tray today! Call us at 800.246.8132 or email us at: support at torklift.com.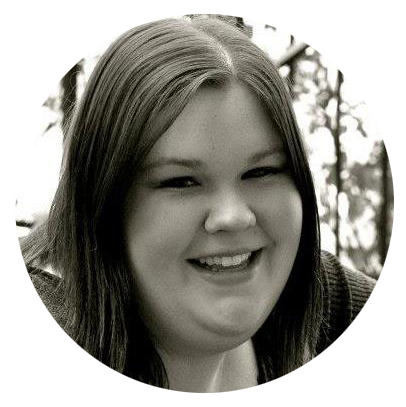 Written by Kerstin Stokes:
As a graduate from the College of Idaho with a B.A. in both History and Art, Kerstin has found her passion for writing and marketing, and has loved every minute of working for Torklift for over 2 years now. She enjoys looking up tasty recipes for baking and daydreaming about future travels.