Torklift International is proud to sponsor Captain Ray Van Horn of the Sportsman Channel's hit TV show Gypsy Angler. The popular TV Show features fishing tips and techniques as Van Horn travels all over the country exploring different salt and fresh water fishing destinations.
Living on the road during his filming expeditions, Van Horn tows his Ranger Boat with a GMC Sierra 3500 truck. His CampLite truck camper with 4-foot overhang requires a towing extension in order to tow safely.


Van Horn on Gypsy Angler TV Show Interior of Van Horn's CampLite truck camper
Watch this video to see why Torklift International SuperHitch trailer hitch and SuperTruss towing extension provide an appropriate solution to towing with a truck camper.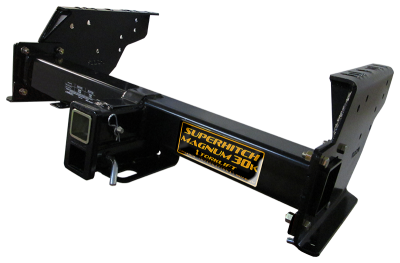 SuperHitch Magnum 30k trailer hitchThe SuperHitch Outlaw Towing Series is the safest and most versatile professional grade towing equipment available. When used with weight distribution, the Outlaw Towing Series has the ability to safely tow up to 30,000 pounds with 3,000-pound tongue weight capacity. The number one cause of trailer hitch failures and accidents is exceeding towing equipment tongue weight capacities. Ensure a safe towing experience by using equipment engineered for high capacity purposes.
What gives the SuperHitch trailer hitch receiver its strength? There are several benefits from the engineering of its design:
Patented dual receiver
Bolts directly to the truck frame – most applications do not require drilling
(Applications available for Ford, Chevrolet and Dodge RAM trucks)
Hardened reinforced hitch pin locations to prevent common elongation known as "egging"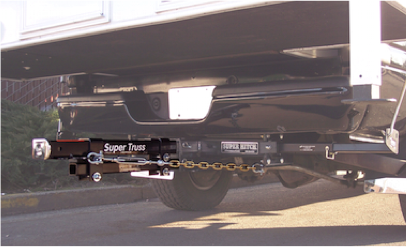 SuperTruss towing extension
for hauling campersThe SuperTruss towing extension is designed for towing with truck campers up to 12 feet long. Pulling capacity and tongue weight capacities vary dependent on the size of receiver extension used. Capacities are increased for shorter receiver extensions. Check our application guide for verified weight capacities.
The dual truss towing extensions are available in lengths from 21 inches to 60 inches (5 feet). If you aren't sure what size receiver extension you need, click here to use our towing extension measurement guide.
Not only does Van Horn depend on the SuperHitch and SuperTruss towing system, he also relies on Torklift TRUE Frame-Mounted Tie Downs and FastGun truck camper turnbuckles to secure his CampLite truck camper to his GMC truck. To address handling and sway when hauling a camper while towing, Van Horn installed StableLoad Suspension Stabilizer on the GMC truck's suspension.
Watch this video to learn how Van Horn uses suspension and truck camper accessories by Torklift: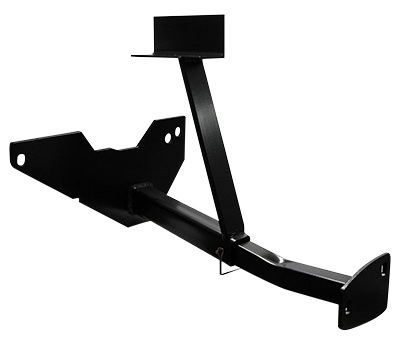 Frame-mounted tie downBy attaching directly to the GMC truck frame, the truck camper tie downs provide strength and stability to Van Horn's truck and camper configuration. Torklift International SuperHitch comes pre-drilled for frame-mounted tie down applications and bolt directly to the truck without having to drill. Click here to see the benefits of installing frame-mounted tie downs on Chevy or GMC trucks.
FastGun turnbuckles connect the truck camper to the tie down system. Due to the quick-disconnect and tool-free design, the locking turnbuckles quickly secure the truck camper with appropriate tension. Since the camper turnbuckles come with patented spring tension indicators, manufacturer recommended 300 pounds of tension is achieved with the snap of a handle. Click here to learn how to properly adjust truck camper turnbuckles in as little as four minutes.

FastGun camper turnbuckle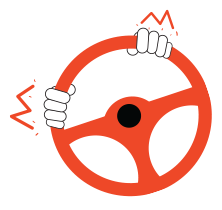 Eliminate poor handling with the StableLoad
Since Van Horn is towing and hauling, it's important that the vehicle stays in control when on the road. Many people experience poor handling when their truck is loaded with a heavy amount of weight. This includes frightening characteristics like severe side-to-side sway, body roll and porpoising.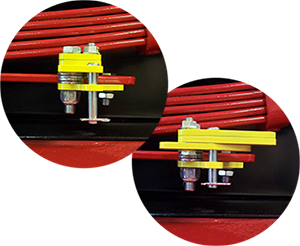 StableLoad Suspension Stabilizer turned on (right) and turned off (left)
To help reduce these negative side effects, the StableLoad Suspension Stabilizer activates the power and support that lies within the factory suspension leaf springs. The lower StableLoad application uses a precision-crafted adjustable wedge plates to occupy the gap between the leaf spring pack and lower overload leaf spring, kicking the overload into action. By activating the overload leaf springs the truck's suspension is used to its full potential. Sway and movement is greatly reduced and the truck is easier to control.
StableLoads install on any vehicle with overload leaf springs and is the only suspension upgrade that can be turned on and off to accommodate a truck when used in either regular or tow/haul mode. To learn more about how StableLoads work on leaf springs, click here.

Towing a boat with
truck camper overhangTorklift's suspension, truck camper and towing equipment featured on the Gypsy Angler TV show are critical in the everyday life of host Van Horn. Traveling as often as he does, safety while towing the Ranger boat and hauling the CampLite truck camper is top priority.
All of the Torklift International equipment Van Horn uses is covered by our Legendary Lifetime Warranty and is made in the USA. To learn more about Van Horn and the Gypsy Angler TV show, visit gypsyangler.com.
Video footage courtesy of Gypsy Angler