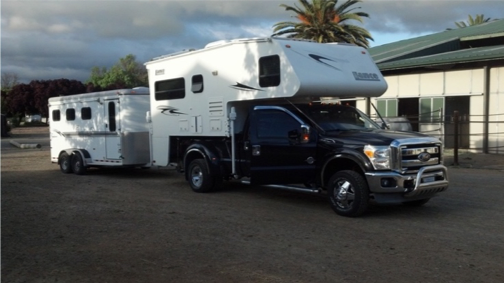 If you're interested in going camping but not having to sleep on the hard ground and be able to cook light meals, a truck camper is a great choice for something in-between tent camping and a full-blown Class A motorhome. A truck camper consists of a truck that you drive for hauling the camper, and the RV camper itself which has all the amenities of home. A truck and truck camper allows you to go anywhere the truck can go by itself. With a truck camper you can exclusively access otherwise inaccessible places that motorhomes and other towable RV's are unable to go for camping.
Below is a guide to top three truck camping accessories you need to make your camping experience safer and more enjoyable – including improved safety and stability as well as extra power! All the products below come with Torklift's Legendary Lifetime Warranty and are made in the USA… pretty hard to resist those features!

1.) Lock and Load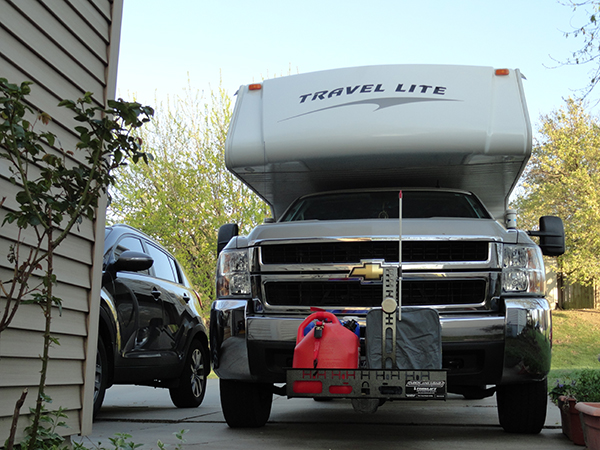 First up is the Lock and Load storage tray. Not only is it perfect for storing all your extra gear, gas cans or water cans, but it can also hold a generator for extra power while camping! With the Lock and Load, you can enjoy
extra generator power without having to deal with constantly moving it in and out of your RV and potentially cause damage or mess. This generator tray is perfect for not only storing your generator – but also locking it up so it's safe from potential theft.
Installation is as simple as putting the tray into the hitch receiver, securing it with a locking hitch pin and you're good to load up your camping gear and generator into the tray.
Features of the Lock and Load include:

• Allows you to lock, store and run your generator and other motorized equipment simultaneously
• Avoid exhaust fumes and stains by permanently storing your generator on the Lock and Load while on the road or off the grid
• No more heavy lifting – your generator stays on the tray even while running
• Protect costly generators, camping gear, welders, tool boxes, plasma cutters and more from theft
• Features a safety visual sight indicator to prevent risk of damage while driving (Part #A7752)
• License plate relocation holes to attach license plate (Part #A7752)
• Mounts easily into front and rear receiver hitches
• Fits most common generators including: o Yamaha EF2000iSo Yamaha EF2400iSHCo Honda Eu2000ia
• Utilizes 2" x 2" receiver to mount
2.) FastGun Wobble Stopper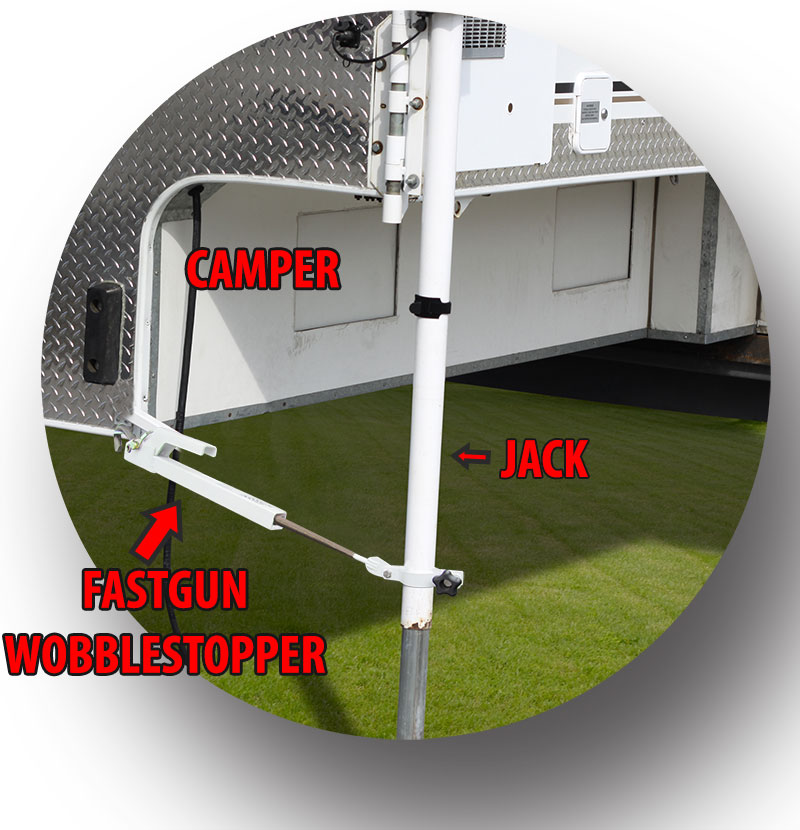 Does your camper wobble from a sneeze when it's not loaded securely on your truck? Many that travel with truck campers understand the irritating and nerve-racking camper sway when the camper is off loaded. When a truck camper is free standing, the sway and wobble can make for a discomforting experience. Torklift has designed the FastGun Wobble Stopper to dramatically reduce camper jack and frame stress. It acts as a supportive connection between the front camper jack legs and the camper body. Not only does it reduce the stress, it also reduces the swaying that causes unease and feeling like the camper is going to tip from just walking from the bed to the bathroom.
3.) Upgraded Steps – Stow N' Go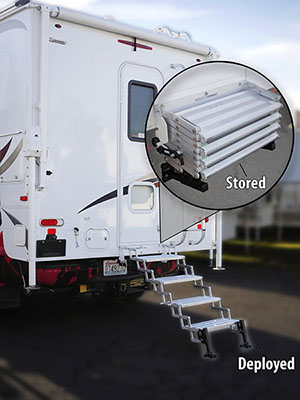 For a safer camping experience, there's nothing better than stable steps. The Stow N' Go was designed specifically to lock while in transit, eliminating the hassle of having to detach and store the steps inside your
camper. The steps remain mounted to the back of the truck camper bumper to prevent the interior from getting dirty. This step system comes standard with the storage bracket, GlowStep entry system and All Terrain Landing Gear adjustable feet.
Now when you're truck camping, you don't have to worry about potential falling off your steps because they're too steep or don't fully reach the ground. As an added bonus, there are also many accessories available to go with the Stow N' Go to improve your camping experience as well. These accessories include: the GlowGuide handrail, SafeStep pet safety barrier and the DirtDestroyer shoe cleaning attachment. Having just one is a great upgrade, but all three combined help make the ultimate in truck camper step systems!
There you have it. Our top three recommended truck camping accessories for the spring season! Don't wait today to upgrade your camping experience! For questions about the Lock and Load, FastGun Wobble Stopper, Stow N' Go, or any other Torklift products, contact us at 800-246-8132 or shop now at one of our Torklift Certified Dealers.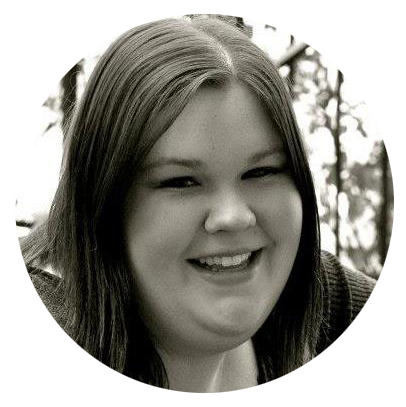 Written by Kerstin Stokes:
As a graduate from the College of Idaho with a B.A. in both History and Art, Kerstin has found her passion for writing and marketing, and has loved every minute of working for Torklift for over 2 years. She enjoys looking up tasty recipes for baking and daydreaming about future travels.