Continued from Part 2…
A race against time
As our guides rope us up for the final ascent, I couldn't help but notice how our climbing teams were re-organized. One of our female group members decided to stay behind at camp along with a guide. Continuing the climb was four rope teams: Two groups of three climbers consisting of two men plus a guide and two additional groups of 2, another woman and myself each had our own personal guide. Jack and I were separated onto two different teams and at this point, I knew the guides anticipated that I would be one of the first to turn back early. This factor was just extra fuel. I wasn't prepared to give up until I reached my goal.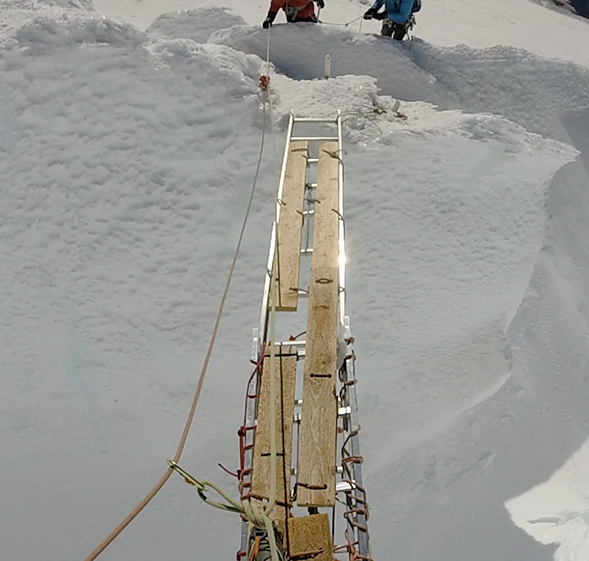 Crossing a crevasseWith only a headlamp and the moonlight, I closely followed my guide and laser-focused on each immediate challenge in front of me. Bottomless crevasse? Check. I'll go ahead and death-grip a rope while I inch my way across wobbly wooden 2x4 planks thrown over a flimsy aluminum ladder with my clunky spike shoes. Vertical ice walls? Check. That's what my crampons and ice axe were for, right? Scale the edge of a cliff across loose rock and boulders? Check. With the path just inches wide in some areas, I tried my best to put fear aside and refused to succumb to the exhaustion nipping at my heels. With no time to waste, I kept moving as quickly as possible, which was sadly similar to the pace of a zombie.
At the top of Disappointment Cleaver, two climbers had already turned around at two separate points. Since it required a guide to take each of them back down to camp, only two guides remain for the entire group. There was a rope team of two gentlemen plus Jack and I. The two of us roped up with our guide to tackle the remainder of the ascent. As the wind picked up and our faces began to freeze, we trekked onward.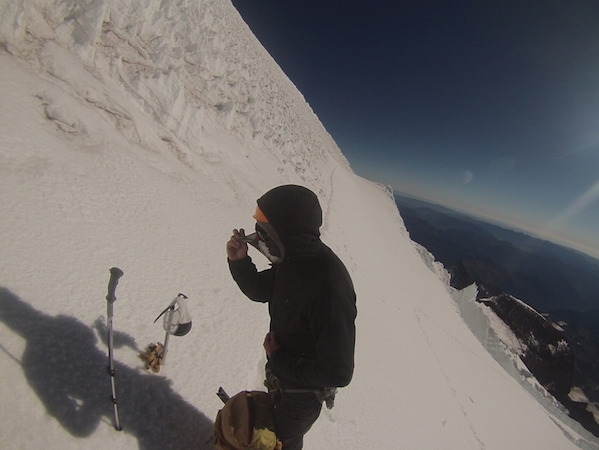 Our Lead Guide stops for a quick breakThe climb was ruthless. With infinite steep switchbacks and several sections of treachery, I slowly began to lose momentum. It got to the point where our guide was literally pulling on the rope to keep up a pace. With no breath or energy left in my legs, I was ready to surrender. My body wanted to quit and my mind was screaming mercy. But there were just a few things to consider. In order to summit, we needed at least two mountaineering guides. If I quit, the three remaining climbers on this trip would not have a chance to summit. Jack had dedicated endless hours of preparation and I would shatter his dream of reaching the summit.
All of Torklift was expecting me to complete this climb. The immense pressure to not give up was the only thing that kept my feet moving one in front of the other. Slowly but surely, I just kept moving, pushing beyond any effort I thought I was even capable of. Regardless of a mind and body wrenching in pain, I just kept going.
A mountain of meaning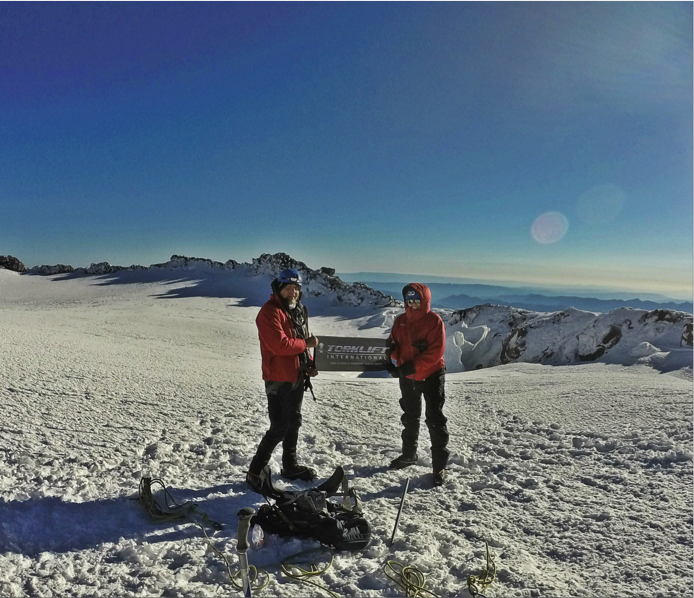 Torklift on top of Mt. RainierAs I forced myself up the last fifty brutal feet of the climb, I finally approached the top rim of Mt. Rainier's volcanic crater. The elevation was over 14,400 feet and the simple act if breathing was a distant memory. I was still in shock and disbelief that I had made it to the summit. After being disconnected from our rope team, I took a moment of triumph to look out over the horizon as the sun had inched its way into the sky and I could see layers after layers of mountainous landscaping below. Never had the word "breathtaking" been so literal.
I carefully entered Rainier's crater while Jack trudged onward to the Columbia Crest, the highest tip of the summit. He signed our names in the summit book alongside our Lead Guide, who just happened to be on his 115th visit to that very spot. Upon their return we signed a Torklift flag to commemorate the event. I even attempted my signature "jump for joy" although exhaustion had definitely taken its toll.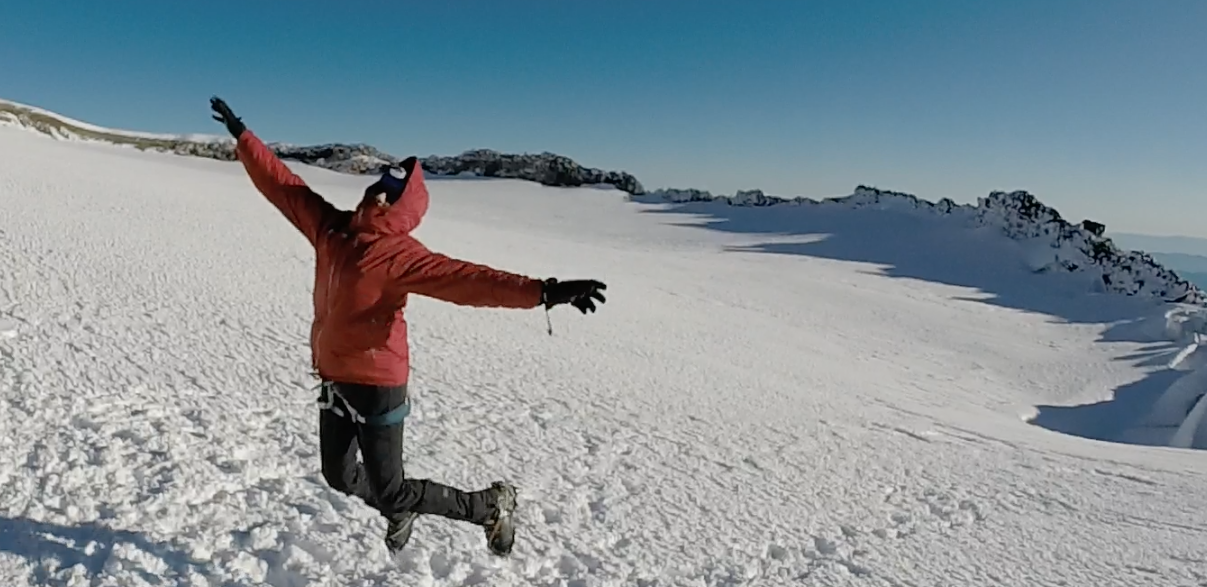 My signature "jump for joy" in Mt. Rainier's crater
I know the journey was of huge significance to Jack as well. As he stood upon Rainier's summit, he placed emphasis on one of his favorite quotes:
"Far better it is to dare mighty things, to win glorious triumphs even though checkered by failure, than to take rank with those poor spirits who neither enjoy nor suffer much because they live in the gray twilight that knows neither victory nor defeat."
-- Theodore Roosevelt
This quote is heard often at Torklift headquarters and is even posted on the wall in the company's conference room. It's a daily reminder to take chances, even if it means failure. To face challenges, overcome obstacles and reach for the highest heights. It's what Jack and I had just struggled to conquer and what's made Torklift the company it is today: an organization ready for the biggest challenges.
There were a few things I thought about while standing in the crater at the top of Mt. Rainier. One: Just when you think you can't go forward, you can always push harder - there is always more to give. Two: With the support of family and friends, and the positive mindset of believing in yourself, you can literally accomplish anything. The whole experience is somewhat surreal for me and is something I will remember forever.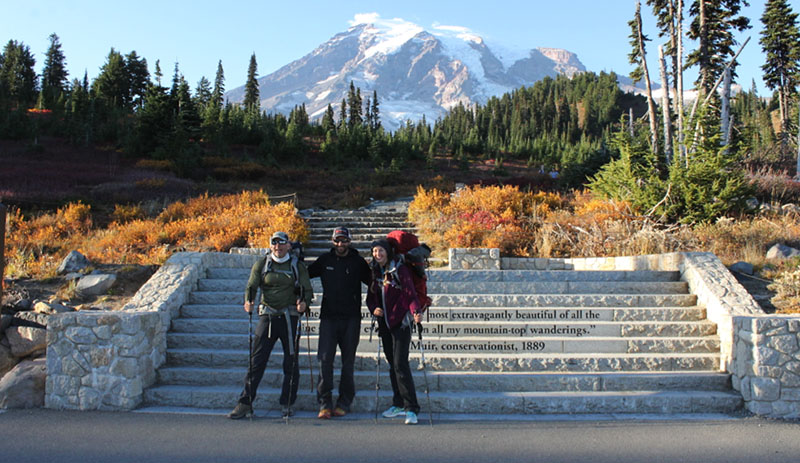 Torklift President Jack Kay, IMG Lead Guide, Asst. Mkt Director Sheryl Bushaw
After the climb, Jack and I realized that in those moments of both struggle and triumph on the mountain, we both thought about our families, friends and most importantly, our Torklift family. The primary inspiration and motivation to complete a journey of this magnitude was Torklift. Celebrating 40 years in business is a direct result of the hard work, dreams and dedication of our employees.
For 2016, we hope that you join us in celebrating our 40-year milestone.
Sincerely,
Torklift Sheryl
---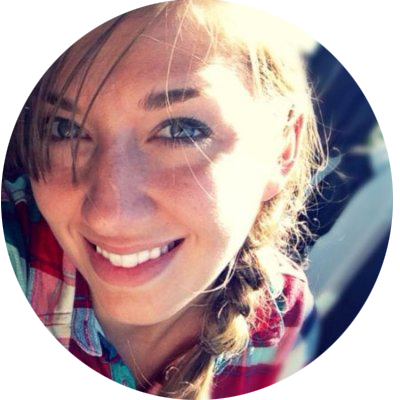 Written by Sheryl Bushaw:
As a graduate from Arizona State University with a B.A. in Journalism and emphasis in Public Relations, Sheryl is a passionate writing professional with focus in areas of copy writing, social media and creative design. She is a travel enthusiast and explorer-extraordinaire with a zest for life.