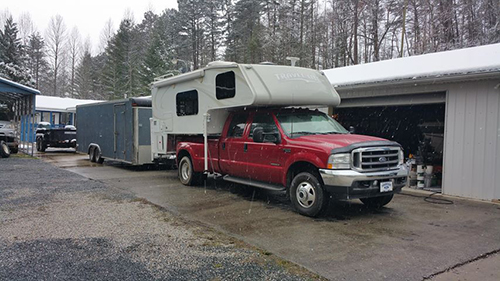 If you are planning on doing any kind of outdoor adventure that involves you bringing extra cargo or a trailer, chances are you'll need to tow with a trailer hitch! While it may seem unapproachable, setting up and towing a trailer behind your truck is easier than it looks. But, it does require some study and set up in advance to make it as easy as possible when you're actually towing.


During your research phase, the first thing you need to ensure is that your truck has a rating capacity of at least the max weight of the load you want to haul. Check the owner's manual for your truck to determine the weight limits and figure out the appropriate hitch to have installed. You'll want to make sure to stay within the manufacturer's weight ratings or you could potentially cause major damage to your vehicle, truck and other drivers on the road.


Here are the numbers that you'll need to know before getting set up to tow behind your truck: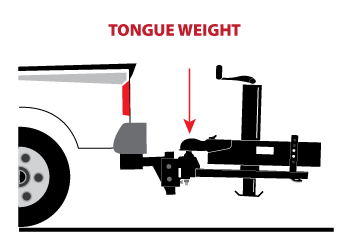 • Gross trailer weight (GTW): how much the trailer weighs fully loaded.
• Gross trailer weight (GTW): how much the trailer weighs fully loaded.
• Tongue weight: the downward force exerted on the hitch ball by the trailer coupler. You'll need to know your trailer tongue weight in order to determine the best hitch for your vehicle.
• Gross combined weight rating (GCWR): The maximum weight of the trailer tow vehicle combined, this weight should never be exceeded.
• Hitch rating: this is an incredibly important number! It's the weight that the manufacturer has tested and determined that the hitch can handle. For example, the SuperHitch Original can handle 2,000 pounds tongue weight and tow up to 20,000 pounds.

What it basically comes down to for hitch towing is weight! Weight is the most important factor when it comes to towing. Both knowing how much weight your trailer hitch can tow and how much weight your truck, hitch and ball mount can handle.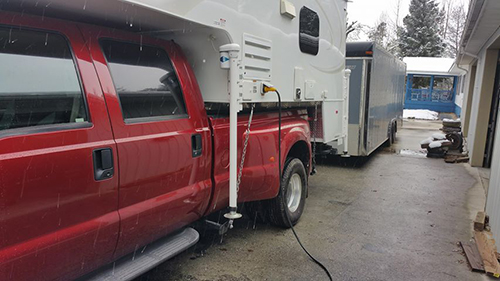 All hitches are not created equal. If you're planning on towing a heavy amount, you need to make sure that your trailer hitch is up to the task. Take for example Charles Spray. He trusts the best hitch available for towing a trailer behind his fully loaded truck and camper: the SuperHitch!
"Getting ready for the Ponies in the Smokies car show in Sevierville, TN. Love your products! It runs great down the highway and that's the important part."
-Charles Spray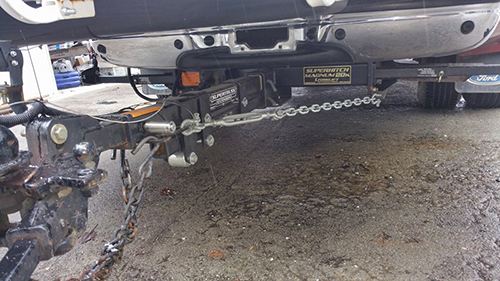 The SuperHitch comes in two different weight capacities. The SuperHitch Original heavy-duty trailer hitch is rated at 2,000 pounds tongue weight, 20,000 pounds with weight distribution and uses our patented dual receiver design (2-inch upper and 2-inch lower) to max out class five hitch maximum capacities.
To fight the blight of wimpy factory and aftermarket tow hitches the SuperHitch Magnum is also available. With weight distribution, the SuperHitch Magnum trailer hitch is rated up to 3,000 pounds tongue and 30,000 pounds towing.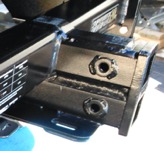 Both of these trailer hitches come with hardened reinforced hitch pin locations to prevent common elongation of the hitch pin holes known as egging. When hitch pin holes are not properly reinforced, the elongated pin holes with extra space around the hitch pin leads to effects of poor handling. For example, feeling the trailer's dramatic push forward on the tow vehicle while stopping. Gain control and avoid this with the SuperHitch 20K trailer hitch.

The SuperHitch Original and SuperHitch Magnum are built incredibly strong and can handle heavy towing within the vehicle manufacturer's indicated maximum capacities. They are also made in the USA and are backed by our Legendary Lifetime Warranty.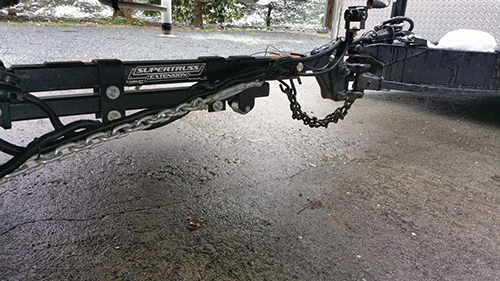 The SuperTruss is an incredibly strong extension for towing when you have overhang in the bed of your truck.

Depending on the application, trucks are often used to both tow and haul at the same time, just like Charles who has a truck camper in his truck bed while towing a trailer. If the cargo in the truck bed blocks the trailer hitch receiver by crossing the threshold of the vehicles rear-end, you'll need specific towing equipment to maintain your ability to tow. The SuperHitch SuperTruss extension pairs perfectly with each model of SuperHitch to give you the ability and convenience of extending your tow hitch in the safest way possible. Take advantage of the versatility of your tow vehicle by giving it the tools it needs to go big.

For a full list of steps on how to tow a trailer you can visit our recent blog for step by step instructions on towing a trailer behind your truck. If you're interested in purchasing our SuperHitch trailer hitch and want to upgrade like Charles, there are a couple of options available to you! You can click here to visit one of our Certified Dealers near you. You can also contact us for more information or questions at support@torklift.com or by calling 800-246-8132.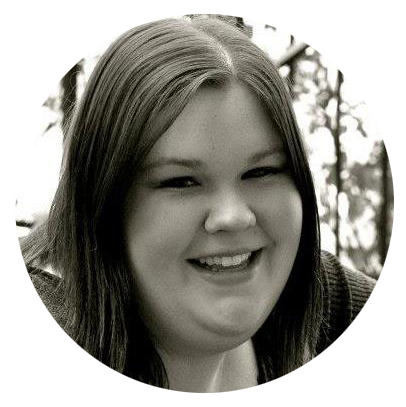 Written by Kerstin Stokes:
As a graduate from the College of Idaho with a B.A. in both History and Art, Kerstin has found her passion for writing and marketing. She enjoys looking up tasty recipes, spoiling her cat Clio and daydreaming about future travels.