There's a lot to consider when outfitting your Chevy/GMC truck to haul your weekend toys around. From horse trailers to boat trailers, wave runners to campers, you don't just need a truck that can handle the weight; you need a hitch that can handle it, too.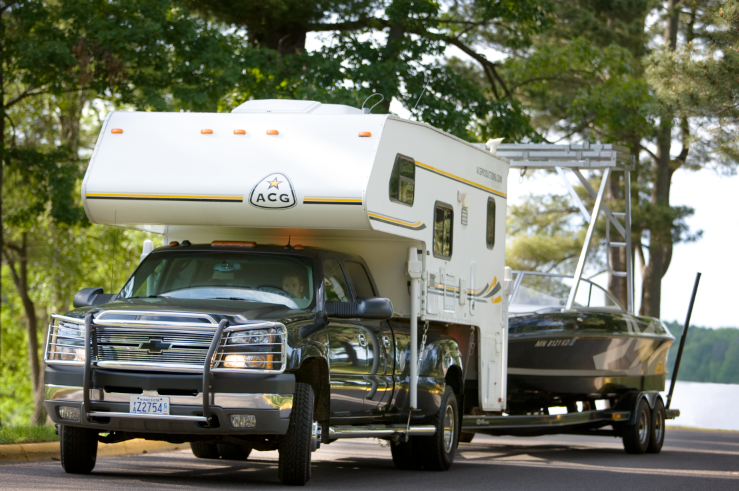 Chevrolet truck towing boat and hauling camper
Focus on the road, not what's behind you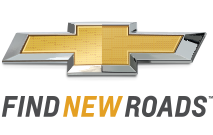 At Torklift International, we've already considered the strength required for your Chevy truck. With that in mind, we've developed the high performance, super strength line of receiver hitches featured in the SuperHitch Outlaw Series to carry the load efficiently, safely and effectively. Let's take a look at the features of Torklift SuperHitch and specifically, why we engineer our designs to work with your Chevy/GMC truck.
Pull your own weight
Depending on what you're planning to tow, it's important to select the right receiver hitch based on your truck model and towing needs. Torklift International manufacturers several Chevy truck receiver hitches. Each trailer hitch is made with dual, vertical-stacked receivers that are industry standard 2-inch by 2-inch in size. Both receiver channels boast the same maximum capacity for both upper and lower, so you have the freedom to use as you please. It's often convenient to use the upper receiver for accessories while towing from the lower receiver. Oh, the possibilities.
Chevy/GMC truck hitches: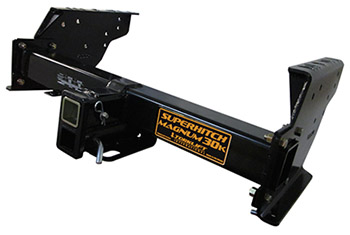 SuperHitch Magnum 30K installs on…
Chevrolet 2500 truck
Chevrolet 3500 truck
Chevrolet Kodiak cab & chassis
SuperHitch Magnum 30K's frame-mounted receiver is rated up to 30,000 pounds and 3,000 pounds tongue weight when used with weight distribution. Also known as the heartbeat of America, the Chevy truck applications for SuperHitch Magnum 30K don't require drilling into the Chevrolet truck frame. The SuperHitch Magnum Chevy hitch works with your Chevy/GMC truck to maximize its towing capability. The heavy-duty crossbar and dual receiver channels make the Magnum 30K the highest capacity towing hitch you can find.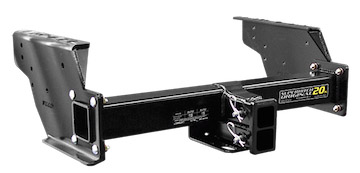 SuperHitch Original 20K installs on…
Chevy/GMC 2500 truck
Chevy/GMC 3500 truck
SuperHitch Original 20K frame-mounted receiver hitch is rated up to 20,000 pounds towing and 2,000 pounds tongue weight with weight distribution.

SuperHitch Hero 15K installs on…
Chevy/GMC 1500 truck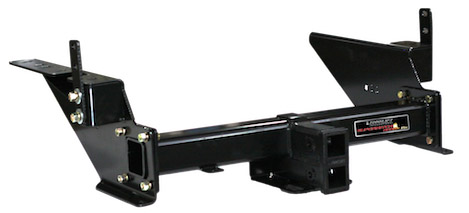 Built for half-ton trucks, The SuperHitch Hero 15K is rated at 1,500 pounds tongue weight and 15,000 pounds of towing capacity when used with a weight distribution system. The Hero receiver hitch is the first Torklift International SuperHitch created for half-ton trucks including Chevy/GMC, all of which do not require drilling to install.
Hitch applications vary depending on truck model, bed length and light duty/heavy duty Chevy trucks. To find the right fit for your Chevy or GMC truck, click here.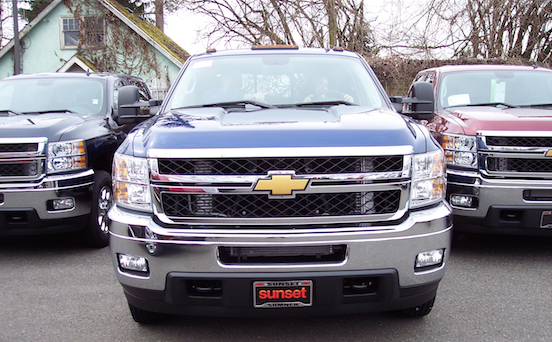 Towing with a Chevy truckDrive your Chevy to the levee
One of the unique features found on the new 2015 Chevy Silverado is what's called a Stabilitrak.* This new feature attempts to control trailer sway to "enhance driver confidence while towing a trailer" and by sensing trailer sway, it has the ability to intervene with your truck brakes, reduce engine power and bring your trailer under control again.
This is great news, because when used with a Torklift SuperHitch your safety features just doubled in strength and security. Not only have you reduced any adverse towing effects, but the movement that causes "egging" or elongation is eliminated. Only found on Torklift hitches, reinforced hitch pin locations prevent this type of wear from towing with a Chevy.
If you often tow a trailer or haul a camper with your Chevy truck, look into a simple suspension fix to eliminate excessive sway, body roll and porpoising. Even with the Stabilitrak feature on recent Chevy truck models, the Torklift International StableLoad Suspension Stabilizer has proven to enhance your ride quality when towing or hauling.

Team Torklift
We know that several of our customers are Team Chevy and because of that, we design and engineer our products specific to fit your vehicle. We want you to be Team Torklift, because we know that once you've used a SuperHitch, you'll never hitch your trailer with anyone else's again.
Other great features of the SuperHitch designed for Chevy:
SuperHitch frame-mounted receivers use industry standard 2" x 2" ball mounts Dual receiver provides options for height variance, therefore reducing the need for more than one ball mount
Reinforced hitch pin locations prevent 'egging' or elongation
Pre-drilled for Torklift Camper Tie Downs
Compatible with SuperTruss receiver hitch extensions available in 8 different lengths from 21" to 60" (sold separately)
No-Drill hitch applications available
Legendary Lifetime Warranty
Our country, Our truck
Chevrolet is known for its American pride and deep American roots. Here at Torklift, we can relate. We are just as proud and find it very meaningful to manufacture products on American soil. Made by American families for American families, Torklift only makes products you can trust.
Does your Chevy run deep?
Hitch up your Chevy with the best that it deserves. Don't hold back. Let the SuperHitch Outlaw Series help you find new roads with your Chevrolet.
To learn more about the SuperHitch Outlaw Series that includes hitches for Chevy trucks, click here.
*Stabilitrak is a Chevrolet patented name
---

Written by Tamara Williams:
Currently Tamara Williams studies English at Arizona State University. She is a writing professional specializing in technical writing and SEO blogging for small businesses. Tamara also works with Project Pen, an innovative program for inmates at New Mexico and Arizona prison systems editing and providing feedback for their essays, poems, short and non-fiction stories.